In part 2 of our exclusive investigation, what's next: Is a college degree the key to bridging the divide between police and the community they're sworn to protect and serve?
A Call For Change:
What we've witnessed in our cities this summer isn't new.
Neither is the call for changing our police forces.
It's been here for decades - From marches in the south, to turmoil in our largest and smallest cities.
"We've been building toward this for quite some time," said Dr. Ronnie Dunn, a Criminal Justice professor at Cleveland State University and a member of the Ohio Collaborative Community Police Advisory Board.

But what happened in Minneapolis sparked a louder call for change that's still being heard, a re-imagining of how we choose our police officers.
"It's part of a long history of police brutality against people of color," said Dunn.
Requiring A College Degree?
Dr. Ronnie Dunn has studied criminal justice for years. He says not only do police need more training hours, but the entire profession needs to consider requiring a college degree, just as we do with other professions like teachers, doctors and lawyers.
"When you consider the awesome power we bestow in our police officers, it would be expected there would be higher levels of educational requirements," said Dunn.

"I'm asked fairly regularly about what states are doing it right and the best that I can say is, who's the best among the worst?" said Randy Shrewsberry, a former Cincinnati area police officer and founder of the Institute For Criminal Justice Training Reform.
"I just can't say that there's anyone in the U.S. right now that's doing it right," said Shrewsberry.
A Lack of Police Training:
Right now, police departments in the United States require cadets complete 672 hours of basic training - on average - before joining the force.
In Ohio, it's slightly higher at 737 hours. Some Ohio police departments do require training beyond the state's minimum requirements. That includes Cleveland Police and Columbus Police - Both offer 1,100 hours of training to their recruits.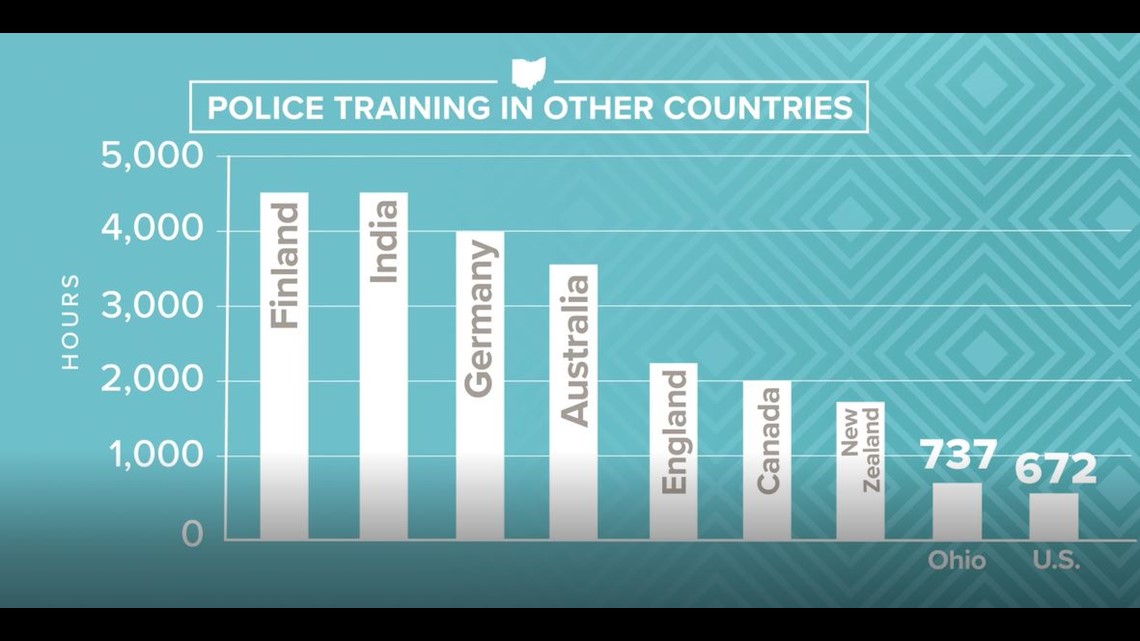 Shrewsberry says requiring college degrees, like many European nations already do, would shift training costs away from taxpayers, and make our officers better educated, and less susceptible to misconduct.
"My view is that we need to have training that focuses heavier on criminology, the causes of crime, understanding what impacts poverty or education may have on and individual and why they may be committing crimes," said Shrewsberry.
Both Shrewsberry and Dunn believe increasing educational requirements will not discourage minorities, but rather entice them.
"If we do see real change take place, that will encourage young African Americans and people of color to go into the field and transform the field of policing," said Dunn. "I am cautiously optimistic we will see change."