WESTLAKE, Ohio — His disappearance led to a search for answers.
Now, surveillance cameras and witness statements are raising more questions, suggestions that Marple may have been critically injured during an attack that left a man dripping blood.
"Right there was a documented fight that took place outside and then somebody ends up dead," Marple's sister Mandy Albright told 3News investigates. "How is that just a done deal for me?"
His last night began as a typical night with friends for Marple, a 39-year-old bachelor living in Westlake.
On May 17, he was with friends at a Crocker Park bar when they decided to head downtown to Cleveland's warehouse district. Friends agree that Marple likely drank more than his usual amount of alcohol.
A minute after midnight, after being asked to leave by bar workers, he walks out alone, down Johnson Court to West 9th Street. Marple had no phone; he left it inside a car of a woman who drove him and two friends to downtown.
Here's footage of Marple leaving Barley House:
Street cameras follow his path as Marple, dressed in a white long-sleeved shirt, ball cap and dark pants, meanders around. Within about 10 minutes, he's involved in a confrontation with a group outside the Archer Apartments.
Witnesses who talked to police tried to downplay the encounter, police reports show. One man is accused by police of lying about the encounter. After initially saying Marple was merely pushed, a witness conceded Marple was "body slammed" onto an asphalt parking lot.
Video shows the group of six to eight people entering the Archer. One man is seen ducking head from camera view and noticeably dripping blood from his hand. A woman who follows points to the spots dropped onto the indoor steps.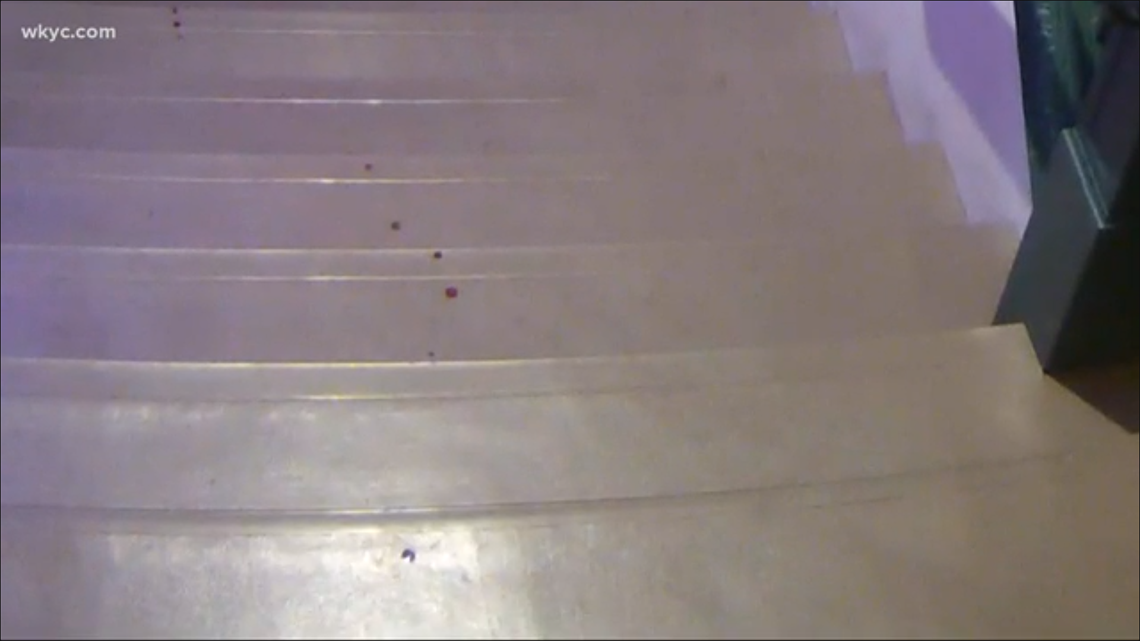 In a police report, a man said he "didn't know where they put his body" before saying "if there is even something like that." He told police to check the water because intoxicated people usually head that way, the report shows.
"I think the people involved had far more knowledge of what exactly happened to Caleb," said Rob Slattery, the family's private investigator. "It's my belief that more than likely he suffered major head injuries that led into this or there was foul play and they threw him into the water."
Marple walked along the East Bank of the river along Robert Lockwood Jr. Drive south and eventually to Center Street, where he crossed the bridge. More surveillance cameras spot him near Sycamore Street, not far from Christie's Caberet at 1180 Main Ave. on the West Bank of the Flats. That's the last that he's seen alive.
Eleven days later on May 29, his body is recovered in the Cuyahoga River, not from where he was last seen. The remains were lodged near a yacht and retaining wall.
Photos: Caleb Marple through the years
How Marple came to be in the water is a mystery. His family does not believe he fell or intentionally harmed himself. An autopsy ruled the death accidental drowning. There were no obvious signs of injuries.
"There's a lot of people that know more than they're saying…that's obvious from what we already been able to obtain," Slattery said.
For Marple's family, answers from Cleveland police have been difficult to obtain. They had to file a lawsuit in the Ohio Court of Claims before the city provided its police records this week.
3News made a similar request over a month ago. The city has yet to respond.
Westlake police, which took the original missing person's case, quickly released their reports and surveillance footage to 3News, in accordance with Ohio's public record laws.
"It's just been hard because we don't have a lot of answers," said Mandy. "It's just been trying to piece that night and morning together ourselves."
"It's just been trying to piece that night and morning together ourselves," Rory Albright said. "We just have bits and pieces here and there from what we've been told… just the not knowing, that's what's hard."