CLEVELAND — New data just released to 3News Investigates provides the racial breakdown of COVID-19 vaccines being administered at the Wolstein Center in downtown Cleveland, and those numbers are troubling.
The Cleveland State University site launched last month with promises to vaccinate 6,000 people a day. It's central location was specifically chosen to create better access for people of color, whose vaccine numbers have been disproportionately underrepresented in Ohio as well as the country.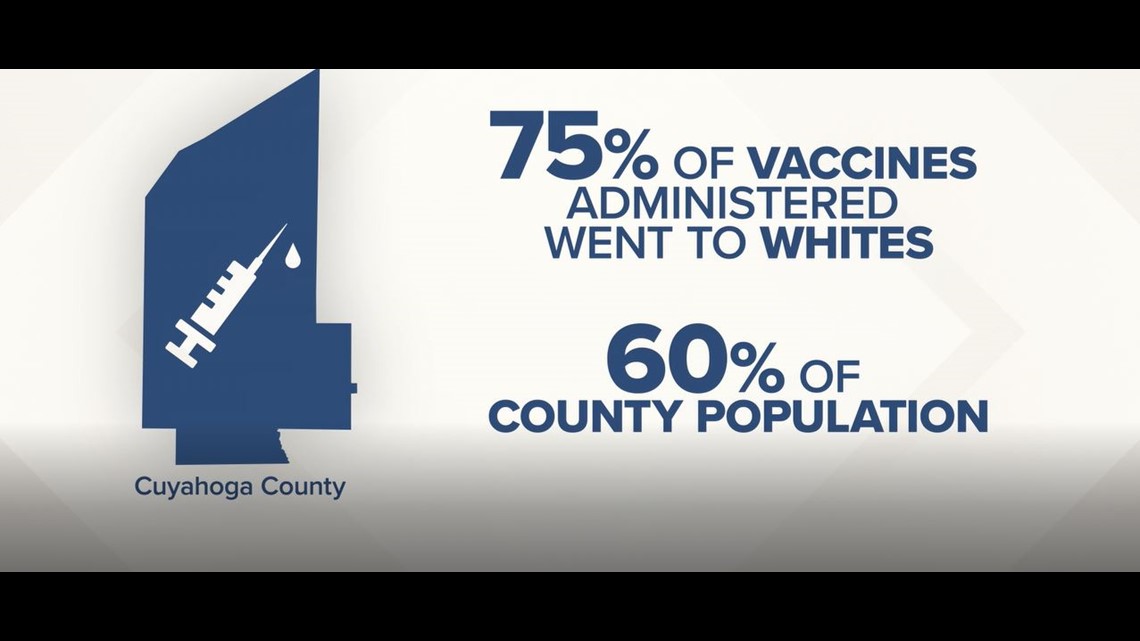 While overall numbers at the Wolstein Center have been good and patients have been impressed by the operations, leaders continue to be concerned about the unbalanced statistics among vulnerable populations.
County health officials on Friday pledged to continue efforts to ensure more minorities are vaccinated while also touting supposed progress on that front in the county overall. "The percentage of minorities that have been vaccinated at whatever location [is] way up," Executive Armond Budish told 3News' Rachel Polansky. "In Central Collinwood, Fairfax and Kinsman, the percentages have ranged from 70% to upwards of 90% increase[s] over the last three weeks. We've also done a lot to remove barriers by providing free transportation."
Yvonka Hall, the director of the Northeast Ohio Black Health Coalition, says that's not enough.
"This is more than providing a bus ticket," Hall said.
Hall believes the data simply highlights age-old issues, still prevalent in many minority communities.
"We have a low literacy level community, we have a digital divide, we have people without phone access," Hall said.
That's why she's suggesting a boots on the ground approach that would include going door to door, putting up flyers, and even bringing vaccines directly to underserved communities.
"We need to make sure the vaccinations get to the people and not for the people to get to the vaccinations," said Hall. "Proximity and access are two very different things."
As we've reported, the Wolstein Center was going to be offering Johnson & Johnson shots its last two weeks. Now that Johnson & Johnson distribution is paused, the Ohio Department of Health tells 3News it's working with FEMA on a new plan.