Amy Should Be Forty: A look back on the murder case of Bay Village's Amy Mihaljevic
Amy Mihaljevic was 10 when she was taken from a Bay Village shopping plaza in 1989. Thirty years later, her murder remains unsolved.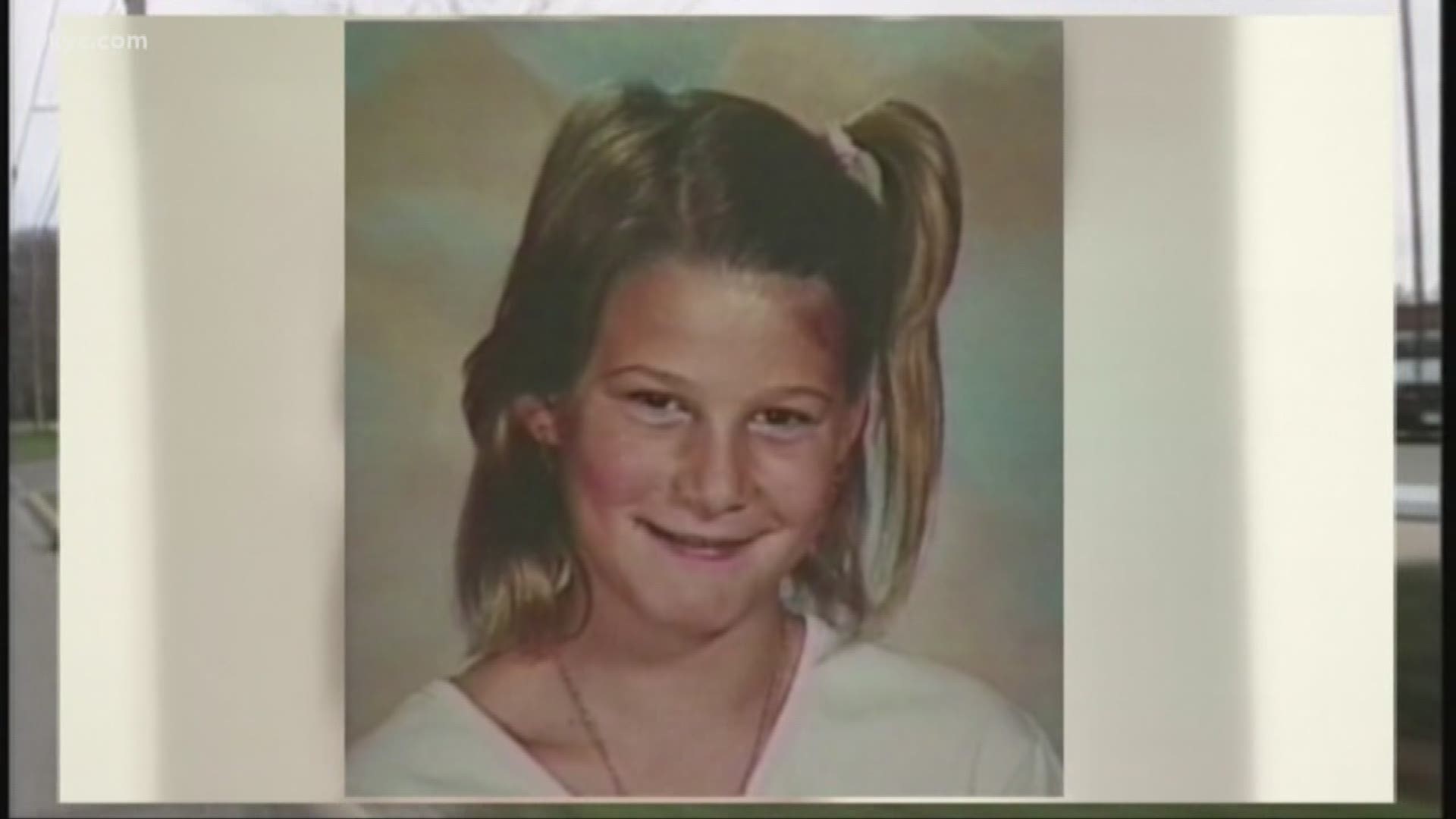 3News will air a five-part series looking back at the Amy Mihaljevic case from Oct. 23 through Nov. 1. You can re-watch those videos on our YouTube playlist.
Bay Village is a clean, quiet town nestled north of Cleveland's west suburbs. Lake Erie laps the shore to the north, while surrounding communities buzz with restaurants, bars and shops.
Largely unchanged over the last 30 years, Bay Village remains an ideal destination for those looking to slip into a peaceful life on the lake; an American dream for the easygoing.
But something happened in 1989 that left sleepy Bay Village forever with one eye open. Doors are now locked, neighbors aren't so trusting and parents pause to leave kids alone.
The mystery of Amy Mihaljevic's murder remains unsolved 30 years after it happened. Described as bright, outgoing and loving, the 10-year-old undoubtedly had a future to match her personality.
Amy disappeared from a Bay Village shopping plaza amid mysterious circumstances. She wasn't seen again until her body was discovered 50 miles southwest in an Ashland County field.
Few leads have been substantial in the 30 years following Amy's death. Detectives have worn out the case files in search of something new. Names have floated around the suspect pool, but no charges were ever filed. Meanwhile, Amy's family remains a shell of its past, as her parents divorced and her mother has since passed away.
The murder of Amy Mihaljevic crippled the Bay Village community with fear. She should be turning 40 this year. Instead, her killer walks free and those who loved her remain without answers.
3News has followed Amy's story from the start, since the day police began searching for her when she failed to return home. Now, we're continuing to ask questions about her death. We spoke with her family members, investigators on her case and others impacted by her loss. While her murder remains a mystery, one thing remains clear: her community hasn't stopped trying to solve her case.
Amy should be forty
:
How a girl's disappearance left a small town forever changed
Did you ever lose a friend growing up? Wonder what their life might look like today if they hadn't died? What they would look like? What they'd be doing for a living? If they'd have children?
For the community of Bay Village, about 14 miles west of Cleveland, a lot of people are still asking those questions about a girl named Amy Mihaljevic.
Thirty years ago, it was one of the most high-profile kidnappings and killings ever in Northeast Ohio. High profile, because it got a lot of national attention, in a place where crime just didn't happen.
A boogeyman leaving casualties. A mother who never got over it. A witness who beats himself up over not memorizing the license plate of the car that whisked Amy away. A brother who wishes he'd stayed with his sister after school. A police department that warned Amy's fifth grade class on the day she disappeared about strangers, but failed to stop Amy from ultimately leaving with one after school. And a community, that to this day, conjures her name in a warning: "Be careful of adults. Don't end up like Amy Mihaljevic."
It's a fate no one would wish on their worst enemy. Because when she was found, months after her disappearance, she'd been stabbed twice in the neck, beaten over the head with a blunt object and sexually assaulted.
She was left by the side of a rural road, while her killer got away.
A 10-year-old girl who loved horses and wore a cross around her neck in one of the most-published missing children's posters of all time. She would never come home and never grow up.
Meanwhile, her disappearance and death caused an all-out frenzy, starting with her mother, followed by her community, then her friends. It's a frenzy that hasn't fully ended.
Amy's dad, Mark, was a car salesman. Her mother, Margaret, sold ads for cars at a paper called the "Trading Times," which carried all kinds of classifieds.
A lot was different then.
No internet, no way to send or receive a mobile push alert, or even an AMBER Alert.
And on Oct. 27, 1989, there was no way to track Amy.
That Friday, Amy was at school, where a Bay Village police officer named Mark Spaetzel spoke to her class about "stranger danger." He'd later go on to become a detective on Amy's case.
At that time, Spaetzel had no idea that Amy had already been contacted by a stranger just days before -- and that she planned to meet him.
A man, who called her home and seemed to know her family. He told Amy that her mom had recently received a job promotion and asked to meet in a public place to pick out a present, suggesting a shopping center just a block from Amy's school.
Amy agreed to meet him, and even told a few friends. But she did not tell her family, likely believing she was protecting a surprise from a man who called her by name outside an ice cream shop that fateful day.
He was described as white, between 35 and 45 years old, about 5-foot-8, medium build, with dark hair and glasses.
We know this, because we spoke with someone who may have been a witness.
Rick Burns is a mechanic who worked at the shopping plaza where Amy was abducted. His shop is right behind it.
There are three strips of stores surrounding a parking lot in the middle. Rick's auto shop is behind one of those strips, just on the other side of a small alley that empties onto the road. That's the alley where the abductor parked his car, in a spot that Burns sometimes used himself.
"It was a brownish-gold GM and it was parked right here," Burns recalled.
Burns said he assumed it was a father picking up his daughter. Now, he wishes he had only remembered the license plate.
He says it's a habit now, memorizing plates, in the event he could one day provide helpful information. But he was still helpful in 1989, with a description that was soon key to the suspect composite.
It should be noted that Burns first told police he hadn't seen any suspect car when he was first interviewed in 1989. He provided the description of the GM years later, but police say he recanted it.
It's still, frankly, sort of vague. Think of this -- the abductor never gave reason for anyone to pay closer attention at the time. A father picking up his daughter – how close would you look? It only made the case harder for investigators.
Amy got out of Bay Middle School around 2 p.m. By 2:45, she was outside the Baskin-Robbins at the shopping plaza, and soon after that, in a strange man's car.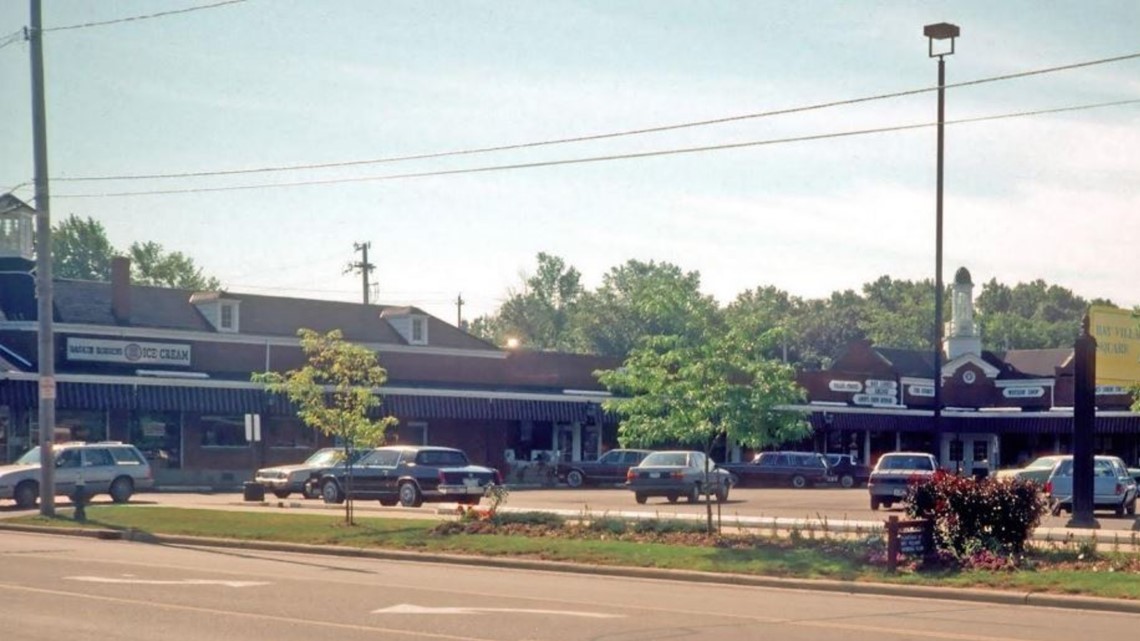 And here's where it gets really weird.
In the Mihaljevic household, the kids were required to call their mom at work after school, just to let her know they're OK.
Amy's brother, Jason, called from home around 3:10 p.m. and told his mother that his sister wasn't home yet. Then Amy called, around 3:30 p.m., 20 minutes later, to tell her mom that everything was fine.
Margaret Mihaljevic assumed Amy had returned home. But she hadn't.
And when Margaret came home from work, she learned Amy never had.
She then did what any worried parent would do, calling friends and neighbors, retracing Amy's route back to school, where the girl's bike was still on a rack. And then – just before 6 p.m. – she went to police to report her daughter missing.
It was on the 11 p.m. news.
That night, the mother curled up beneath the phone mounted on her wall, waiting, waking up to the first day of the rest of her life without her daughter.
The place where Amy placed that phone call remains a mystery – a pay phone likely, but where? Records didn't exist back then.
As the trail went cold, Amy's story went national. Parents freaked.
After all, Family Circle magazine had ranked Bay Village as the country's sixth safest city.
Communities soon canceled trick-or-treating. By Thanksgiving, there were 800,000 posters of Amy's face, which people took with them and posted in faraway places where they traveled. Countless volunteers searched and spread the word.
On her birthday, Dec.11, Amy's classmates planted a tree by their school as both a present and a wish for a safe return. Later, at 7 p.m. that night, every church bell in Bay Village rang in unison.
Back at Amy's home, there was a candle by her picture and one in the window, and another message from her mother – wearier than the last. She looked tired on TV as she said, "Oh, happy birthday. We miss you. Come home. It's very difficult to have a birthday party without the birthday girl."
Earlier that day, officials announced a reward for information that led to Amy's return.
"I ask as Amy's mother on this, her 11th birthday, to give us the gift of that information," Margaret Mihaljevic pleaded.
Christmas came next, followed by a new year. Nothing… until Feb. 8, when a jogger found a body along County Road 1181, a rural road in Ashland County, in Ruggles Township, 50 miles from where Amy was abducted.
The gruesome details came next.
Amy had suffered what so many had feared. The Cuyahoga County Medical Examiner determined Amy had been stabbed in the neck multiple times.
Later that year, on Oct. 27, 1990, the first anniversary of Amy's disappearance, Margaret Mihaljevic spoke again, at a service for her daughter. She stood beside a marble monument to Amy in a park at the center of Bay Village. It looked like a headstone.
"Let's fill the void that her passing has left with positive thoughts, with a smile on our face and say she blessed our life for a while. Unfortunately, she is gone, but now we must live on," Margaret Mihaljevic said.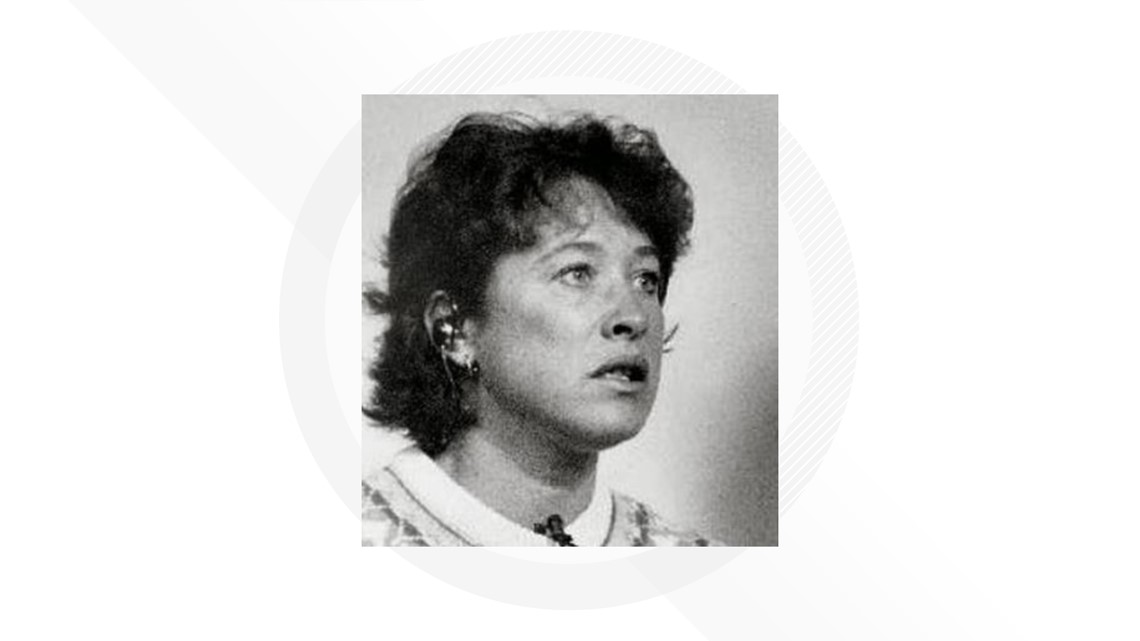 But in the shadow of Amy's death, living wasn't easy. After all, her killer was still loose. If he could get the Mihaljevics' daughter, how could he not get someone else's?
Soon, 20 other girls came forward, saying a strange man also called them, wanting to meet. And there were even more suspects, with investigators conducting roughly 20,000 interviews, using truth serum at times; other times, hypnosis.
It was all to catch a killer, who didn't just take a life, but also took trophies.
The lineup
:
Meet the key suspects in Amy's murder
"It was a beautiful fall day. It was Oct. 27, 1989, but it was a gorgeous, sunny day. I remember it well. I actually had an opportunity to go into the Bay Middle School and talk to a class that day of middle school kids, and I found out later that Amy was in that class. So ironically enough, I actually saw her that day in the classroom."
That's Mark Spaetzel, talking five years ago, about a day now 30 years ago.
It had been a year with just a few robberies and about a dozen stolen cars in the Bay Village community. Spaetzel was a patrolman just a few years into the job.
Today, Spaetzel is Bay Village's Chief of Police, and he says that day in 1989 always comes up.
"Somebody will ask me about it, talk about it. You know, they'll hear Bay Village, they'll know it's the Mihaljevic case. So yeah, it's probably at least monthly," Spaetzel said.
And he'll tell them he's "on it" as he has for most of his career.
"It's personal in the sense that you know any 10-year-old girl is a tragedy. And when it hits a town like Bay Village, it's personal to not only the investigators but the community as well. So, we owe it to the family, we owe it to the community to solve this," he said.
There's plenty of proof the case is alive. Just visit the department. There's a section for the FBI, which never left. Then, there's the evidence room, with 11 shelves with three boxes each, holding "stuff."
There's also about 100,000 pages of documents, and then, one of the strangest and saddest items of all – Amy's bike. It's been there since 1989.
You'd think it would be moved. After all, there are other investigations, other things to store. But somehow, no one seems to think it's in the way. They just left it. The tires are flat.
The FBI joined the search for Amy about 14 hours after she went missing. On Oct. 28, 1989 – a Saturday -- Special Agent Dick Wrenn, who's originally from the west coast, was on a new case. And he considered it personal.
He has children Amy's age. He shops at the plaza where she disappeared. He knows what it's like to be a dad, and can only imagine what it would be like to lose a child.
He first heard the news from his neighbor, then the brass – "It's yours" – and began canvassing the street with Bay Village police.
That day, they heard from one of Amy's friends, who told him what had happened. She said Amy had agreed to meet a stranger who she thought was a friend to go shopping with him to pick out a present for her mom.
A stranger who must have been beguiling, bold... the possibilities are bone-chilling.
To this day, the phone call Amy received remains a critical detail. Her mom hadn't received a promotion, just a different job at the paper. Investigators believe that phone call led to the fateful meeting between Amy and her killer.
For the next 103 days, Spaetzel's department worked with the FBI to check on nearly 4,000 leads. There was little time off, while the community treated Amy like a daughter. A printing company donated roughly 2 million fliers; volunteers shared them, some even made it overseas.
Still, nothing, until Feb. 8 the following year.
Amy's decomposing body was found by a jogger that morning. Her clothing had not changed from the day Amy disappeared, though investigators suspect it was removed and put back on.
A jogger, named Janet, claimed she'd been in the area just the day before but did not notice the body. The next day she did, and ran right to the nearby home of her friend to call police.
The autopsy placed Amy's time of death close to the time of her disappearance. They could tell she had eaten at least once.
It took dental records to identify her. Detectives believed she'd been there awhile, maybe covered by snow, or by a potentially crucial piece of evidence.
What was known at the time, though, was Amy had been struck on the back of her head by a blunt object and stabbed twice on the left side of her throat. She'd also been sexually assaulted.
And then, investigators noticed what wasn't there – Amy's favorite horse head earrings, which she always wore. They were gone, and so was her windbreaker, her boots, a folder and her bookbag.
At the time, Richard Macintosh, a retired and respected police captain who specialized in missing kids, weighed in.
"It helps take what now is a case with clues that are getting stale and helps freshen those clues," Macintosh said. "You're going to look for the type of wounds to try to determine what type of instrument may have caused the death. That may give you a clue as to a specific kind of individual to look for, a person working a specific job that might have access to a tool like the tool that might have been used."
Next, he weighed in on how a person like that might think.
"We're now looking for an individual who has a propensity to violence. An individual who probably lacks self-esteem. A person who has to gain control through the use of force and violence," he said.
A parade of suspects came next.
But first, it should be known that the discovery of Amy along that quiet country road was not a complete surprise.
About a month before, a caller told 3News, as well as police, that Amy was actually a few miles away from that discovery spot, in a town called Sullivan. Keep in mind, though, it was one of thousands of leads, and didn't seem to go anywhere, even with dozens of FBI agents on the case.
There was now one place investigators began looking right away: Holly Hill farms in Avon Lake, where Amy took riding lessons, one township over from Bay Village.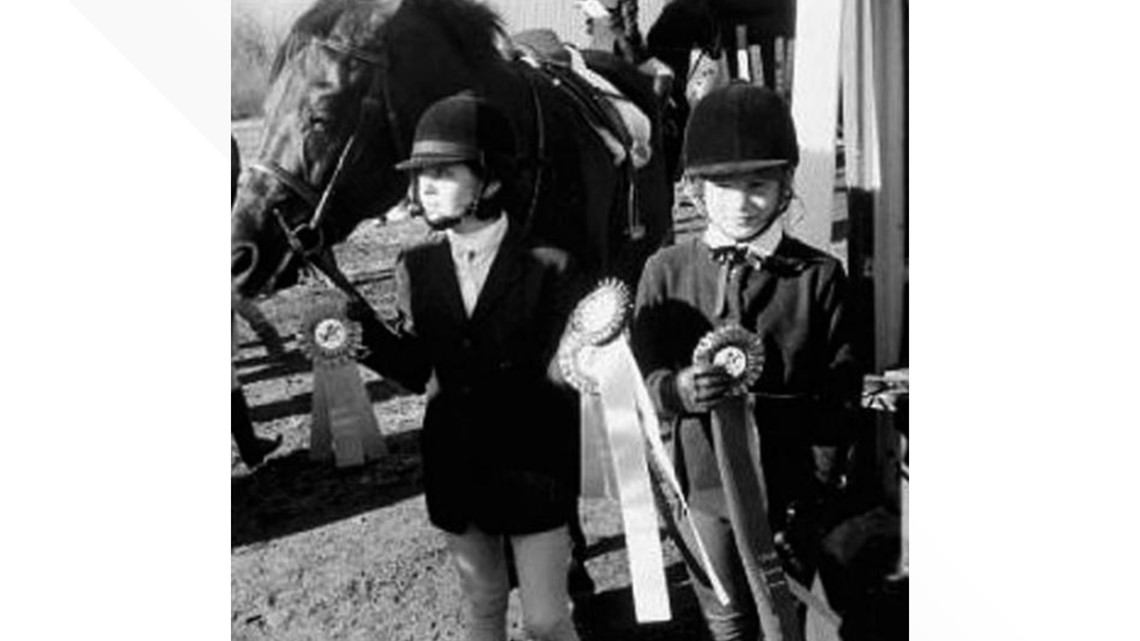 3News has made a decision not to name suspects in this case, because no one has ever been charged in Amy's murder. Yet we can't tell this story without first talking about that suspect at Holly Hill Stables.
James Renner, a former Cleveland Scene reporter and author of "Amy: My Search for Her Killer," described the Holly Hill suspect as a "paranoid schizophrenic Vietnam veteran" who lived at the farm, which his sister owned.
Renner says the man was considered the top suspect in the case for the first 11 weeks, and that detectives were laser-focused on him, for valid reasons at first.
"He was interesting for a number of reasons. He kind of creeped the girls out, that were taking riding lessons there, so when the FBI came and interviewed Amy's friends, a lot of them said there's this creepy guy that lives here, you should look into him," Renner explained.
He'd wear camouflage, wandering through the woods, and would sometimes say things that were off-putting. But there were no reported incidents in which he actually put his hands on a girl.
He knew who Amy Mihaljevic was, as he kind of kept an eye on her. He remembered, he told a story about how her mother dropped her off one day. Her mother was kind of in a bad mood and tossed Amy's riding boots out the window as Amy was sitting there, and her mother pulled away. He went up to Amy and said, "Do you need help putting on your boots?"
Renner later tracked him down, at a halfway house near Cleveland's west side. He said the suspect claimed the FBI gave him sodium pentothal, or truth serum, since he likely knew how to beat a lie detector test as former Vietnam War intelligence. Renner says the FBI eventually admitted to giving the suspect the truth serum, which ruled him out as a major suspect in Amy's death.
There were other suspects, too. Renner has a list of three. Two are middle school teachers. The first on his list taught math, and was the brother of Amy's riding instructor. The other teacher taught science and bears a striking resemblance of a composite sketch drawn of Amy's killer. At the time of her abduction, he lived less than two miles from where Amy's body was found.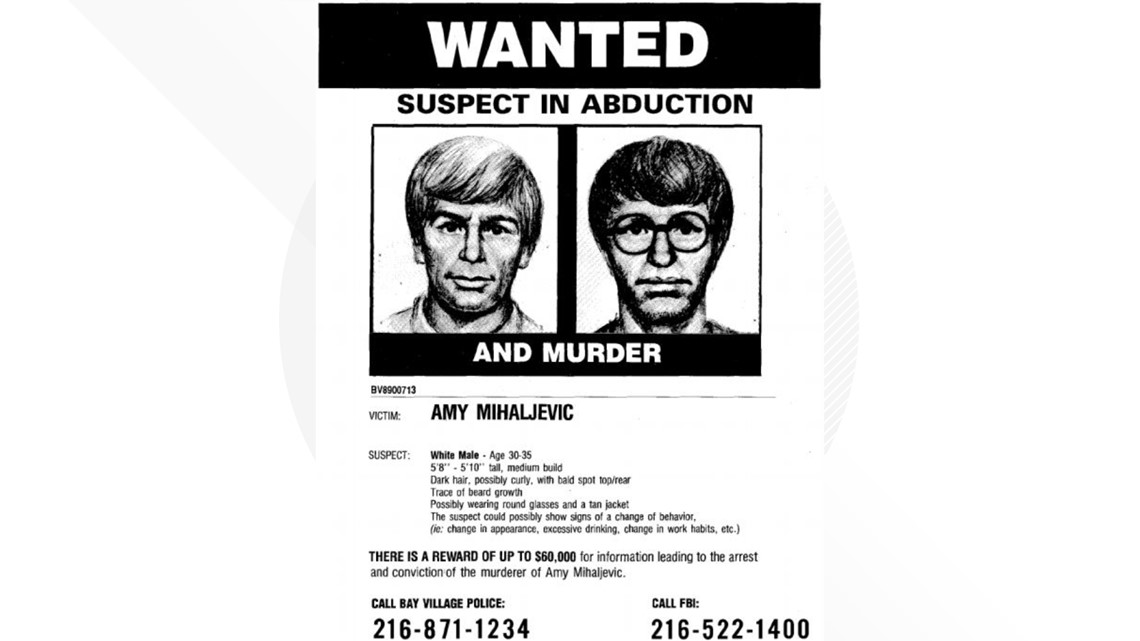 When the science teacher emerged as a possibility around 2005, Renner reached out to his former supervisor, and learned about love letters written to one teen, inappropriate touching with others. We know 100% that he crossed lines with students. There were police reports where they found him in parked cars with underage students.
Police and the FBI eventually found him in Key West, and Renner soon followed. Forty-five minutes before he was scheduled to leave the island, Renner made a Hail Mary effort to find the suspect.
And the man literally walked right in front of his car.
Renner called after the man, who stopped and turned around.
"I said, 'Do you know who I am?'" Renner recalled. "And he said, 'Yeah, you're James Renner. You know, my sister said you'd be looking for me.'"
Renner asked about a nature center in Bay Village, a place Amy frequented, and where investigators suspect the killer could have first seen her. Renner decided to bluff him.
Renner asked him, "'What would you say if I told you I had in my pocket, I have a picture of you with one of your students at that nature center?' And he thought, he got quiet, and he thought for a minute, and this is exactly what he said, word for word: 'I never told the FBI I wasn't there. All I ever told them was I don't remember being there.'"
Still, the man was never arrested.
There were also confessions… at least three. One during the disappearance, from a cruel prank caller. Then, after Amy's body was discovered, where a man burst into a local church and gave a loud confession. There was also a man seen by the open hatchback of a dark blue car at the field where Amy was found, about 13 hours before she was found. But that witness took a year to report it. Again, a license plate might've helped – but again, who looks at them when they don't think there is something happening?
No detail was ever too small. Years passed. And then, in 2013, a rock star with the FBI signed on.
Mob boss James Whitey Bulger controlled Boston's underworld for decades. He spent 16 years running from the FBI, until agent Phil Torsney hunted him down.
On the day that Bulger's sentencing began, Torsney found himself back in Northeast Ohio, reassigned to one of his original cases, the disappearance and murder of Amy Mihaljevic.
By the time he was reassigned, it was more than 20 years after Amy's death.
Torsney, whose detective work caught Boston's most notorious mobster, played by Johnny Depp in the film "Black Mass," found himself in Northeast Ohio, hoping to catch a different kind of criminal.
"It puts me in a position where I can do some things that maybe have not been done before, have not been done recently, to try to make something happen. And the challenge I guess for me and, you know, sometimes you have more success with this than others, is to come up with something new that's going to take this case in a direction that's hopefully going to result in the arrest of the guy who did this," Torsey said a few years ago, when investigators developed a new lead in the case.
In June 2016, the Cuyahoga County Prosecutor's Office revealed new evidence for the first time: a handmade curtain and blanket, which were found not far from Amy's body. At the time they found her, there was some thought it was just litter. But later, they learned that Amy came in contact with them both – a connection made through dog hair.
This was big. Using emerging DNA technology, detectives were able to compare a hair from Amy's dog, which they saved, with those on the curtain and blanket. They figured if they could get that curtain and blanket into the public view, someone might recognize them.
It wasn't unreasonable, because although the pea green blanket was ordinary, the pea green curtain had distinctive features, like jagged stitching that made it look homemade. And if you knew its owner, perhaps made it yourself, wouldn't you remember?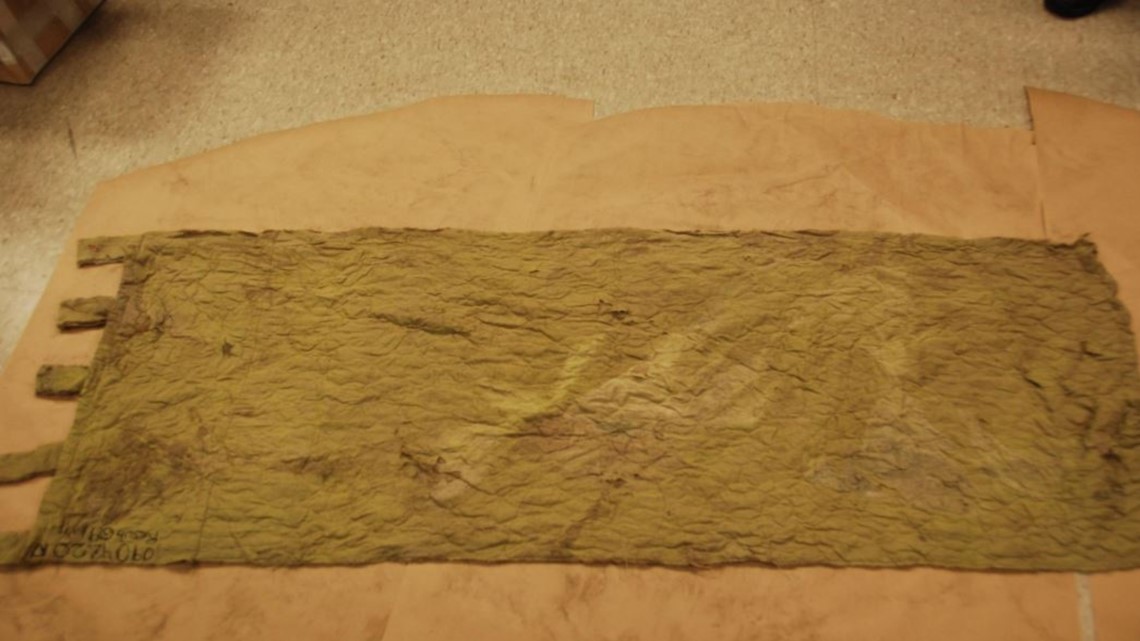 That day, Amy's father and brother were back at their first news conference in years. The parents had since divorced, with her mother passing more than a decade earlier in Las Vegas from complications from lupus.
For a time, she had crusaded to help find missing children, even appeared on "Oprah," but never got over losing her child.
"It would be good to get it over with," Amy's brother said during the news conference.
But it wasn't over. Not even close.
Besties
:
A tomboy who liked 'Golden Girls' and Patrick Swayze
Baskin Robbins is no longer at the shopping plaza where Amy disappeared. These days, kids have moved on to a Dairy Queen up the road, while those who were here in 1989 can't come back and not think of Amy.
Kristy Sabo says Amy was her first friend after the two had a sleepover in second grade. She remembers Amy as a tomboy who liked the "Golden Girls" and "Dirty Dancing," and who had quite the crush on Patrick Swayze.
She remembers Amy's bedroom, recalling how cool it was by kids' standards. But by late 1989, it became a bedroom that Sabo never wanted to see again.
"Mrs. Mihaljevic never made me uncomfortable. She was wonderful. Her grief made me uncomfortable as a kid, you know Amy's room being the same, Amy's house, Amy not being there," Sabo recalled.
Sabo said Margaret Mihaljevic invited Amy's friends over to the house after Amy's disappearance. Margaret felt that it made her closer to Amy.
"Unfortunately, I had a hard time doing that and I do regret that to this day, but I was 10. And I remember my mom driving me there and I couldn't go, I just could not do it," Sabo recalled.
Today, Sabo has kids of her own – a son and a daughter, who's 4. It petrifies her with fear, having lived through a worst-case scenario.
"In my head, in my 10-year-old head, I was like, 'She's fine, she's coming home. It's okay.' But it turned into another thing. My mother was on the news that night, asking where she is, and it was very surreal after that."
Soon, the things that symbolize childhood for most people stopped for Sabo.
"Say, you know, ride our bikes up here to Baskin Robbins, which we did regularly. You know, that was a no-go. Trick-or-treating that year, when we would all go out trick-or-treating, that was a no," she explained.
Pause for a moment to consider this: back in 1989, how many ways could a predator take little kids? Steal them from a park? Grab them at a mall? Both would be likely to raise red flags.
The panic was understandable, but were people getting a little extreme? After all, according to the National Center for Missing and Exploited Children, less than 1% of missing kids are the result of non-family abductions. This was an anomaly, which everyone knew, which made it the big story it was.
Statistically, it was highly unlikely that someone you did not know would take your kid. Most missing children are runaways, followed by family abductions – in about 4% of cases.
It wasn't some kind of creepy close family friend or relative. What happened to Amy was rare. Really rare. And, keep in mind, everyone was watching. Kids might have never been safer.
But here's where it gets scary... It's when we begin to think about what would happen today if a predator tried reaching her, and how they could do it. From Snapchat to PokémonGo, they would have a lot more than a phone at their disposal.
There's an explanation for why Sabo worries – she's been through something traumatic. For the rest of us, we know what tools the bad guys have to traumatize us. Think of social media and all the new, digital outlets predators can use to find children. Amy's was just a phone call.
But the trap really took more than a phone call. It was the timing in Amy's life. She was vulnerable. Sabo says Amy wanted to please, maybe more than most kids did.
Amy's parents had been fighting and would eventually divorce. And at the heart of it, Amy was a momma's girl, who wanted to make her mom happy by picking out a present for her. That opened her up to vulnerability, so much that she may have ignored the rules.
Amy's father, Mark, said the family had a code word to protect her and her older brother, Jason, from strangers. He isn't sure that Amy even used it.
Mark said his daughter knew better.
"Margaret and her were the best of friends, and Margaret and I were on the rough edges of rough times, and she wanted to impress Margaret," Mark Mihaljevic said.
To make this story even more bizarre, there's also a conspiracy theory involved.
Mark Mihaljevic often thought the killer was the son of a man who did floors in his home. Again, since he wasn't charged in Amy's case, we're not naming him.
The catch? He's in prison, serving a life sentence.
Police caught the man burying a body in his backyard. It was reportedly a "frienemy" who used drugs with the suspect. It was a messed up scenario, but it fits one belief that Mark Mihaljevic's had all along – that whoever it was had to have known his family and their routine.
That routine involved the Lake Erie Nature Science Center in Bay Village – free to the public, just up the road. Inside, the center had a guest book where visitors voluntarily wrote their name and address. When Amy's case came to light, the book could no longer be found.
It was missing, though no one knows what exactly happened to it. Other girls had received phone calls. The common thread? The science center.
In those days, you signed in when you went, just beyond the front door. And again, the girls who got calls had signed that book.
Renner has another suspect in mind. This time, it's personal.
Flash back to when Renner was a teenager. He was spending a weekend with his mom in the Old Brooklyn community, a more urban neighborhood closer to Cleveland, when he decided to explore a park across the street.
There was a man standing in the doorway of a park bathroom, grabbing himself. Renner continued on a park path, into the woods. That's when he realized the man was following him.
Renner ran, and the man followed pace. It wasn't until Renner managed to scale a wall that he was able to escape the man, who stood just below him.
"I remember two things about his face. One, the mask had come off. ...Like figuratively. You know his mask, what he shows people day to day, you know. And all that was left was this look of sheer rage on an adult's face and I'd never seen that look on an adult before. Just complete rage. And secondly, I remember he looked sort of like Leonard Nemoy," Renner recalled. "To this day, I think it's possible that the guy who took Amy, it could've been the guy who tried to take me in that park."
Renner partly believes that, because years later, at a book-signing, he was approached by a man who once worked in that park system. Renner told him the story about that day in the park, and as he spoke, the man's face became white.
"After I tell him this story, he says, 'Have you ever looked into my boss?' I'm like, 'Look into your old boss for what?' And he kind of waves his hand at the table of books and at me and he says, 'For all of this.'"
James Googled the creepy man's name. The results were jarring.
Renner says the first results he received in his search were newspaper articles, about when the man was arrested in 2002, for what Renner believes was soliciting a sex act from an undercover agent at the exact park where Renner had the frightening encounter.
"And along with the article is his picture, and damned if he doesn't look quite a bit like Leonard Nemoy," Renner added.
Public records also reveal the man committed himself to a mental hospital just 10 days after Amy's abduction. But he was never charged in her case.
No suspects charged and no concrete persons of interest to question. For now, investigators still have hope in one final clue: untested DNA from three single hairs, one of which could belong to the killer.
But to know for sure, that evidence would have to be destroyed.
Siblings
:
How life changed for the Mihaljevics
Jason Mihaljevic says day to day, he's just like everybody else. But come October, December, February, it gets harder.
Jason is Amy's older brother by two years. Most of his life has been spent without his sister, so much of it spent thinking how life would have been different with her.
And then there's the part he doesn't think about much. How he retreated, almost tried to disappear himself when Amy went missing.
"I figured my parents had enough on their plate, so I sort of went in the background," Jason explained. "I'd go in the basement and build like model cars or take the dog out for a walk to the lake, just trying not to be in the house and be in their way because I couldn't call people. I couldn't go drive someplace."
He was in the seventh grade, eyes set on high school, but distracted as he tried to monitor the phone for a call that never came.
His outlook on life started to change, while the lies began to sting.
Jason remembers coming home to an empty house the day Amy disappeared. He called his mother to ask what was going on, and she remembered Amy had mentioned a choir practice or tryout of some sort, meaning she would be home later.
But there was no choir practice. The choir didn't even meet that day.
An hour goes by. Eventually it's 5 p.m. By now, you know the rest.
When a reporter later asked him on Amy's birthday about seeing her picture in so many places, it's as if by then, he's built a cocoon.
"It's painful," Jason said when asked to think about the signs and billboards with his sister's picture. It's still painful.
"There are really no words fully to describe it. ...I know she would have been bright and happy and successful at what she was trying to do," Jason said.
So why did Amy agree to go with a stranger?
Did the guy promise her a lifetime of ice cream? A pony? Popularity beyond her wildest dreams? A date to the dance?
He promised something that Amy wanted even more: the chance to make her mother happy, a woman nearing a divorce.
In the suburb of Bay Village, and many others for that matter, many moms and daughters are in that same boat. They're bonding together in a time of trouble, maybe not a divorce, but a financial hardship or perhaps sickness.
For Amy, it was worth the risk to cheer up her mother -- even if that cheer was only temporary.
"We were both told not to walk off with strangers," Jason noted. "We were both told not to, you know, answer the door, go off in cars with other people we don't know. She was naive but not stupid, if that makes sense. So what was actually said to lure her into the van baffles me because we did know not to do that."
To clarify, witnesses say it wasn't a van – which may fit the narrative of a creepier suspect – but rather, a bronze Pontiac.
Remember the witness earlier in the story, who called it a GM, which once made Pontiac? Amy's body had fibers from such a car.
Another clarification – and a far more important one – is that Amy wasn't dumb. And you can't completely blame her misstep on her youth, either. Think about her parents at the time -- feuding. Something so often personal, painful, even irrational, might cause people to behave in a way they otherwise wouldn't. And they know it; at least they should.
So why can't kids do the same, especially in tough times?
Some may be a bit unpredictable. Others may lash out as bullies, or become victims to bullies. But Amy wasn't either. Her way of coping was to trust that the world could be better, that her mom could be happier if she just put herself out there and took a risk.
Naïve may be right – but as her brother said, Amy wasn't stupid.
Meanwhile, everyone who knew the Mihaljevics knew the family was also in peril.
That likely explained why Margaret Mihaljevic burrowed herself in Amy's bedroom, away from that peril to try and embrace what good was left.
Mother and daughter, still inseparable, until Margaret died in 2002.
"A lot of that was the stress of what she went through," Jason said.
Jason admits he blocked out a lot. Who can blame him?
"You're powerless but there's just so much to take in," he said. "I was sort of focused on being out of the way than my feelings at that point. ...I went about my life, took care of the dog and did what I could."
Now, Jason is a father to two boys, something he'll never take for granted.
"It makes me a better father. It makes me realize my time with my kids is vital and I'm not going to give it up for the world," he said.
Jason probably won't read this story, or listen to the corresponding podcast. If Amy's killer is ever caught, he probably won't see it on TV. He's still tuning out the past and avoids a lot of media, unless he's asked to talk.
"Just because I don't want to relive it. I've dealt with it in real life."
Remember "The Andy Griffith Show"? That happy-ass Americana?
Some people call Bay Village "Bayberry," like the fictitious "Mayberry" in the show. And despite the name, "Bayberry" is also fake, not a real place, at least not around Cleveland.
It's the idea that Bay Village is a place where neighbors have each other's backs. And it's true. You see a lot of churches – Methodist, Presbyterian, Catholic, Episcopalian Lutheran. There are no organized sports in the park on Sundays.
As Renner once wrote in a Cleveland Scene article, Bay Village is a place where "dilemmas usually consist of whether to take chips or dessert to the block party."
It's like people don't have enough real things to worry about, so they invent problems. Or maybe call police – perhaps part of the reason that the police department still gets weekly tips on Amy's killer.
When it came to suspects, Amy's family was actually the first on deck. Her father had been away on business in Cincinnati, but statistics point to family if the child isn't a runaway.
"They understood," Spaetzel said. "The Mihaljevics understood what had to be done and those questions were asked, and they were ruled out immediately. And then you start working out in kind of like concentric circles from the family."
Like a stone thrown into Lake Erie from the shores of Bay Village's Huntington Beach, those circles went out further and further, until they finally disappeared.
Spaetzel says he's had literally thousands of suspects reported as detectives tried matching Amy's case with others in a national database looking for common threads.
Phone records couldn't help. The only surveillance camera was inside a bank on the plaza, not outside. It would be so different today.
"Today if this happens, we've got phone records, we've got videos, we've got all kinds of different things," Spaetzel said. "We've got far more credit card receipts. You got so much more information than you would back in 1989."
Spaetzel's gone gray and had a family since he first heard Amy's name. He's aged well, but next year, he'll retire. He's uncertain if he'll ever fully let go of this case.
"Mostly for Mark and Jason Mihaljevic, their family and certainly the community. I think they deserve an answer," he said.
That answer might lie in DNA.
"When you think of DNA today, you think of nuclear DNA, you think of blood, and you think of what you can do with that blood. You can get a profile from that DNA, you can put it into a database and if the person is in that database, you're going to connect. We don't have that kind of DNA. So our DNA does not lend itself to be put into a database for a comparison against a known population. So if we're going to be doing anything, we have to develop a suspect and then try to do a comparison on the back end of that kind of thing," Spaetzel explained.
All they have are three fragile hairs, all from white men, found on that curtain and blanket in that field with Amy.
But it's easy to wonder, if they could ID the Golden State Killer using evidence from the 70s and mid-80s, why not here? In some cases, a suspect's lineage can be traced back to the 1800s. How could this evidence not hold more answers?
"We're hoping that in the future, there'll be some test with our DNA that we can do a test and create that, but right now we're not there," Spaetzel said. "In the process of analyzing DNA, you use up that DNA, and it's gone. So you have to be very careful on when you pick and choose what you're going to do."
Testing now would destroy the evidence. And because it's mitochondrial DNA, not nuclear DNA, you also need someone to match it to.
But what if the killer is dead? Hit by a car? Already in custody? Out of state? Those are all possibilities.
There's even more room for discouragement when it comes to how Amy even got those hairs on her body. Renner has noted that contamination and trace evidence is a possibility.
"It can even be something as simple as back in '89, they reused body bags. It could have been whoever was in that bag before her. But we're holding out hope that it's somebody connected to the case or the killer. Another explanation for why there are three different male hairs on her body could be that more than one man was involved in this crime. You know, maybe you have suspects that alibi each other out," Renner said.
But one of those hairs holds a rare marker. This marker is associated with a higher risk of schizophrenia. Renner believes that hair is the most likely one to have come from Amy's killer. While Renner thinks law enforcement should roll the dice and test the DNA immediately, Spaetzel says it's a long shot.
"I believe it's going to take someone from the public," Spaetzel said. "Somebody out in the community to call and say, 'Hey, I haven't called but I just want to let you know I've got this thought, and this is what I think, and if it's the right piece of information, all these pieces can come together.'"
Loose ends
:
Will Amy's killer ever be caught?
Investigators have had at least a tip per week, every week, for the past 30 years.
Do the math – that's a lot.
Officials have used truth serum, even hypnotized at least one of the children who witnessed Amy with her abductor. Apparently, there's even a recording of it. They've applied forensic science and the latest technology, and have the potential to read new mitochondrial DNA off of three hairs.
And they've tossed a Hail Mary, pleading for leads from a population which is sadly aging and losing its memory.
The bulk of the investigation now falls on FBI Special Agent Lisa Hack, who's been on the case for the past six years.
A few years back, when it was 25 years since Amy's disappearance, the FBI launched a billboard campaign to prompt interest, partly with the hope that perhaps someone driving down the highway from another part of the country might see it. Perhaps the killer, or someone who knew them, might be passing through from outside the area.
They wanted national attention, offering up to $25,000 for information that led to an arrest and conviction.
Today, Hack knows what she's up against. There's still no clear connection between Bay Village, where Amy lived, and Ashland County, where they found her. And even though investigators at the time did everything right, they were limited by the range of their technology.
Thirty years from now, we'll likely say the same about our technology today -- that it could've used work. We can also say that if we only had today's technology in 1989, we'd could've had Amy's killer.
Hack says she's reviewed nearly 100 suspects and persons of interest.
"It's hard to explain to someone who's not necessarily with the FBI, but the case volume, the size of this case is over 70 volumes of papers and documents. So there's been literally thousands of interviews, probably hundreds just since I've been the case agent, and there's been six case agents over the years. So you know there's just an outstandingly large number of evidence and documents in this whole case," Hack said.
And that's still not enough. Hack says investigators still need information from the public.
"There's lot of people up to today that have called and said, 'You know, I never wanted to say anything in the last 30 years but I'm saying it now,'" Hack explained.
It isn't that suspects have been ruled out – rather, there just isn't enough evidence to move forward with any of them. And if you ask Renner, Amy was the killer's only victim.
"I suspect this was a one-off thing, and he either found some way to make it not happen again. I think he's a serial abuser. I think he's crossed the line with kids a number of times, but I don't think he's killed anybody else," Renner explained.
Renner envisions a person who thought things through only to a point. First, plotting to get a girl in his grasp in a place where he could blend in. But then, in that moment, he doesn't entirely know what to do. He's never gotten that far.
At first, things are fine. He and Amy go to a place where she's still comfortable enough to make a phone call. Her mother, Margaret, doesn't detect anything unusual in her voice. Then, things go south.
Amy had to realize it was all a setup, and panicked, along with her abductor, which perhaps explains how a blunt object came into contact with her head. Maybe it was the fallout from a very sick man who called underage girls and had never fulfilled his fantasy with one.
Tom Beres, former 3News reporter, remembers Amy's case all too well. He was there the day Amy's body was discovered.
"This was a story that just kind of grabbed greater Cleveland by the lapels, by the throat, just grabbed the entire region's attention," Beres recalled.
You heard Special Agent Hack address how six FBI agents handled the case. It's similar in the media, where the same sad torch has also been passed down. Tom's story is now mine, someone who was just a kid when he had it.
Like the media, police wanted as much coverage as possible to keep Amy's story on the front page and leading the evening newscasts.
Amy's infamous picture always a part it.
"Cute little girl with that little pony tail off to the side, freckles and a cute smile on her face. I'm sure it was a class picture that could be anybody's daughter, your next-door neighbor's daughter," Beres said.
Another interesting thing to note about Beres: earlier in this story, we mentioned a man had burst into a local church, confessing that he killed Amy.
It happened on a Sunday, at a parish called St. Angela's in Fairview Park, two townships over from Bay Village. Tom was in church that day. By then, though, it'd been more than a decade since Amy's death.
"In the middle of the service around communion time, there's a voice that just rings throughout the church. 'I am Satan, you know me, I killed Amy Mihaljevic,'" Beres recalled. "And everybody is either surprised, aghast, afraid, you know, looking around."
The man was quickly apprehended by a couple of off-duty police officers attending the service. Meanwhile, Beres called the station right away, thinking he had a lead. That inside scoop was short-lived, as the man was ruled out within a day or two.
It wasn't a secret then – or now – that if a solid lead doesn't come within the first 48 hours after a person goes missing, the odds of solving that crime go down. By a lot.
And if those missing persons are kids, the odds of death are very high, after just 24 hours. That's what recently made the "Miracle in Cleveland" what it was – a miracle in 2013.
Three girls abducted a decade earlier, held captive in a madman's basement. They'd been restrained, beaten, sexually assaulted, starved and psychologically abused. But eventually escaped to freedom. And that's the happy ending.
But in this case, there was a body. And for a time, the case seemed unsolvable.
But Renner believes we may have never been closer to answers.
"At this point in the year, technology has caught up to where they have tests that they can do that will get not just mitochondrial DNA from these hairs, but possibly nuclear, the full DNA sample. The profile, everything we're looking for. They've been able to do this in a couple of cases in just the last year, so I think that the technology is there," he explained.
Hope. This September, an article in the New York Times was about exactly that, about a game-changer when it comes to crime and surveillance.
Apparently, a paleogeneticist at the University of Southern California has developed a way to extract DNA from a hair without its root, something once believed to be impossible.
The article went on to say the scientist has quietly cooperated with law enforcement. We don't know if he's reached Bay Village. According to the Times, he doesn't talk about investigations.
Amy's killer may be running out of time. But perhaps, so is law enforcement when it comes to some of the ethical and legal questions over obtaining a person's DNA. We're still in the Wild Wild West of that debate.
Mark Mihaljevic doesn't celebrate Amy's birthday anymore.
When Dec. 11 rolls around, he simply pauses to reflect on how old she'd be. Then he moves on.
He's also never been to his daughter's grave, which is in Wisconsin, near Milwaukee, where he and Margaret were high school sweethearts. It was where they planned to be buried.
Instead, Margaret now rests alongside the person she loved most, in the plot she once meant to share with her husband: mother and daughter asleep.
Meanwhile, fall has returned in Ashland County, with green grass and golden fields, winds still warm, and clouds so vivid against a blue sky, they look almost painted.
It's nothing like the grays of file footage on the day that Amy was found. And in that spot, where the cameras couldn't go that day – the spot where that jogger found Amy's body – we notice a single bouquet of wildflowers. Bright pinks and purples, like the colors of a little girl's bow.
You could almost picture someone coming up to you on a horse. There's so much room to breathe. Perhaps that rider is nearing middle-age, her sandy brown hair pulled back in a ponytail. Is she a mother?
If you've ever lost a friend growing up – and wondered what their life might look like – this image is a good one. Grown and in control.
Only we'll never know if that could've been Amy's life.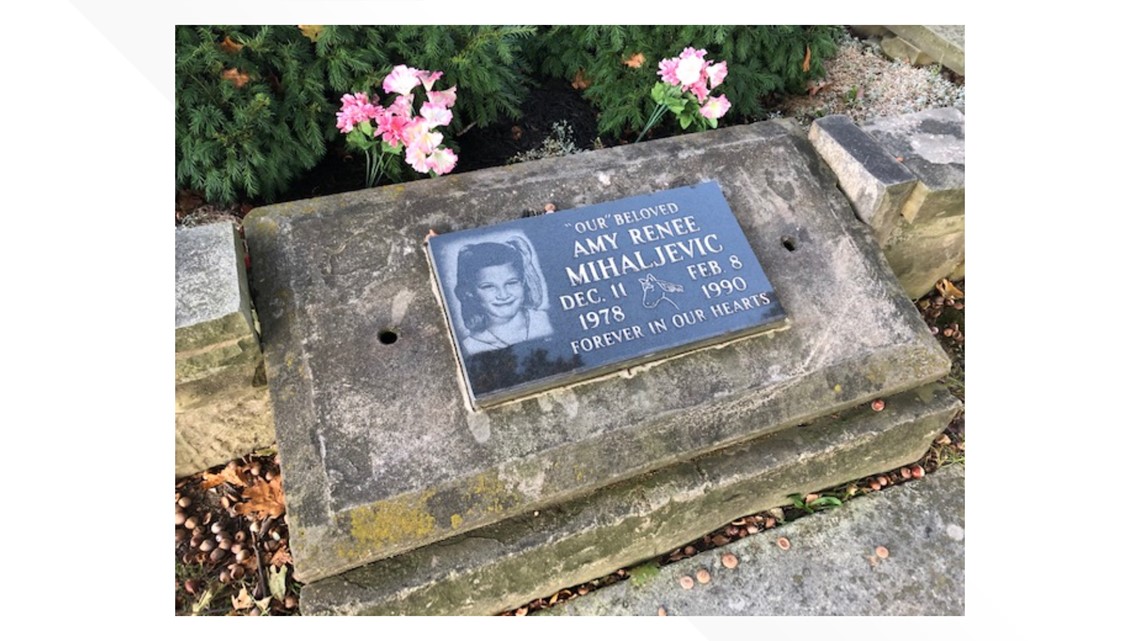 Last year, 424,066 children were reported missing to law enforcement in the U.S. Learn how you can help from the National Center for Missing and Exploited Children here.
If you have information in the Amy Mihaljevic murder case, call Bay Village police at 440-871-1234.
To learn more on the FBI's investigation into the Amy Mihaljevic case, click here.
Timeline
:
How Amy's murder unfolded
Oct. 27, 1989
7:20 a.m.: Amy Mihaljevic leaves for school on her bike.
2:04 p.m.: Amy's class is dismissed for the day.
2:15 p.m.: Amy is seen at a shopping center in Bay Village.
2:20-2:30 p.m.: Amy is abducted.
3:10 p.m.: Jason Mihaljevic calls his mother to inform her Amy has not arrived home from school.
3:30 p.m.: Amy Mihaljevic calls her mother to say she's fine. Her mother assumes she is at home.
5:30 p.m.: Margaret Mihaljevic arrives home and learns Amy is not there. She calls Amy's friends and neighbors in attempt to find her before retracing Amy's route to school.
5:58 p.m.: Margaret Mihaljevic arrives at the Bay Village Police Department to report her daughter missing.
Feb. 8, 1990
7 a.m.: Amy's body is found by a jogger off County Road 1181 in Ruggles Township.
1:40 p.m.: The Cuyahoga County Medical Examiner performs an autopsy on Amy's body.
Nov. 13, 2013
Retired FBI Agent Phil Torsney is assigned to Amy's case.
June 23, 2016
Investigators present new evidence related to Amy's case: a blanket and a curtain that were found near Amy's body. Prosecutors announce the reward money for information that can solve Amy's case now totals $50,000.
Podcast
:
Listen to the 'Amy Should Be Forty' podcast
This written story coincides with "Amy Should Be Forty," a podcast hosted by 3News reporter Andrew Horansky, with special insight from former Cleveland Scene reporter and author James Renner.
You can hear the interviews quoted in this written story, including Mark and Jason Mihaljevic, Mark Spaetzel, Tom Beres and more.
The "Amy Should Be Forty" podcast is available now. You can listen on Stitcher, Spotify and Apple; you also can listen to the first episode in the player below.
Watch more
:
Watch 3News' series on air