CLEVELAND — A 3News Investigates review of emails from local health officials reveal there were no existing plans to combat the spread of COVID-19 inside jails and prisons.
This lack of planning foreshadowed the vast uncontrolled spread of COVID-19 infections to thousands of Ohio inmates and the deaths of at least 77. 3News Investigates obtained the emails of local health commissioners for the first week of March 2020, just as the virus was about to strike Ohio.
Using Ohio's public records statute, investigator Rachel Polansky obtained hundreds of emails, which discuss frustrations over a lack of testing and mixed messaging on the efficacy of masking. Most striking, however, were concerns over the lack of existing plans for combating the virus in closed quarters, such as prisons.
An estimated 9,500 Ohio inmates and about 2,851 staffers contracted COVID-19, according to data compiled by The Marshall Project. Ohio has reported 77 inmate deaths from the virus.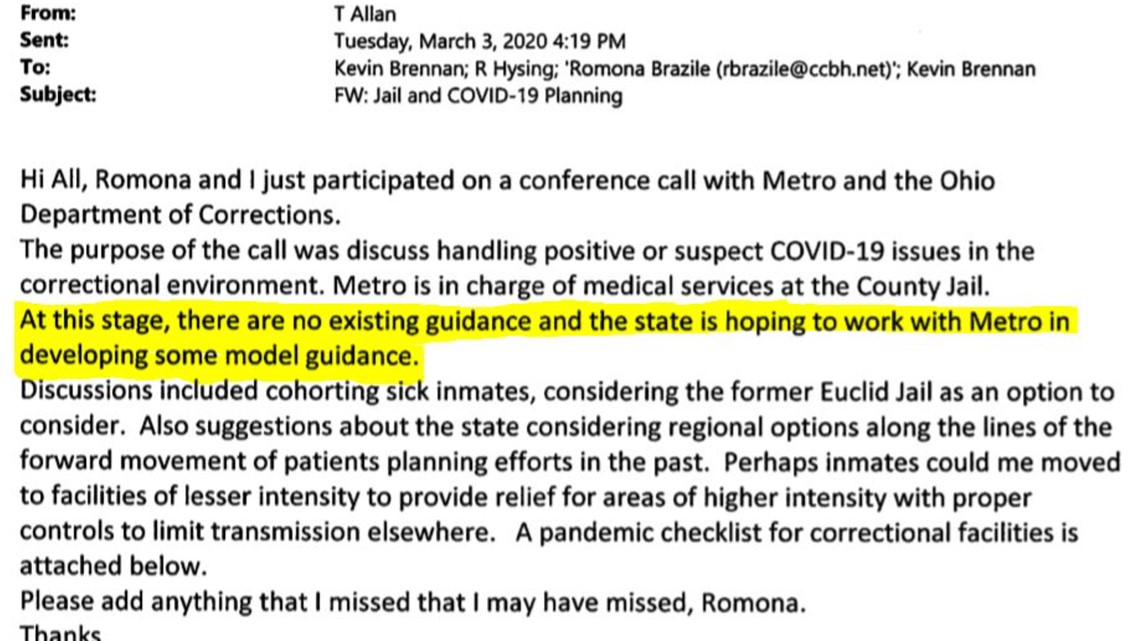 In a March 3, 2020 email, with the subject "re: Jail and COVID-19 Planning," obtained by 3News Investigates, Cuyahoga County Health Commissioner Terry Allan told employees:
"At this stage, there are no existing guidance and the state is hoping to work with [MetroHealth Medical Center] in developing some model guidance."
Allan wrote of suggestions being considered as well.
"Perhaps inmates could me [sic] moved to facilities of lesser intensity to provide relief for areas of higher intensity with proper controls to limit transmission elsewhere."
The email came just as the coronavirus was spreading to Ohio. In a recent interview with 3News Investigates, Allan acknowledged the lack of planning for incarcerated individuals.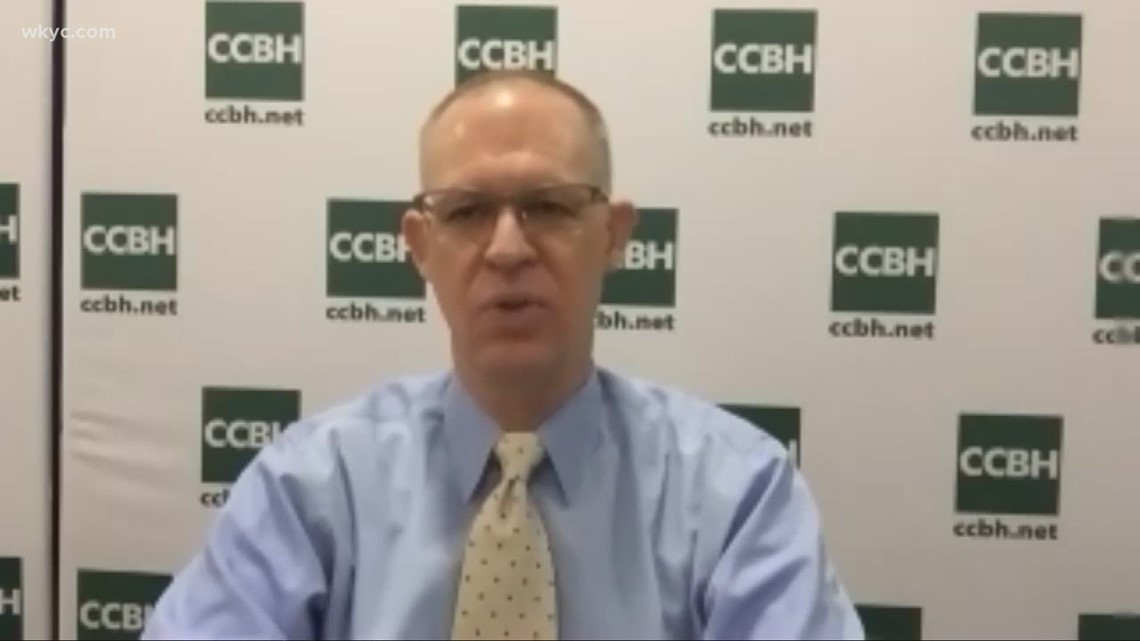 However, he said the easily transmittable virus was unique and required different planning.
"I think nationally there was no guidance for COVID-19 for jails because COVID-19 had never infected humans…so it was novel, and it required novel responses."
Gary Daniels of the ACLU of Ohio, a group that fought for the release of vulnerable inmates in Ohio for several months, said the lack of planning harmed inmates and their families.
"More concrete plans and planning should've been done well before COVID-19 and certainly after it emerged as a true threat," he said. "It's just a massive failure of leadership and solutions by our elected leaders."
The lack of accurate testing and planning was also evident in the early stages of the pandemic, not only locally, but across the nation. In a March 4, 2020 email titled "RE: Question on kits" Allan wrote to a local doctor:
"The current plans around the deployment of local testing capacity are still not known…We'll hope for the best and plan for the worst-case scenario."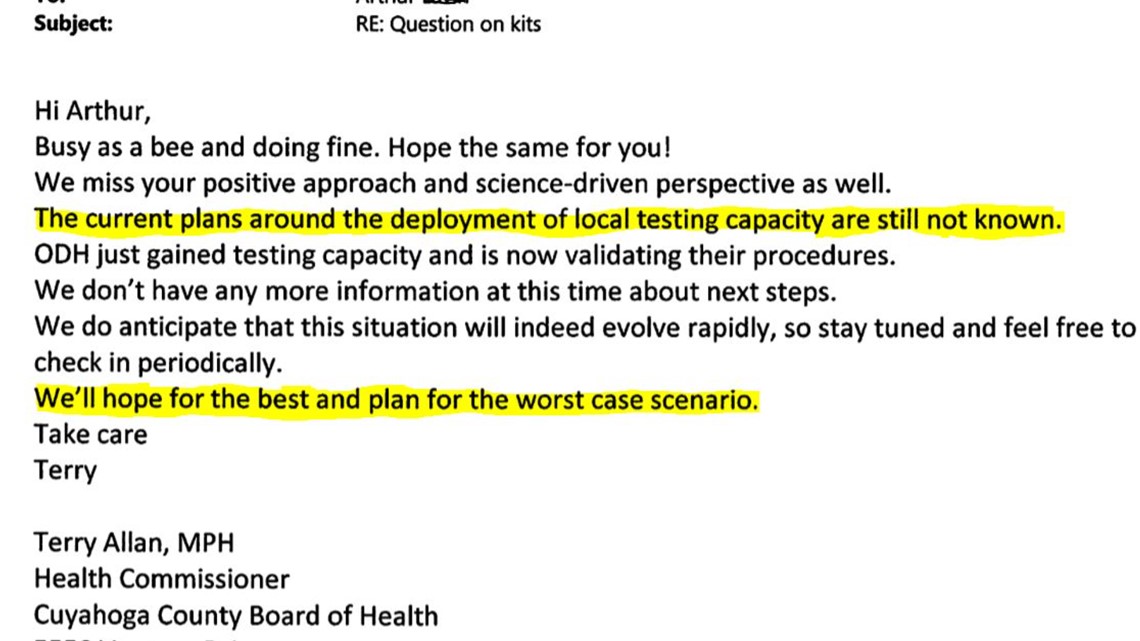 That worst case scenario led to lines of cars carrying worried residents seeking testing. The delays hampered health officials seeking to contact-trace infected individuals and to slow the spread.
Later that week, Allan received more worrying news from Cuyahoga County Medical Examiner, Dr. Thomas Gilson, who shared his rather blunt concerns of how to deal with an overwhelming death count: "I need the hospitals to understand that we are not the body storage facility for deaths at their institutions."

By mid-March, Gov. Mike DeWine was shutting down schools and many businesses as the virus arrived and hospital capacity was threatened. To date, nearly 1 million Ohioans became infected and over 17,660 have died.
"It was a big problem not having any tests and we were flying blind," Allan told 3News Investigates. "We had no sense of what we were dealing with."
Health officials passed around guidance newsletters that would be shared with the public. The suggestions included washing hands and isolating sick individuals.
Some suggestions either failed to advise the use of masks, or relegated masks to only the sick or healthcare providers.
Allan said the mixed-messaging early on had an impact later, when mask use became accepted and, in some placed, mandatory.
"I think it was a challenge, no question, having mixed messaging on masks…early on the mantra was we want masks avail for Health care workers," Allan said. "What we began to learn was just how important public masking was and we didn't have it as early as we would've liked."
Allan had a lot of early mornings this week. In one instance, he emailed an employee at 5:35 a.m. The subject line said 'Worried Well' and the body of the email was the below tweet, talking about an outbreak in Washington, with a stark warning that read, "ALL HEALTH DEPTS IN USA: pay attn: U cld be next."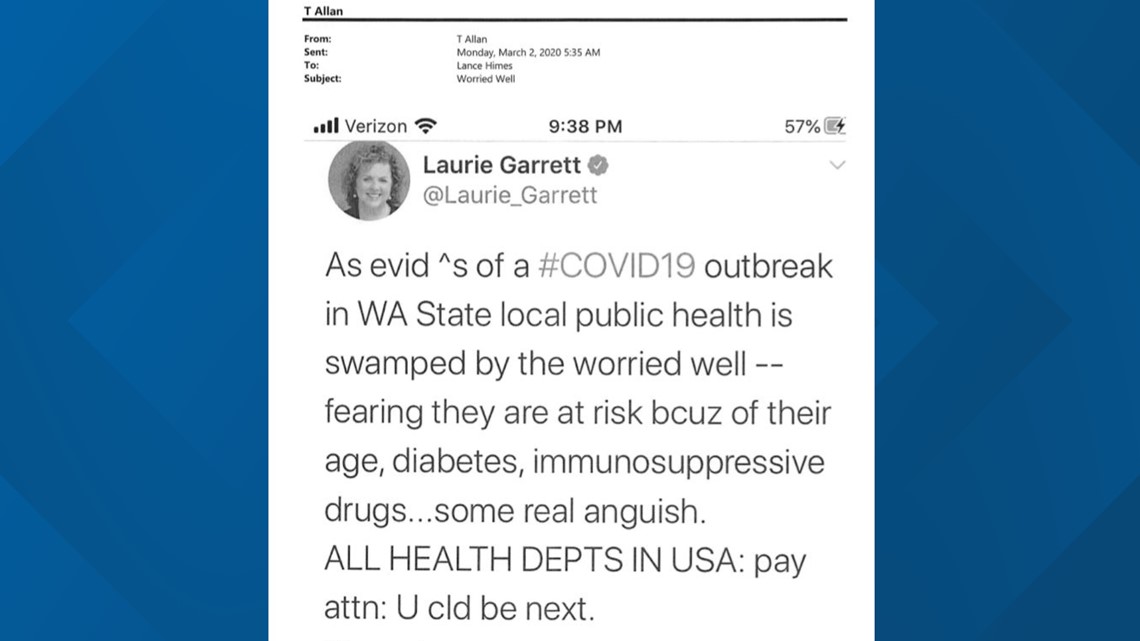 In Summit County, health officials were frustrated over communication with leaders in Columbus. In one email with Summit County health leader Donna Skoda on testing guidelines, a worker was told by a state official, "We'll learn as we go from different situations."
That prompted her to add:
"Wow, that didn't answer my question."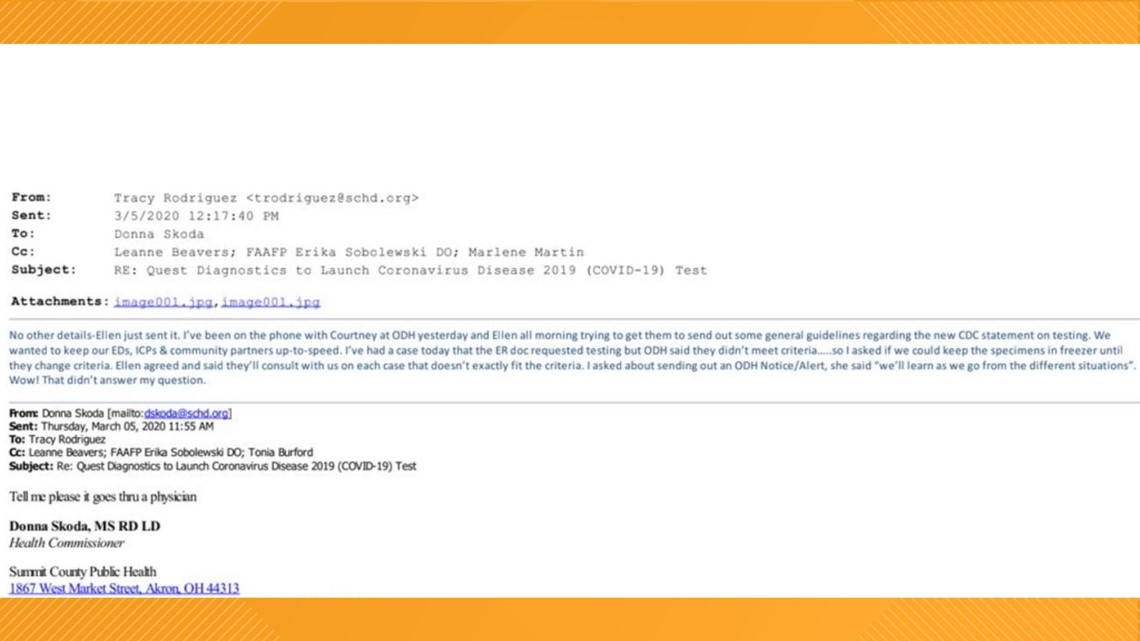 And in Geauga County, health commissioner Thomas Quade was dealing with similar concerns. So, too, apparently was a local newspaper reporter who emailed to seek guidance.
In a March 3, 2020 email to Quade, reporter Amy Patterson wrote about concerns of data from the CDC:
"I'm not trying to be paranoid…I'm not used to the idea that I can't trust the numbers coming out of a federal agency."
Quade returned the email later that day, defending the CDC while taking an apparent jab at President Donald Trump.
"The voices to question are the ones of those whose job it is to get elected," Quade wrote.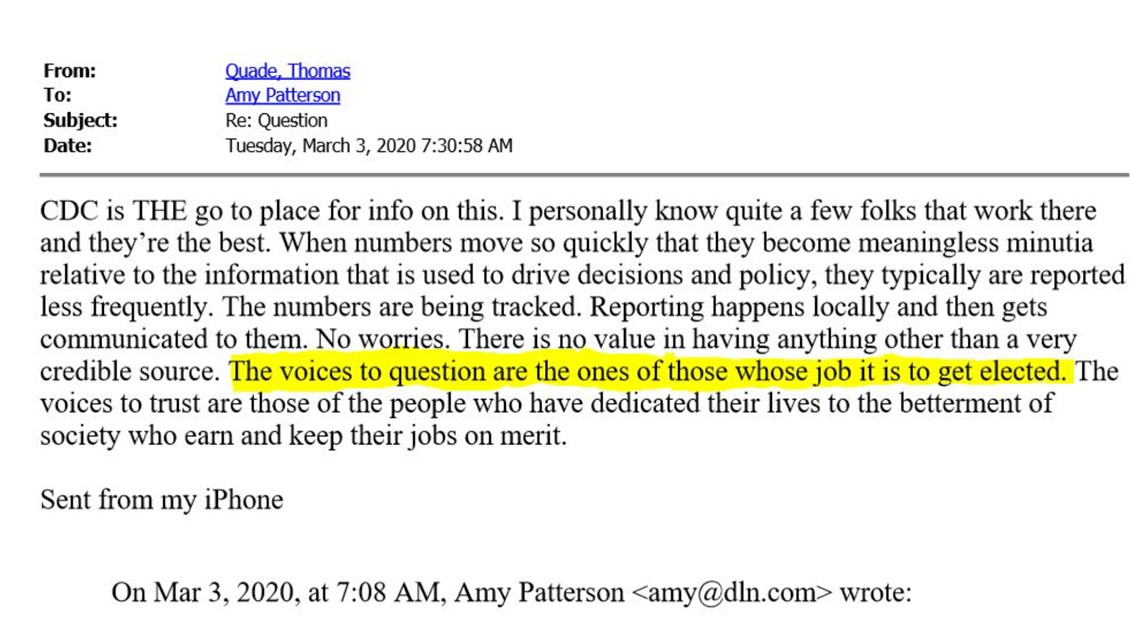 Allan echoed the feelings of his colleagues saying the emails provide a real-time view of a history-altering event that still plays out a year later.
"This is by far and away the largest and most expansive response I've been involved in," he said. "This is something none of us will ever forget."