MANTUA, Ohio — Cleveland Browns great Bernie Kosar is opening his home and urging the release of Kevin McTaggart, an imprisoned mobster who served under Danny Greene.

In a 3News Exclusive, 3News Investigator Rachel Polansky met with Kosar, who took us on a tour of his Mantua farm where the reformed gangster could live after 40 years behind bars.
"So many people know me as a football player and I absolutely love football. But in pursuit of that dream, I got so many injuries, 70-something broken bones, over 100 concussions, 15 seizures. In the pursuit of physically trying to overcome what happened to me during football, I found that holistic medicine helped me physically heal. With that physical healing, there also comes spiritual healing," said Kosar. "When I found out about Kevin's situation and some of the great work he's doing within the prison system, helping people and making a positive difference in people's lives after rehabilitating himself, it's almost like what I'm trying to do for myself. To be able to help people and make a difference, I've been given a second chance. And I like what Kevin's been doing, giving people a second chance from him ministry side of it."

It seems the unlikeliest of pairings.
Hometown hero and Browns legend, Bernie Kosar - and hometown mobster and underworld legend, Kevin McTaggart.
Above all, they share a spiritual bond.
"Really the lack of forgiveness, the lack of genuine forgiveness is the biggest imprisonment to spiritual growth," Kosar said.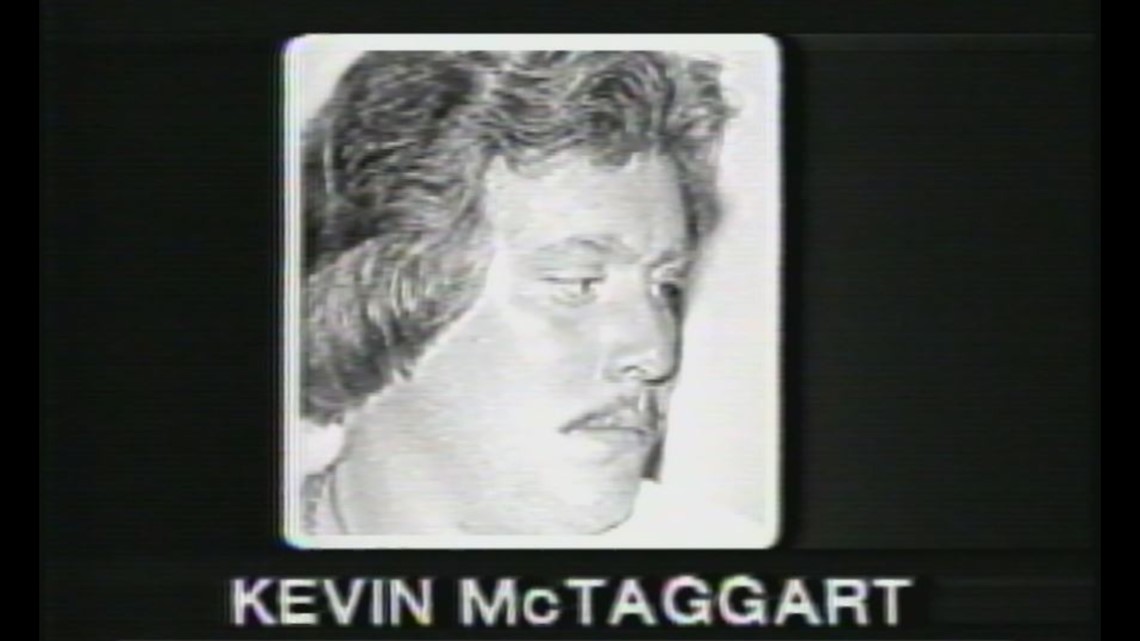 McTaggart has been imprisoned since 1983 for his role in a wave of mob killings and drug dealing.
He was 26 at the time, a lieutenant for the Irishman, Danny Greene.
Now, McTaggart is 64 and seeking compassionate release from prison, where he's been the perfect inmate. Literally, perfect. According to records, he's had zero infractions since he's been incarcerated.
"We're not condoning anything that happened in his past and absolutely wish it did not happen but to have genuine forgiveness, and real genuine spiritual growth, I genuinely believe he feels remorseful and horrible what he's done and what happened. I think he spent the last part of his life trying to rectify and make a difference in others' lives. And I believe, moving forward, that he will make a difference in other people's lives by telling his story," said Kosar.

McTaggart's supporters run deeper than Kosar.
Bob Friedrick, the FBI agent who cracked the Cleveland mafia - Donna Congeni Fitzsimmons, the former federal prosecutor and now a local judge – even a federal prison warden, is in McTaggart's corner.
McTaggart's lawyer has compiled a dozen letters of support.
One letter from a warden said, "This may sound strange coming from a staff member at a United States Penitentiary. However, in this business you come across a person who has demonstrated that he can go back into society and make a go of it. I feel that Kevin I one of those people," adding "He is seen at this institution to be a role model for other inmates."
According to court filings, on one occasion in 1987, he was hailed a hero for helping to save the life of a prison psychologist, who was taken hostage and slashed with a razor by another inmate.
It was McTaggart who went for help. In a letter of support, that woman wrote, "On the day that matters most to me, Mister McTaggart made the morally right decision to help save my life, despite subjecting himself to possible fatal repercussions for doing so. This makes him a hero to me."
Bob Friedrick, long since retired from the FBI, believes McTaggart is no longer a threat. In his letter of support, he wrote "I am fully aware there are no guarantees, but I feel that if he is released he will become a productive member of society, given the few years he has left."
In his letter to Judge John Adams, Kosar said McTaggart could live on his rural Mantua property and manage various projects around his farm. You can read his letter below:


"So for you, is this about giving him a second chance?" 3News investigator Rachel Polansky asked Kosar.
"Absolutely," said Kosar.
McTaggart still has enemies though. Federal prosecutors oppose his release, citing the magnitude of his criminal behavior.
And one woman whose grandfather was associated with McTaggart and killed during the mob era wrote, "Never in my lifetime did I imagine that such a thoughtless human being capable of such evil acts would be released," adding "I implore you to not allow this man to ever walk free."
A decision on McTaggart's release could come later this summer.
You can watch Rachel Polansky's entire interview with Bernie Kosar in the player below: