CLEVELAND — Electric scooters are all over downtown Cleveland, as the new transportation option continues to gain popularity.
But when you hop on and hit the road, what happens if something goes wrong?
If you hit a person, crash into a car or damage someone else's property, you're likely on your own, 3News Investigator Rachel Polansky discovered.
They're convenient, they're cheap, and they're all over the place. That's why Jack Brancatelli rides them to and from class at Cleveland State University.
"I love using the scooters. I've been loving riding around downtown," Brancatelli said.
But Brancatelli didn't do all of his homework on this new kind of transportation.
"When you hop on one of these, do you actually read the rental agreement before riding?" Polansky asked him.
"I don't. I don't read the rental agreement," Brancatelli replied.
Neither did the other riders 3News talked with.
"Did you read the rental agreement before you got on it?" Polansky asked another rider.
"No," said Ada Speegle. "I kind of just agreed to it."
It's easy to see why. The user agreements are very long.
Right now, four scooter companies – Lime, Bird, Spin and VeoRide – are allowed to operate in Cleveland.
Click below to read each user agreement:
When you hop on, consumer lawyer Mark DiCello says you might be agreeing to more than you think.
"You really have to understand and be comfortable with giving away your rights," DiCello said. "Anything that happens on that scooter becomes your responsibility. That's the essence of the agreement."
All four companies require riders to sign a binding arbitration agreement, which means riders are giving up their rights to have a judge or jury hear their case.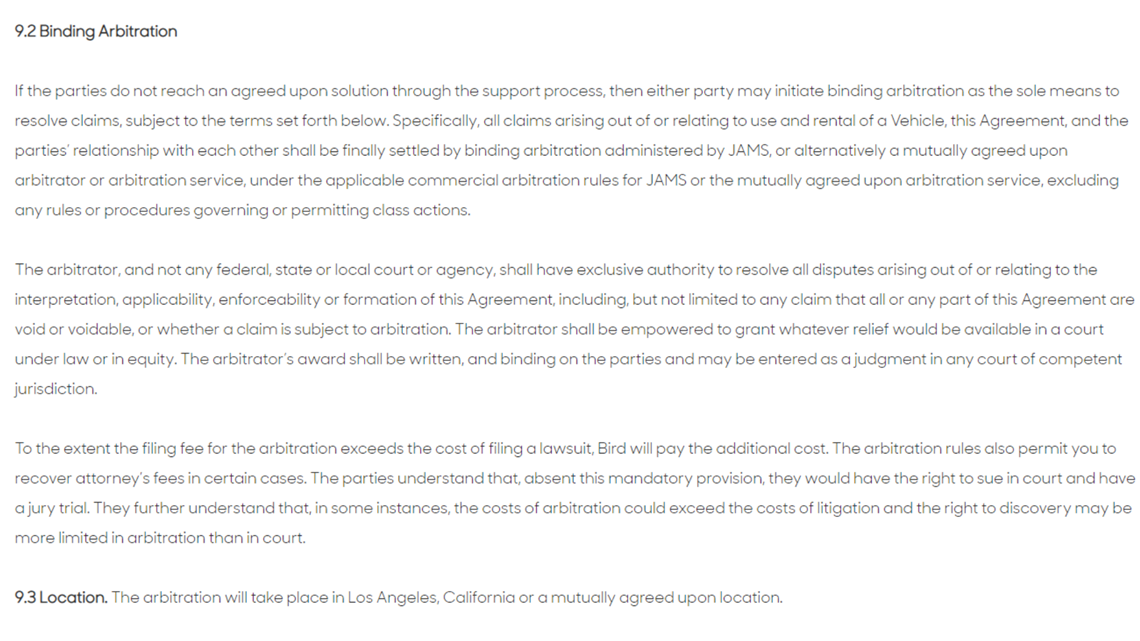 Lime and VeoRide also cap their liability at $100 dollars.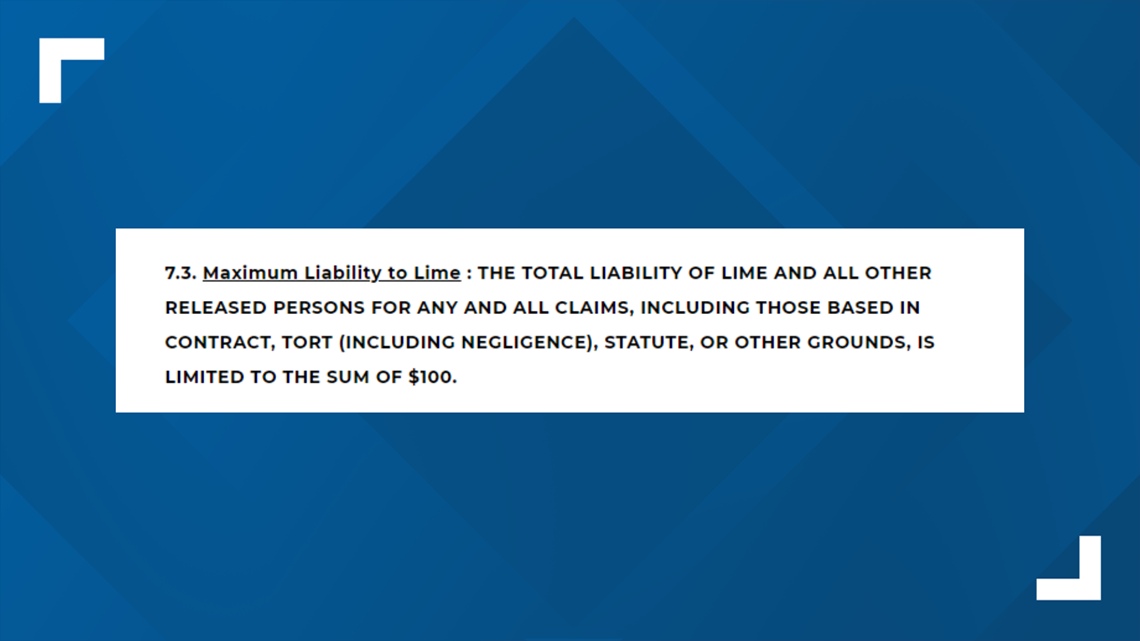 "We'd have to have a real good reason to take that case and go through that war because the way these contracts are written is designed to prevent any litigation at all," DiCello said.
So in the event of a crash, surely your insurance would kick in – right? Not quite.
Your health insurance would help with medical bills – but as far as other damages go, insurance agent Tom DeAngelis says most policies won't protect you, even if you have full coverage.
"Under our companies, we have found no instances where it's actually covered by the homeowners or the auto insurance," DeAngelis said.
DeAngelis Insurance is an independent insurance agency that represents seven difference insurance carriers. DeAngelis looked through all seven to see if risks involving electric scooters were covered. They were not.
So, what should you do if you're planning on riding scooters regularly?
"A. Consult your agent. B. Realize you're accepting a liability risk," DeAngelis said.
3 News reached out to Lime, Bird, Spin and VeoRide for comment.
A spokesperson for VeoRide said, "VeoRide's general Liability insurance in Cleveland is $5 million per occurrence, and $6 million aggregate. Safety is at the forefront of everything we do at VeoRide, which is why we design and manufacture the safest e-scooters on the market. We are also continually leading the industry forward with safety innovations like our swappable battery technology that eliminates charging fire hazards. And our recently announced Helmet Detection Technology - that will be used to incent riders to make safe choices when it comes to wearing helmets."
Bird told us the following: "Bird has a top-of-market safety record and insurance coverage. Riders are fully insured for anything that might happen as a result of a faulty Bird scooter."
Lime responded to us the morning after this story aired with the following:
"The safety of our riders and community is a top priority. Lime's insurance policy offers at least $1 million in liability coverage for each incident, which meets or exceeds all requirements from cities, college campuses and businesses. We recognize that every incident is unique and requires an individual approach, and we have a process in place to fully investigate all claims."