Europeans are already doing the "Dutch Reach" to stop "dooring."
Don't check Webster's dictionary. It won't help. Not yet, anyway.
But dooring incidents – translated as a violent collision between a passing bicyclist and suddenly-opened car door - are on the rise in the U.S.
They're also happening, with sometimes life-altering consequences, in Cleveland, where miles of newer bike lanes are ushering in the increasingly popular form of transportation.
And the Dutch Reach is designed to change motorists' habits and stem the number of collisions.
The "Reach" might have saved Cleveland firefighter Phil Ketchum from being injured. Ketchum was biking his way to work, traveling about 13 mph, when a driver opened her car door without warning.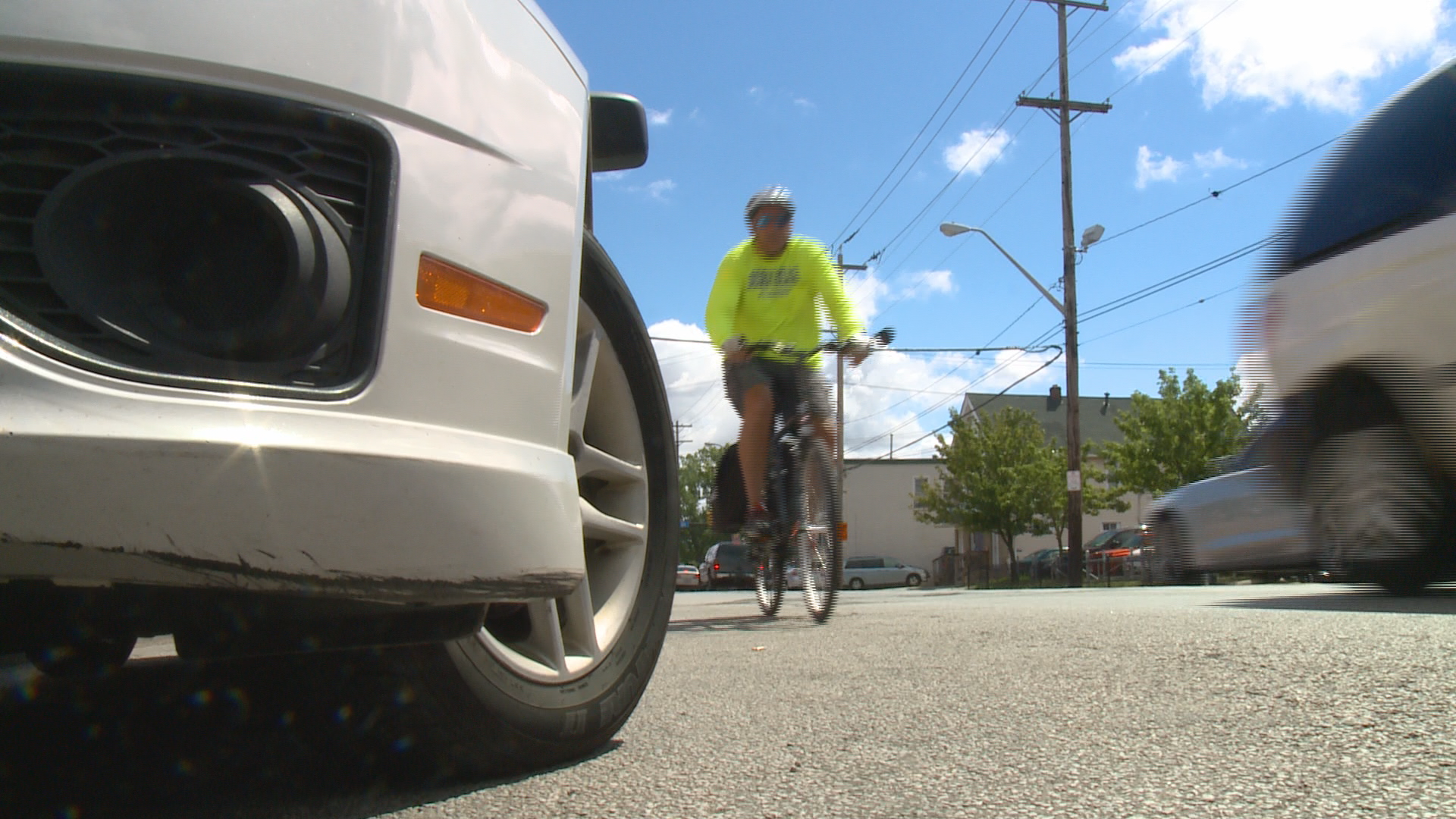 "I had no time to move," he said, "and i just went airborne right over the top of her car door."
The collision injured Ketchum's bicep, causing a gaping wound that required 20 stitches. He knows it could have been much worse.
"You can get seriously injured or killed," he said.
Kenneth Knabe touts himself as Greater Cleveland's bike and safety attorney. He said dooring incidents are climbing as more and more bicyclists are sharing area streets with motor vehicles.
"There's got to be dozens and dozens of dooring incidents," he said.
It's difficult to count. The trend is so new, local and state authorities have yet to start tracking the collisions and categorizing them as "dooring" incidents.
WKYC Channel 3 News contacted Cleveland police and, surprisingly, the department's spokeswoman was unaware of the term.
"I've never heard the expression but [it] sounds like it would fall under felonious assault," Sgt. Jennifer Ciaccia said in an email.
In Cleveland, a specific law was passed in 2012 to better protect bicyclists against such incidents. Motorists cannot open their car doors unless it is "reasonably safe to do so" and does not impede traffic flow.
A violation is considered a minor misdemeanor, which carries a potential fine of up to $150, plus court costs.
In Chicago, where dooring cases are tracked, one in every five bike crashes is labeled a dooring. Records are not kept on doorings in Ohio. But Andrew Green is still one such victim.
"This is a permanent scar. This is my face now," he said, describing his now-healed wound.
Green was pedaling west on Euclid Avenue in Cleveland. As he crossed East 30th Street, a driver unexpectedly whipped open a car door. Green's bike collided with the car door and his body went flying.
"It happened because of negligence," he said. "Somebody just decided to open the door without looking in to the rear-view mirror."
To combat bike vs. car door collisions, Europeans have developed a technique known as the "Dutch Reach." Simply put, drivers are encouraged to open their car door with his or her right hand, thus forcing themselves to pivot and look to the left for oncoming traffic.
Massachusetts is believed to be the first state in the country to instruct motorists to use the Dutch Reach to combat dooring incidents.
Cleveland hasn't reached the level of dooring incidents seen as Chicago. But as the city becomes more bike-friendly, cyclists and safety advocates anticipate many more crashes.
"It's definitely a major issue and problem," Knabe said.