CLEVELAND — On Wednesday, March 24, WKYC Studios hosted a fundraiser to aid in our 'Keep the Lights on CLE' campaign.
'Keep the Lights on CLE' is a campaign between WKYC Studios and CHN Housing Partners to raise money for those in our community facing utility shutoffs, amid the pandemic. Many of our neighbors who are struggling to get by do not qualify for government assistance programs. The need is far greater than the supply. Over the last three weeks, we have raised nearly $40,000 but we're still short of our goal of $50,000. Every nickel raised will go toward Northeast Ohioans facing utility shutoffs.
We also put local injury attorney and one of the most recognizable people in Cleveland, Tim Misny, in the hot seat. We are going to "Make him pay!" Misny generously said he would match donations made during the digithon up to a total of $5,000!
The Digithon was hosted by 3News investigative reporter Rachel Polansky and 3News digital producer and on-air contributor Dave "Dino" DeNatale.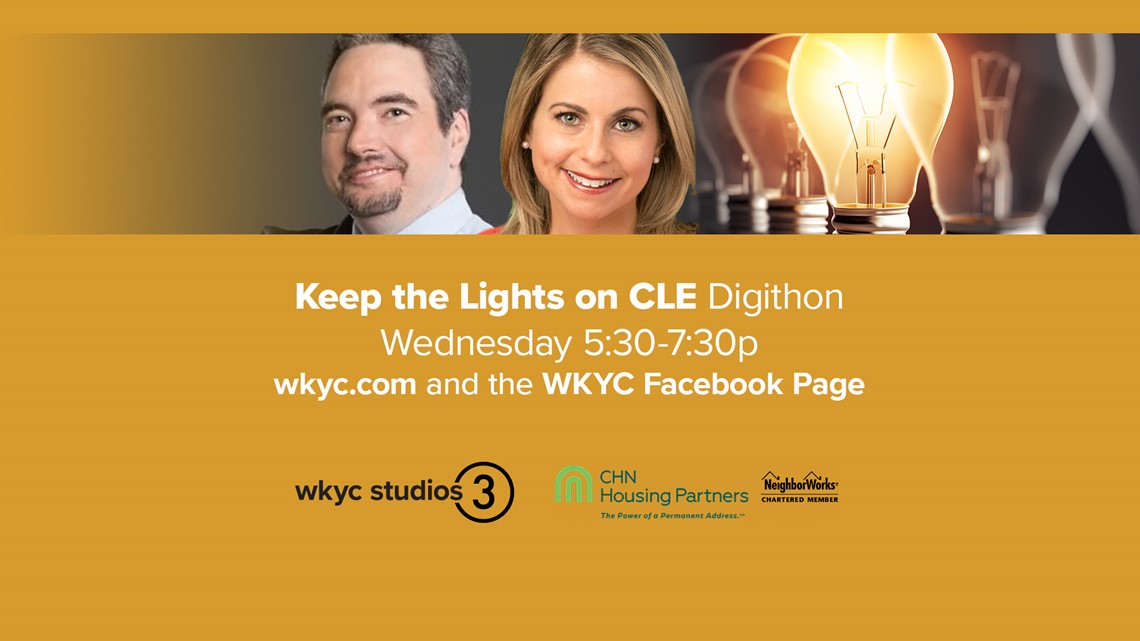 Rachel and Dino were joined by special guests throughout the evening, including:
-Hollywood TV Show Creator and Producer, Eric Kripke. He is the creator of Amazon Studio's 'The Boys' as well as CW's thriller 'Supernatural'. He is also a Toledo, Ohio native.
-Musician Mikey Silas. Mikey is the lead vocalist for Apostle Jones. Mikey was voted Cleveland Scene's Best Male Vocalist in 2020.
-Musician Kyle Kidd. Kyle creates Black Art, pulling from the many different avenues of black music and culture, vocally fusing classical, jazz, blues, gospel, funk and soul.
-Musician Marcus Alan Ward. Marcus is a singer, songwriter, producer, and electro soul pioneer. He calls himself an amalgam of reality and fantasy; traditional and modern; spectral and visceral.
-Magician Rick Smith Jr. Rick is a master card thrower, entertainer, mentalist and illusionist. He has appeared on many national TV shows including Ellen, Shark Tank, and The Tonight Show.
-Comedian Mike Polk Jr. Mike is a comedian, actor and author. He has performed comedy all over the country. He's also our feature reporter here at 3News.
-Attorney, Tim Misny. Tim is a Cleveland-based personal injury lawyer who is known for his make-them-pay commercials and billboards.
Watch the digithon in its entirety in the player below: