CLEVELAND — Sean McHugh, who is paid more than $142,000 a year to oversee the Metroparks' eight golf courses, is retiring after 3News questioned the qualifications he has long listed on his resume.
A 3News investigation found that McHugh – who's been executive director of golf since 2013 – exaggerated his qualifications. He does not have the four-year degree in turfgrass science from Rutgers University as he has claimed for years (Rutgers University told 3News in an email that it has no record of McHugh's degree, even when provided his date of birth). The Metroparks job description for the position said a four-year degree is the minimum requirement and master's degree is preferred.
McHugh also didn't earn a key golf course certification until 10 years after he originally claimed he had one. His resume on file with the Metroparks said he became a certified golf course superintendent in 1985, but the Golf Course Superintendents Association of America said he didn't earn it until 1995, a date confirmed by the Metroparks today.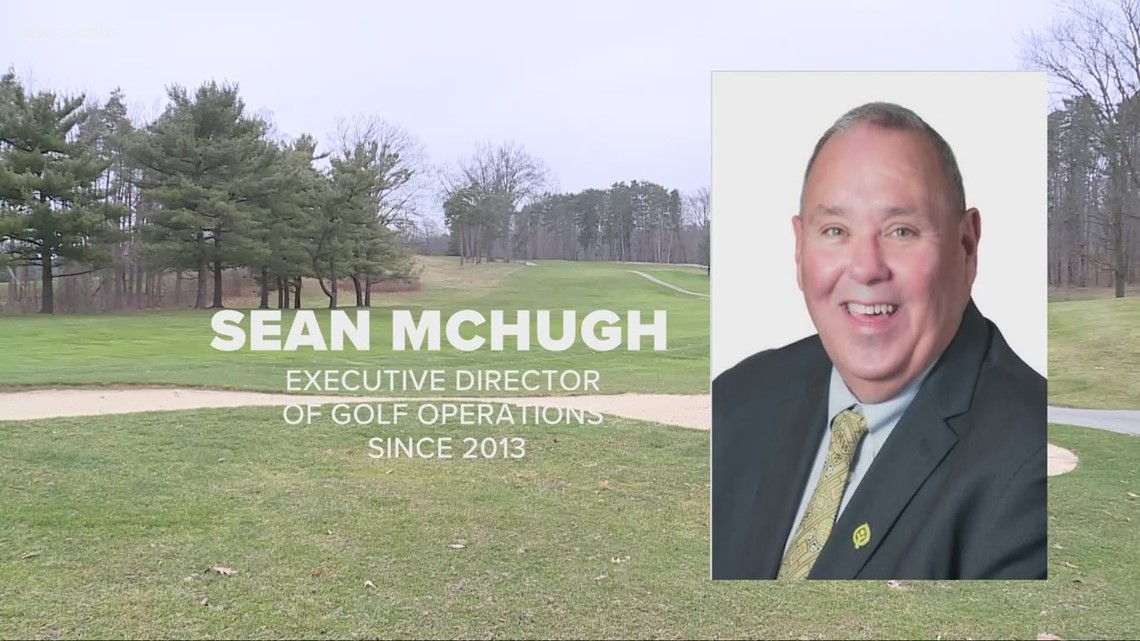 McHugh is also a paid member of the Cuyahoga County Agriculture Society, the public board that runs the fairgrounds in Berea. Public records show he has attended board meetings and related activity at the fairgrounds on several occasions while he listed on Metroparks timesheets the he was working at the time. He even listed that he worked extra hours on some days he was gone, though the Metroparks says he is not paid for overtime.
On Nov. 13, 2020, for instance, McHugh said he was on the job for the Metroparks beginning at 9 a.m. and worked 10 hours that day. But an investigator from the Ohio Department of Agriculture was interviewing Cuyahoga County fair board members that day at the fairgrounds, according to letter related to an investigation of the fair board. The state's agriculture department – which oversees fair boards – was investigating a complaint that fair board members did not follow the elections rules spelled out in Ohio's administrative code (McHugh is president of the fair board).
The Metroparks defended McHugh's work schedule late Thursday, saying he often worked early morning hours at golf courses and could come and go as long as he worked a full 40 hours a week. The Metroparks did not explain why McHugh's timesheets didn't reflect his actual hours more accurately.
McHugh typically was paid $6,800 a year for his work on the fair board, less last year because of cutbacks related to the pandemic.
McHugh did not respond to our requests for an interview made through the Metroparks, but he recently updated his profile on the business network LinkedIn – deleting that degree from Rutgers, noting he holds a certificate from the university instead.
The Metroparks addressed only a few questions in its first email sent to 3News Thursday morning.
"We recently became aware of the discrepancies related to the resume on file," the email said, noting McHugh was hired and vetted by the previous administration and employment firm. The Metroparks ended by saying McHugh is "no longer an active employee and has indicated he is retiring."
The golf courses are among 24,000 acres of recreation under the management of the park system, which is supported by $77 million a year in property taxes. The golf courses attracted record numbers last year as people sought refuge outdoors during the pandemic. They are money-maker for the park system, which often touts its awards for being well run.
The Metroparks did not answer several questions about its oversight of McHugh.