Johnson is accused of defrauding taxpayers through three schemes that prosecutors say netted him more than $150,000. He faces 15 theft-related charges and possibly years in prison if convicted.
His longtime aide, Garnell Jamison, is also on trial and faces 11 charges. Assistant U.S. Attorneys Justin Gould and Megan Miller are leading the trial for the Department of Justice.
Among the prosecution's key witnesses were former city employee Robert Fitzpatrick, who lived with Johnson as a boy and considered him a father; and John Hopkins, the former executive director of Buckeye-Shaker Square Development Corporation, a now-defunct nonprofit that once worked to revitalize the Buckeye and Shaker Square neighborhoods.
Johnson told city council he paid Fitzpatrick to monitor and maintain vacant lots in his east side ward. The councilman received $1,200 a month for eight years as reimbursement for paying Fitzpatrick, paperwork shows.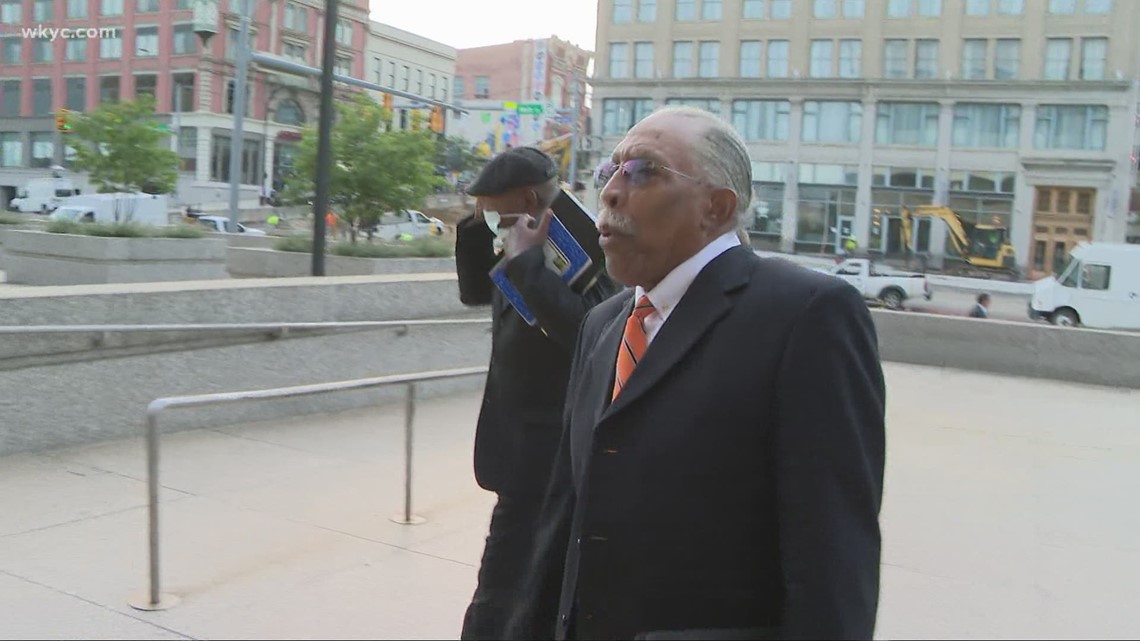 Fitzpatrick also testified that Jamison, on behalf Johnson, asked him each year to sign and file tax paperwork asserting he got paid for the work corresponding to the fake timesheets. Fitzpatrick said he paid the taxes on the reported income, though he never received a penny from Johnson. He added he was frustrated paying the tax bill each year, but went along with the scheme out of loyalty to the councilman.
Hopkins testified the nonprofit relied on money from the city earmarked by Johnson, and therefore felt beholden to him. Hopkins also said he continued to pay salaries and bonuses to three of Johnson's children for landscaping work with money from the city, even though the nonprofit was nearly broke and such payments violated federal rules.
Prosecutors said Johnson deposited some of his sons' checks — totaling more than $30,000 — into his own bank account without their knowledge. Testimony and documents showed at least one son was elsewhere while his timesheets claimed he was working for Buckeye Shaker-Square Development.
Prosecutors argued Johnson ran a third scheme that involved inflating the value of tax deductions and under-reporting, claiming he owes more than $90,000 in back taxes. They said among Johnson's false claims was a $21,000 deduction on his 2015 taxes for kitchen equipment and renovation work he said he donated to the Kenneth L. Johnson Recreation Center. That same year, Johnson also took a deduction for an old piano he donated to the center, asserting its value at $10,000.
Witnesses disputed these and other valuations he claimed over recent years, but Johnson's attorney, Myron Watson, questioned witnesses about how they can make an accurate assessment of the donations years later.
Today, prosecutors argued Johnson also claimed the same set of basketball uniforms as a donation to the recreation center in 2014 and 2015. They showed Johnson used the same photograph of the uniforms as documentation in both years.
After the prosecution rested its case, the defense began calling witnesses for Johnson to the stand, including two of his adopted sons. Kevin Johnson testified he worked all the hours listed on the nonprofit's timesheets and that he sometimes allowed his father to cash his check in exchange for a cash advance. Prosecutors pointed out the testimony contradicted the son's earlier statements to a federal grand jury.
Marvin Cross, a retired Cleveland police commander and longtime friend of Johnson's, also testified Tuesday. He said Johnson had asked him around 2018 to join the board of the Buckeye-Shaker Square Development Corporation to help guide it out of financial crisis. Cross said he found Hopkins to be incompetent and the board eventually fired him.
Johnson's defense team plans to call Cleveland City Council Clerk Patricia Britt on Wednesday. His side's case is expected to wrap up by the end of the week.