CLEVELAND — The Ohio Department of Health has now released its list of nursing homes with COVID 19 cases.
It's been six weeks since Sam Hemoud hugged his 75-year-old dad, who lives in an Avon Lake nursing home.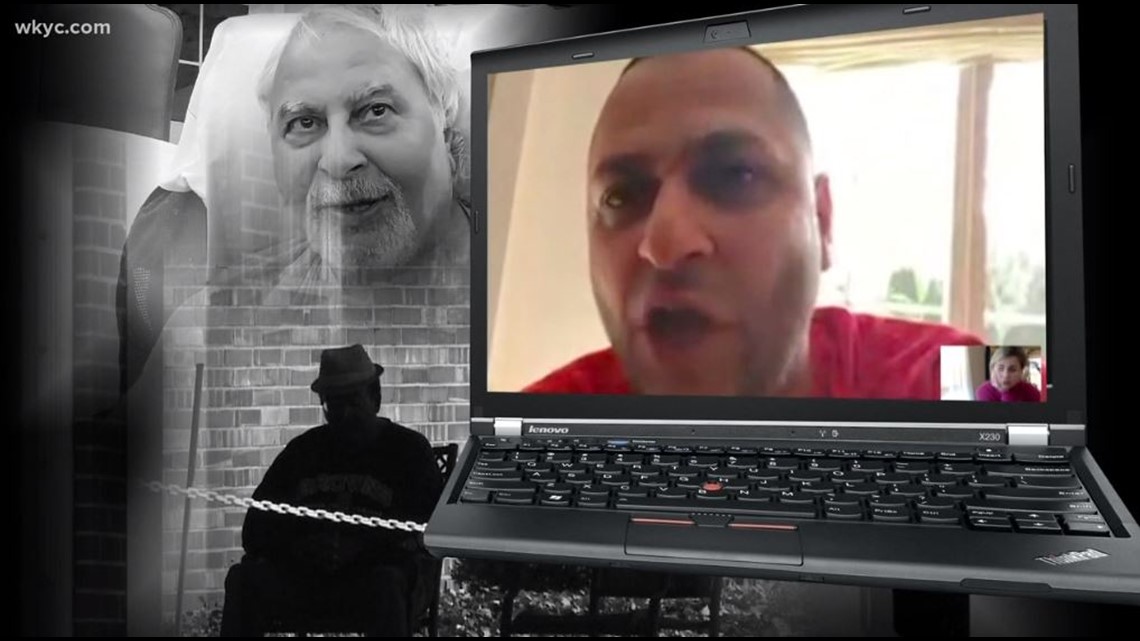 "We're just worried because we know how dangerous the virus can be," said Hemoud.
While Sam understands why he can't see his dad, he doesn't understand why those who care for him, and especially state health officials, have been so secretive.
Up until now, health officials had refused to identify facilities with COVID 19 infections – citing privacy concerns.
So, 3News Investigates made a formal public records request – and had our station attorney follow up -- because of growing concerns from families over the lack of transparency.
"You spearheaded it. Once you broke the news, a lot of people got involved," said Hemoud.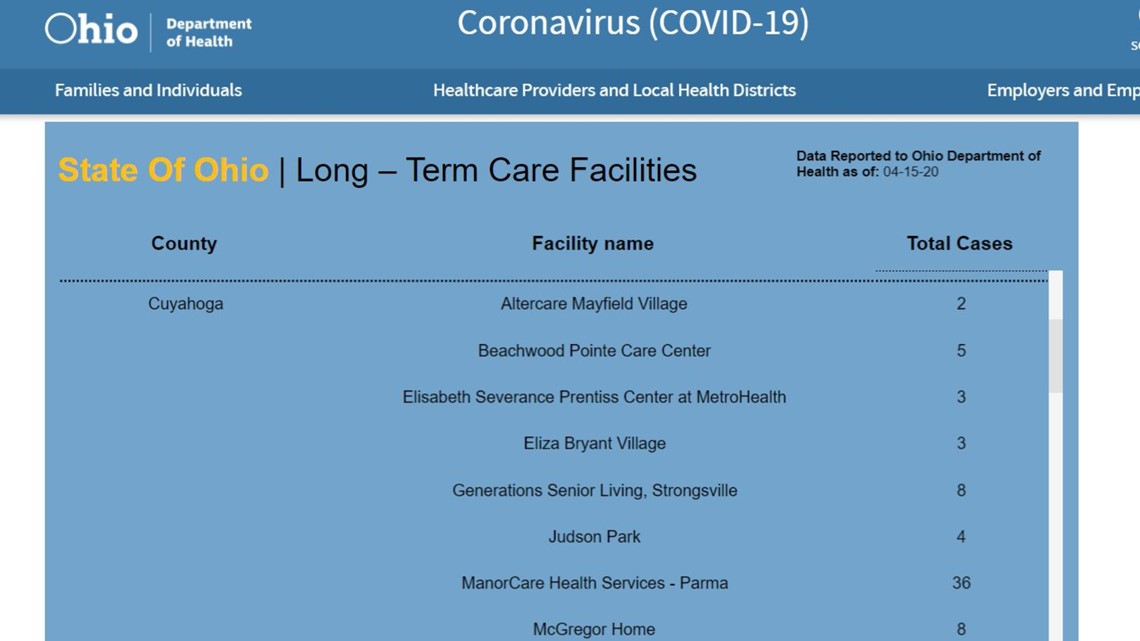 "A week ago, the Ohio Department of Health wouldn't release any information, like what facility, or what location. So, where we are now from two weeks ago is big. I appreciate that and what you did and putting it out there, because we were helpless at that point," said Hemoud.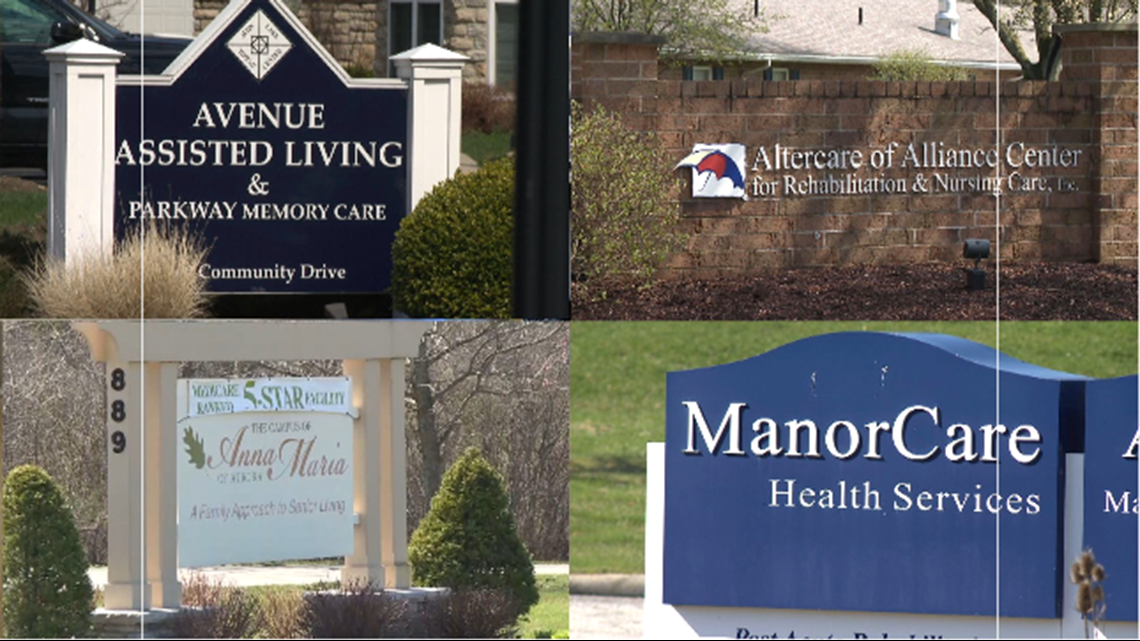 But it's not all good news.
The number of deaths inside nursing homes is not being released to the public.
3News Investigates also spotted a number of mistakes on the state's list – and we weren't the only ones.
"I'm getting tons of emails and calls and texts from members about errors in the list," said Pete Van Runkle, Ohio Health Care Association.
Van Runkle heads the Ohio Health Care Association -- that represents more than 1,000 assisted living facilities and nursing homes in the state.
"The errors are kind of a big deal because a member who doesn't have a case and is being reported as having one, the families are calling and saying how come you didn't tell us the truth? So, that's a concern and they're kind of upset about it," said Van Runkle.
Even without the state's help, 3News counted at least 40 nursing home patient deaths across Ohio. We also questioned Gov. Mike DeWine about this lack of transparency. He said it was a policy issue that he'd look into and get back to us.
Below are case counts at long-term care facilities, broken down by county, as of April 15:
Ashtabula County
Saybrook Landing - 2 cases
Cuyahoga County
Altercare Mayfield Village - 2 cases
Beachwood Pointe Care Center - 5 cases
Elisabeth Severance Prentiss Center MetroHealth - 3 cases
Eliza Bryant Village - 3 cases
Generations Senior Living, Strongsville - 8 cases
Judson Park - 4 cases
Manorcare Health Services, Parma - 63 cases, at least 1 death
McGregor Home - 8 cases
Montefiore - 4 cases
Parmacare Center - 39 cases
Stone Gardens - Menorah Park Asst. Living - 27 cases
Vitalia Senior Residences - Westlake - 1 case
West Park Neurology And Rehabilitation Center - 22 cases
Woodside Senior Living - Bedford - 1 case
Geauga County
Briar Hill Health Care Residence - 34 cases, at least 2 deaths
Lake County
Heartland of Willoughby - 1 case
Ohio Living Breckenridge Village Assisted Living - 1 case
Lorain County
Main Street Care Center - 17 cases
O'Neil Healthcare North Ridgeville - 16 cases
Medina County
Wadsworth Pointe - 1 case
Western Reserve Masonic assisted living - 8 cases
Portage County
Anna Maria of Aurora - 15 cases, at least 1 death
Arbors of Streetsboro - 9 cases
Stark County
Altercare of Alliance - 55 cases, at least 4 deaths
Canton Regency Senior Living - 2 cases
Jackson Ridge Rehab and Care - 9 cases
Meadow Wind Health Care Center - 2 cases
Summit County
Arbors of Stow - 1 cases
Brookdale Montrose - 3 cases
Brookdale of Barberton - 1 case
Canal Pointe - 3 cases
Hickory Ridge - 1 case
Ohio Living Rockynol - 28 cases, at least seven deaths
Pebble Creek Healthcare Center - 7 cases
Wayne County
Glendora Health Care Center - 28 cases, at least 5 deaths