CLEVELAND — Cleveland public schools are continuing to secure their abandoned buildings weeks after a Channel 3 News investigation uncovered the district allowed thousands of items to be pillaged or left to rot, including a nearly full library of books and employee records
In recent years, the school said it has closed 17 buildings. They acknowledged that four school buildings, including Buckeye-Woodland Elementary School, sustained "security breaches."
At Buckeye-Woodland, Channel 3 News found a complete library of hundreds of books left inside for four years while broken windows allowed rain, cold and even animals inside.
Many of the books remained on shelves, but several contained mold or dirt, signs of the deterioration from being exposed to weather.
Other items found included employee payroll records that contained Social Security numbers of the workers. Throughout the building were items that should have been saved, but instead were left to rot, including stacks of text books, office and classroom equipment, furniture and music equipment.
PHOTOS | Inside abandoned Buckeye-Woodland Elementary School in Cleveland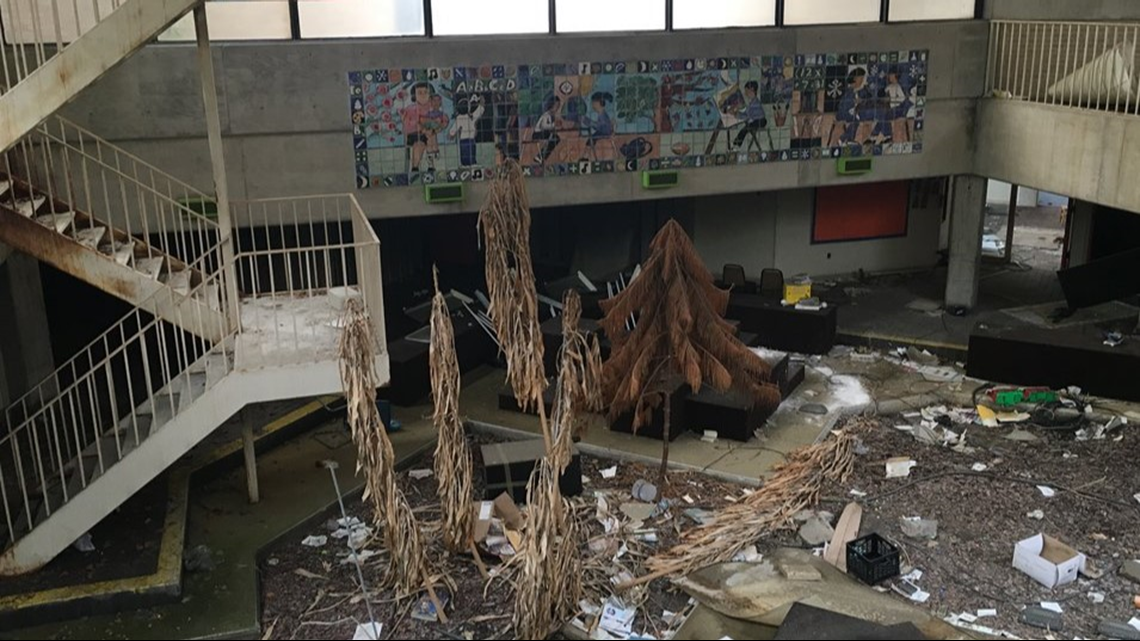 The buildings appeared to be entered by vandals and people looking to collect scrap materials, such as copper. It is unclear how long the buildings were left unchecked. An investigation into the incident is ongoing.
Most recently, items from McKinley and Hawthorn schools were moved to H. Barbara Booker school on the west side.
The move was conducted by Berea Movers, which contracted with CMSD. Once a Channel 3 News camera arrived to record the work, the movers stopped what they were doing and stood against an exterior wall. They then returned a child's table and file cabinet inside rather than place the items in a near-empty truck.
About six to 10 people were at the site and many said they were not workers. They covered their faces and walked away.
A supervisor for Berea later said they did, in fact, work for the school. However, a school spokeswoman later said the people worked for a temp agency hired through Berea Movers, a district contractor.
The district, meanwhile, has released an update on its activity in the aftermath of the Channel 3 News exclusive:
Following a Channel 3 report on security breach at two of our schools, CEO Eric Gordon ordered a thorough review of the District's shuttered buildings as well as the protocols followed for storage and redistribution of inventory once a school is closed.
That review commenced immediately the day after the report and, although that review is not yet complete, here's what we have learned so far:
To date, 17 school facilities have been closed and shuttered.
Four of those buildings were found to have security breaches and were bolted more securely the next day.
Usable items stored in the closed McKinley and Nathaniel Hawthorn Schools are being moved this week to the closed H. Barbara Booker school, chosen because the building has an active alarm system.
The transfer of contents from McKinley and Hawthorn are 75% and 95% complete, respectively, and contents of the two schools will be fully moved by the end of this week. Those items include old furniture, books and classroom learning materials and will be stored for future use where needed.
Cranwood School, which already was in use as a satellite storage facility, was secured and continues to be similarly used for storage of surplus materials until needed elsewhere in the District.
Items stored in the shuttered Harry E. Davis, was deemed not salvageable nor safe for transfer after vandalism caused direct and airborne contamination of the contents.
A new protocol (attached) has been drafted to tighten security and plan for more timely and efficient storage and distribution of surplus materials. This protocol is being followed by Berea Moving & Storage Company and Minute Men, the licensed and bonded companies with whom CMSD has contracted for this work for more than 10 years.
Breaches at the four schools led to a tightening of security measures that includes increased attention and monitoring of our closed buildings, including routine inspection at potential entry sites not viewable by mobile patrol (i.e., through skylights). Additionally, surplus inventory stored in closed buildings where electricity is off is being moved to closed schools used as "swing sites," that have active alarm systems.
The updated protocols (attached) have already been implemented in buildings currently being closed. Although the review of processes for closing of buildings and storage of surplus materials is not yet complete, due process will be followed in any disciplinary proceedings where employees are found responsible for improperly storing or securing CMSD property.