AKRON, Ohio — Akron City Council has approved Mayor Dan Horrigan's proposal for a Citizen Oversight Board to review the policies and procedures of the city's police department.
Horrigan's plan, approved by a 9-4 vote during Monday's council meeting, comes nearly three months after the deadly shooting of Jayland Walker. Walker was killed on June 27 when eight Akron police officers opened fire amid an overnight chase. That incident remains under investigation by Ohio BCI.
"The time is now," said Akron City Council President Margo Sommerville prior to the vote. "It is important. We want to show that we want to be transparent, we want to be accountable. We are doing this willingly because it's the right thing."
According to the legislation, the Citizen Oversight Board will consist of 11 members – six appointed by Mayor Horrigan with the consent of Council and five appointed by Akron City Council. The board will have several powers and duties, including "to receive and refer citizen complaints for investigation by the Akron Police Department, and/or the state of Ohio, and/or the federal government."
Additionally, the board will "review and make recommendations as to completed investigations regarding citizen complaints alleging improper/excessive review of force, unprofessional behavior, improper conduct, bias, and profiling that are lodged against APD."
"I want to thank City Council for carefully considering the proposal and for getting the Citizen Oversight Board established here in Akron," said Horrigan in a statement. "I look forward to working with our community members as we strengthen police community relations together and I believe this Board will be a catalyst to those better relationships."
Since it was passed by a super majority (9 members of Council) the ordinance will go into effect immediately
Immediately after passage, the Mayor's Office will open applications to Akron residents who are interested in being on the Board (must be 18 or older) – Sept. 27, 2022
Applications would remain open until October 31, 2022
Mayor Horrigan will present his choices to City Council in Dec. 2022 (given that there have been enough applicants to fill the Board)
A Board would be in place by the first quarter of 2023
Mayor Horrigan would then work to create a City Charter initiative to go on the Nov. 2023 ballot enshrining the Citizen Oversight Board into Akron's Charter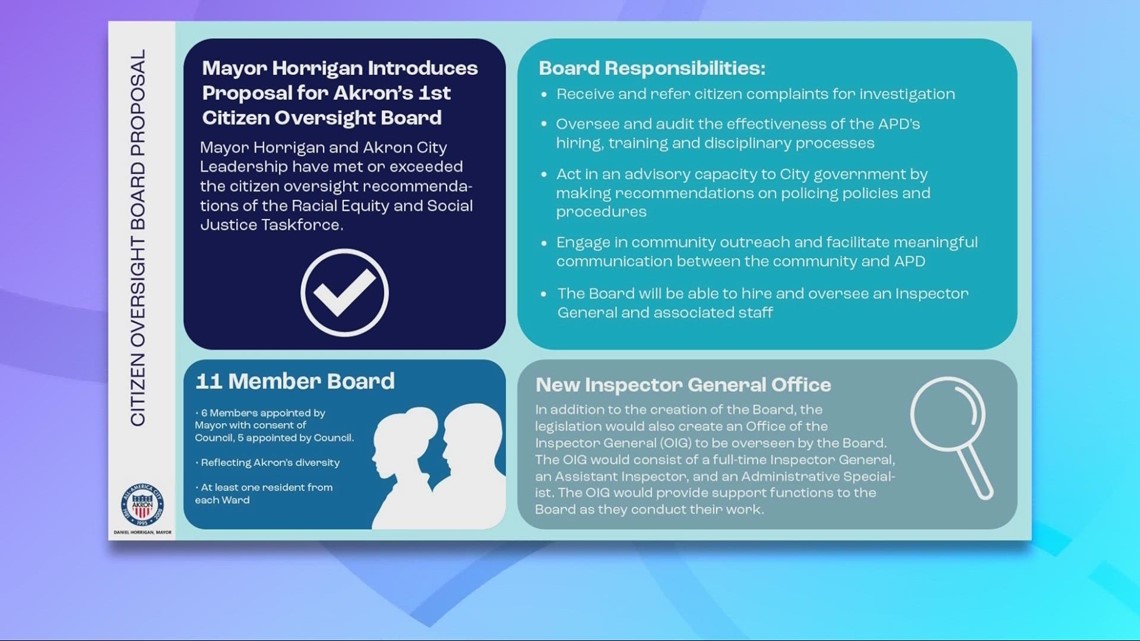 The board will consist of at least one resident from each ward within the city of Akron. It will also have at least one attorney currently licensed to practice law in Ohio, at least one expert in mental health, at least one person specialized in the area of racial equality and social justice, and at least one person with expertise in law enforcement.
"The idea of a Citizen Oversight Board is one that has been talked about for a long time and I believe Akron is ready for this," Horrigan noted when he introduced the plan. "I know there are other thoughts about what the best way is to create this Board, but I think ultimately we all want to get to the same place. We all want a Citizen Oversight Board that is successful and that is embedded into the City's Charter. And we are all coming at this with the best of intentions for our city."
In addition to creation of the Citizen Oversight Board, the new legislation creates an Office of the Inspector General (OIG) to be overseen solely by the board. The OIG will consist of a full-time Inspector General, an Assistant Inspector, and an Administrative Specialist. The OIG's duties include managing board records and accounts, facilitating meetings, conducting review and research, and generating reports, presentations, and public-facing dashboards/platforms. The authority to direct the OIG is delegated solely to the board.
"I am in support of a charter amendment, but I'm also in support of the right charter amendment that is going to get us where we need to go in the quickest way possible," Sommerville added on Monday. "Not something that is going to get us stuck in litigation."
Akron City Councilwoman Tara Mosley was one of four to vote against Horrigan's proposal. She based her "no" vote on the fact that 7,000 signatures were collected in order to put the charter amendment on the ballot. "I cannot ignore that 7,000 residents signed that petition," she told the council. "I do hope that we will find a meeting place on this, but I don't think confusing residents is the right way to do it."
3News' Ryan Haidet contributed to this story