"This incident is yet another senseless loss of human life in Akron," said Akron Chief of Police Stephen Mylett. "Ethan Liming did not deserve to lose his life on Saturday evening. We mourn his loss and grieve alongside the Liming family and all those Ethan touched during his 17 years of life. As with every homicide in this city, the Akron Police Department will follow every lead and do everything within our power to bring the suspect(s) to justice."
The update came less than a week after Liming, a rising senior at Firestone Community Center, was found near the basketball courts at the I Promise School, located at 400 West Market Street. According to a preliminary investigation, Liming was with a group of friends who pulled into the school parking lot. Upon arriving, Liming and his friends became involved in a fight with at least three other males who were already playing basketball at the property. During the incident, he was knocked unconscious and brutally assaulted.
In the press conference, the Akron Police Department said around 10:40 p.m. on Thursday night, four 17-year-olds went to the parking lot of the I Promise School near the basketball court.
Two of the four juveniles began discharging a SplatRBall gun at four individuals playing basketball, which led to an altercation among them.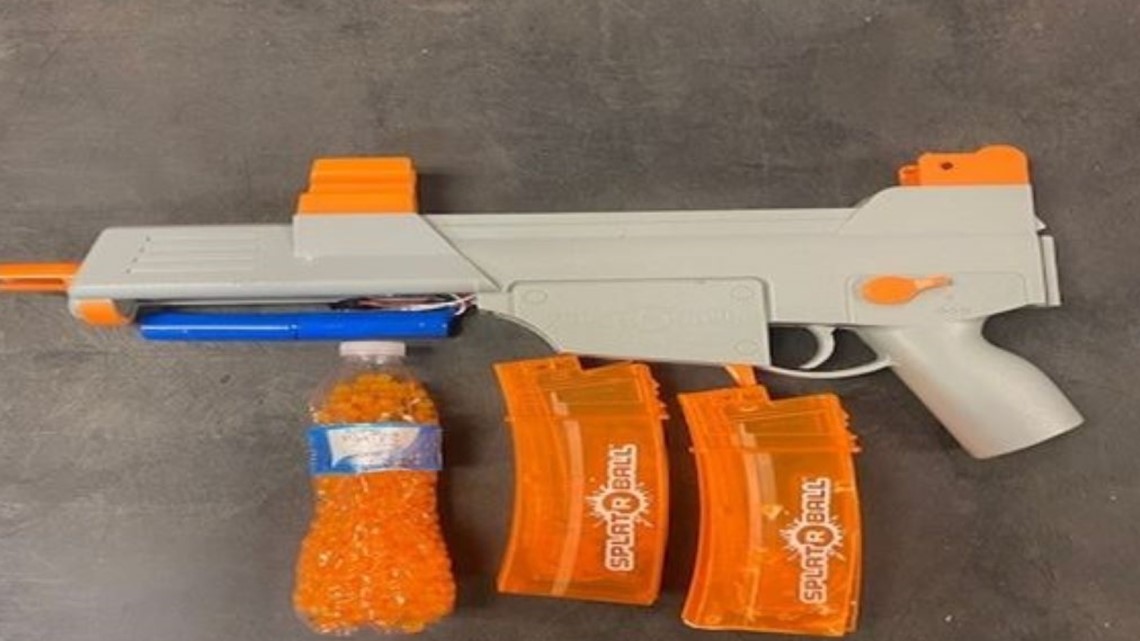 "My son died because of a toy. And just goofing around as a teenager," Liming's father Bill told 3News.
Investigators do not believe that the attack or homicide was justified or racially motivated.
At this time, none of the names of the suspects have been released, and the investigation is ongoing.
"Ethan Liming was a young man with a full life ahead of him, and that bright future was senselessly taken from him in the most brutal of ways. This type of violence in our community has ripple effects that touch each person, including myself, in profound ways, and I know the city of Akron is in mourning because of this tremendous loss," said Akron Mayor Dan Horrigan at the press conference. "I want to express my sincere condolences to Ethan's family, friends, teachers, classmates, coworkers, and everyone whose life was touched by his light. There is no justification for this murder, and I implore anyone with information to please come forward and help Ethan and his family get the justice they deserve."
At the end of the press conference, the Akron Police Department applauded the community for helping investigators gather information regarding Liming's death.
Liming's father, Bill, said his family is "forever broken" over Ethan's death. He is asking anyone with information to come forward so his family can have answers in the death of his son.
"I just have to have faith that yes, we're in a sick world, but we can figure this out, and we can make this a better place. I just wish Ethan would've been a part of that better place," Bill said.
Bill remembered calling Ethan earlier in the day on June 2 to make sure he was buying the correct body wash for his son.
"[I] ended up calling him, said I had to run to the grocery store, was picking up his body wash and stuff like that," Liming said. "I just told him, I wanted to make sure I was getting the right stuff for him. He said, 'dad, thank you for getting that for me, thank you for getting-,' I'm like, 'I'm your dad, of course I'm going to get it for you.' But he just was always very thankful for anything that anybody would ever do for him. He was just a great kid."
Bill, a minister, said Ethan was a fiercely loyal friend and impressive student, who also played baseball and football. From a young age, Bill said Ethan was his "side kick."
Any parents' worst nightmare, Bill got the call about his son in the middle of the night. Police first went to Ethan's mother's house, who then called Bill.
"I've not really slept since that moment," he said. "It was about two in the morning Friday morning. I can't sleep, I can't do anything."
Bill said Ethan also had a 14-year-old brother and three step siblings.
"His little brother is just devastated. Noah idolized his big brother, Ethan. He can't sleep in his bed. He can't come close to anything that was Ethan's. We're devastated," Bill said.
Following the incident on Thursday night, people who were present at the altercation rushed home and called 911. Officers and EMS arrived within minutes to find the Liming unconscious with severe injuries and he was pronounced dead on the scene.
Liming's death is being investigated as a homicide. On Friday, Akron Public Schools superintendent Christine Fowler Mack released the following statement to faculty and staff:
"Our Akron Public Schools family expresses its deepest condolences and offers its prayers to the family and friends of a student who lost his life last night. We mourn as one for Ethan Liming, a 17 year old rising senior at Firestone Community Learning Center. Ethan was a student leader at his school and was in the Academy of Design there.
"The death of a student affects all of Akron Public Schools. Ethan's passing is, sadly, one of many we have experienced during this school year. May we all pause a moment from our daily pressures to give thanks for the lives of these children. May we forever find ways to keep our memories of them alive. Each of these losses reminds us about how precious, and sometimes fleeting, life can be.
"Our crisis team is assisting staff at Firestone CLC and, as always, will make themselves available to students."
On Friday afternoon, LeBron James and the LeBron James Family Foundation -- which operates the I Promise School in partnership with Akron Public Schools -- expressed their condolences via Twitter.