AKRON, Ohio — After just one night in the clear, Akron Mayor Dan Horrigan has once again ordered a curfew for all of downtown after continuing demonstrations against the shooting death of Jayland Walker by police led to several arrests overnight.
Unlike the previous curfew in effect this past Monday and Tuesday, this one will not begin until 10 p.m., although it will still remain in effect until 6 a.m. The order will remain in place nightly until the mayor's office lifts it.
Seven people were taken into custody Wednesday evening into Thursday morning as protests caused Akron police to use "force" and tear gas on some members of the crowd. A portion of the group even made its way outside Cleveland Clinic Akron General and blocked the entrance to the emergency room, causing the hospital to go on lockdown.
"These violent and unlawful acts and existing threats create an imminent danger to the health and safety of Akron's citizens and their property," Horrigan's order read. "The mayor is hereby implementing this curfew for the protection of lives and property and the continuation of local government with a minimum of disruption."
Due to the curfew, High Street will be closed to all vehicles from Bowery Street to University Avenue from 7 p.m.-6 a.m. The boundaries specifying downtown remain the same as the prior curfew:
North: State Route 59 (Perkins Street/MLK Jr. Boulevard)
West: State Route 59 (MLK Jr. Boulevard)
South: Interstate 76/Interstate 77
East: State Route 8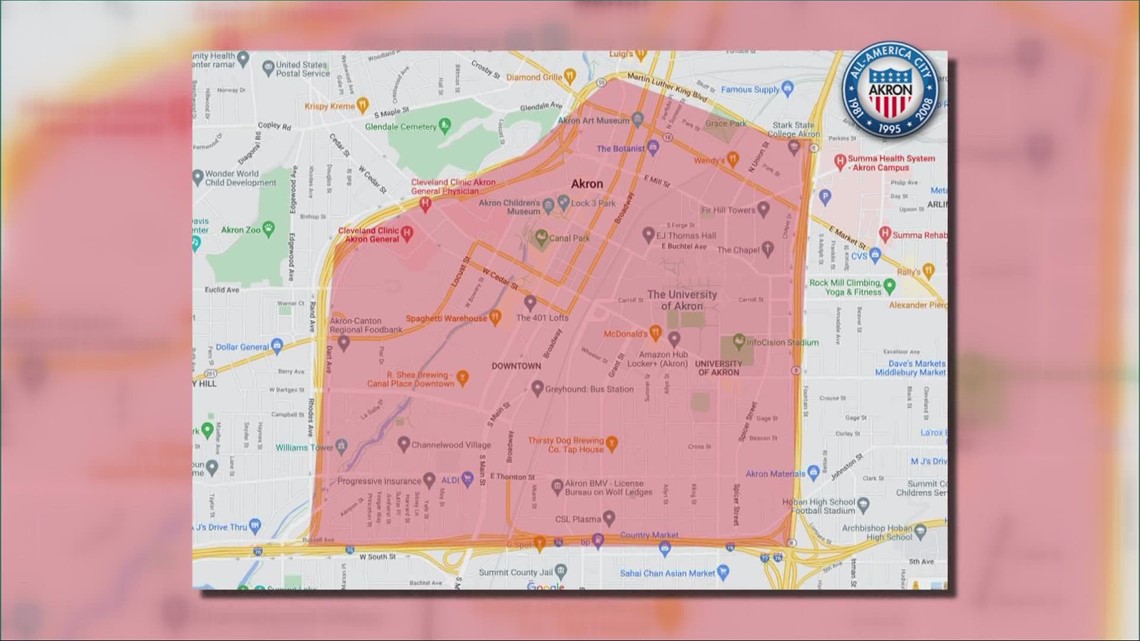 Several groups are exempt from the curfew, including:
All law enforcement, fire, and medical personnel and members of the news media, as well as other personnel authorized by the City of Akron, and the State of Ohio, or individuals otherwise exempt under the law
Persons traveling directly between their place of work and their residence
Persons traveling to seek medical care
Persons fleeing from dangerous circumstances
The Akron RubberDucks have also confirmed to 3News that tonight's game against the Altoona Curve, set to begin at 6:35 p.m., will not be affected.