AKRON, Ohio — Jason Lyle Conrad has been captured in Akron after a day on the run.
The U.S. Marshals Service in Cleveland says the escaped inmate was arrested "after a brief foot pursuit" Wednesday morning as the task force received information that he was traveling on a bike in the area of Aqueduct and Market.
Conrad has now been taken to the Summit County Jail.
One of Conrad's stops on his bike on Wednesday morning was at a McDonald's restaurant. He was recognized by an employee who called law enforcement, adding to the reports of sightings in the area.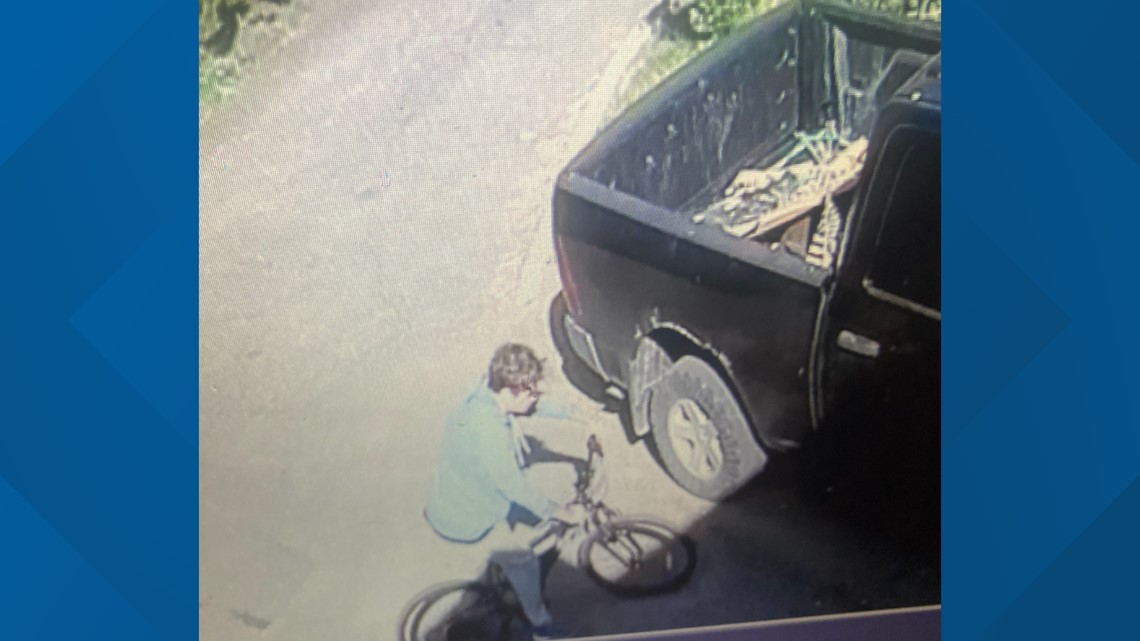 "We had a number of tips from the community, so that helped out a lot. But it came down to really good police work," said Pete Elliott, U.S. Marshal, Northern Ohio. "Today, an Akron police lieutenant spotted him and called our task force, Akron is a core partner of our in the task force. We had the Ohio State Troopers with their air support up that helped out. Then we had the Summit County Sheriff's Office, their deputies and my deputies, U.S. Marshals, out there. They never stopped since 8 o'clock yesterday morning."
"The Ohio State Highway Patrol assisted the Summit County Sheriff's Office in their search for the escaped inmate, Jason Lyle Conrad, with troopers on the ground as well as in the air," an Ohio Highway Patrol spokesperson told 3News. "A pilot from our Aviation Section spotted Conrad from the Cessna 182 Skylane he was flying and was able to successfully guide ground units to Conrad's location where he was taken into custody."
According to Marshal Elliott, it's believed that Conrad, who is from Akron, changed clothes, somehow got out of his handcuffs, and found a bicycle to get around Akron. He was ultimately arrested about five and a half miles from where he escaped.
"He did have a bicycle and he was moving around town," Elliott said. "We were sitting on a number of houses he was affiliated with last night seeing if he'd show up."
While he didn't show up last night, Conrad was spotted Tuesday morning.
"We believe he was in the woods for a number of hours yesterday, probably at least we think about seven hours," Elliott said. "We were there last night searching all night."
His arrest comes one day after the Summit County Sheriff's Office issued an alert when Conrad escaped custody as he was taken to Summa Health White Pond Medical Center at 1 Park West Boulevard in Akron. Authorities say the escape occurred around 8 a.m. Tuesday as a deputy was removing him from a transport vehicle.
"We're extremely proud and appreciative of the work done by our police officers on a daily basis to help keep our community safe," said a spokesperson from SummaHealth.
Conrad, who authorities say was handcuffed and wearing a boot for a previous injury, "was able to escape and ran away after removing the boot."
Sheriff's deputies were assisted in their search for Conrad by the Ohio State Highway Patrol and officers from Akron, Fairlawn and Copley. By Tuesday afternoon, the U.S. Marshals Service had assumed the lead in the coordinated search.
The escape forced a nearby daycare center inside the Shaw Jewish Community Center to go on lockdown. The center then issued a member-wide alert that it would close the facility for the rest of the day as a precaution.
Meanwhile, nervous residents in the area said they were taking extra care to lock their doors.
Carl Halas, who lives down the road from the medical center described the heavy presence of law enforcement officers scouring the area on foot, by car and from the air.
"We saw this airplane going over and over and over," Halas said. "And we started saying we'd better lock the doors."
The Summit County Sheriff's Office says Conrad has charges of willfully fleeing, possession of drugs, trafficking in drugs and a parole violation. He now faces an additional charge of escape.
The Summit County Sheriff also shared multiple images of Conrad, which you can see in the Facebook post below.
Want to be among the first to know the most important local and national news? You can download the free WKYC app and get the latest updates right on your phone: Android, Apple.
MORE HEADLINES
Editor's note: Video in the player above was originally published in an unrelated story on May 29, 2023.