AKRON, Ohio — As protests continued in Akron regarding the police shooting death of 25-year-old Jayland Walker, the Akron Beacon Journal is reporting that tear gas was deployed by authorities during a demonstration outside of the Summit County Jail on Tuesday night.
"We were having a peaceful protest, the next thing I know, they throwing tear gas at us," one person told the Beacon Journal.
3News has reached out to authorities for more information regarding the reported use of tear gas outside of the jail, but we have not yet received a response. This story will be updated upon their reply.
It comes as portions of Akron were under a curfew for the second night from 9 p.m. until 6 a.m., which was activated on July 4 with Mayor Dan Horrigan citing damage to multiple businesses following overnight protests Sunday into Monday.
Mayor Horrigan announced Wednesday morning, however, that he was lifting the city's curfew. Here's his updated statement:
"The curfew was put in place due to safety concerns for our downtown corridor and our residents. What I want our residents and community to know, is that we aren't arresting protestors who choose to peacefully protest. Hundreds of citizens have protested in our community for days without incident, and we support their right to do so. In fact, we will take every step to make sure they can continue to do so safely. Those who were arrested were engaged in criminal behavior. They were becoming violent with officers and disrupting the peace which the community has been urging throughout this difficult time in our city. These individuals do not represent the larger gathering of peaceful protests and we won't let them control the narrative of our community who are voicing their concerns. I continue to urge peace in our city and ask that if you see threats or instances of violence, that you report them."
The areas shaded in red below were impacted by the curfew: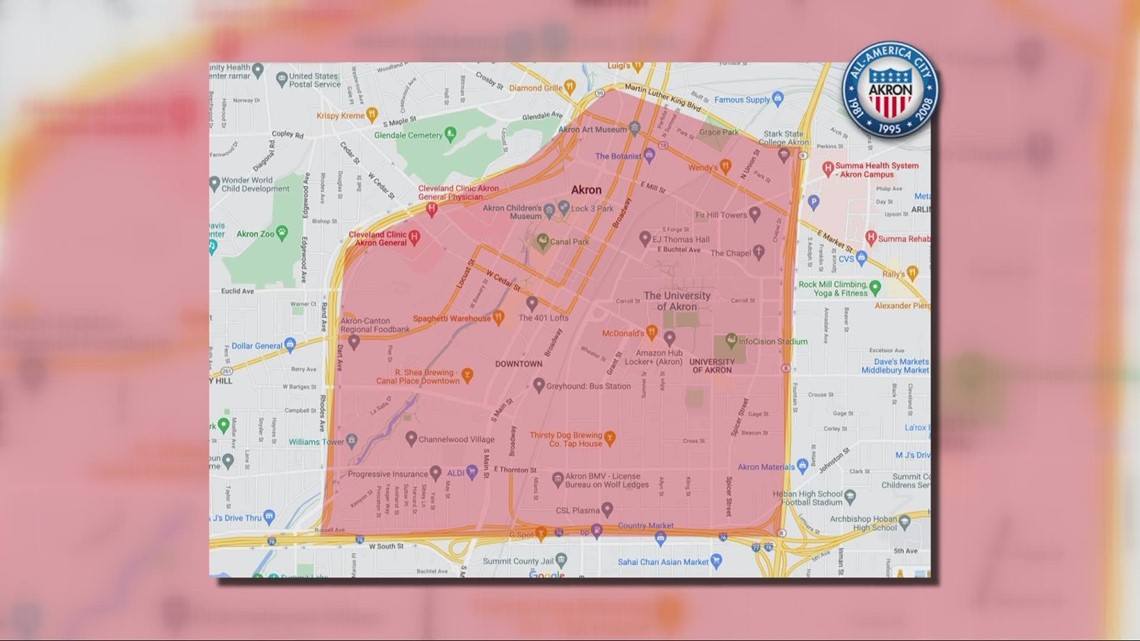 The protest comes after the Akron Police Department released body camera footage that showed the moment eight officers shot and killed Walker amid a chase last week.
Editor's note: Video in the player above was originally published in a previous story on July 5, 2022.