AKRON, Ohio — In the aftermath of protests surrounding the shooting death of Jayland Walker, downtown Akron is under a curfew until 6 a.m. on Wednesday. All of the roads in the downtown area appeared to be open on Tuesday night. The snow plows that blocked streets previously are now parked on the side of the road.
Unlike on Monday, officers were not seen in riot gear, nor have they been seen checking up on people in the area.
About a dozen demonstrators were out Tuesday evening in front of the Summit County Jail. They were leading chants directed towards law enforcement as well as "Justice for Jayland Walker" chants. It was peaceful throughout the time the demonstrators were there.
Shortly before the 9 p.m. curfew for downtown Akron went into effect, members of the Summit County Sheriff's Office were at the Akron Police Department's headquarters investigating a potential threat. The sheriff's office tells 3News they were investigating a backpack that was left near the area, but eventually gave an all clear.
The curfew is taking place in the area shaded in red below. That means unless there is an emergency or you are heading to work, avoid the area.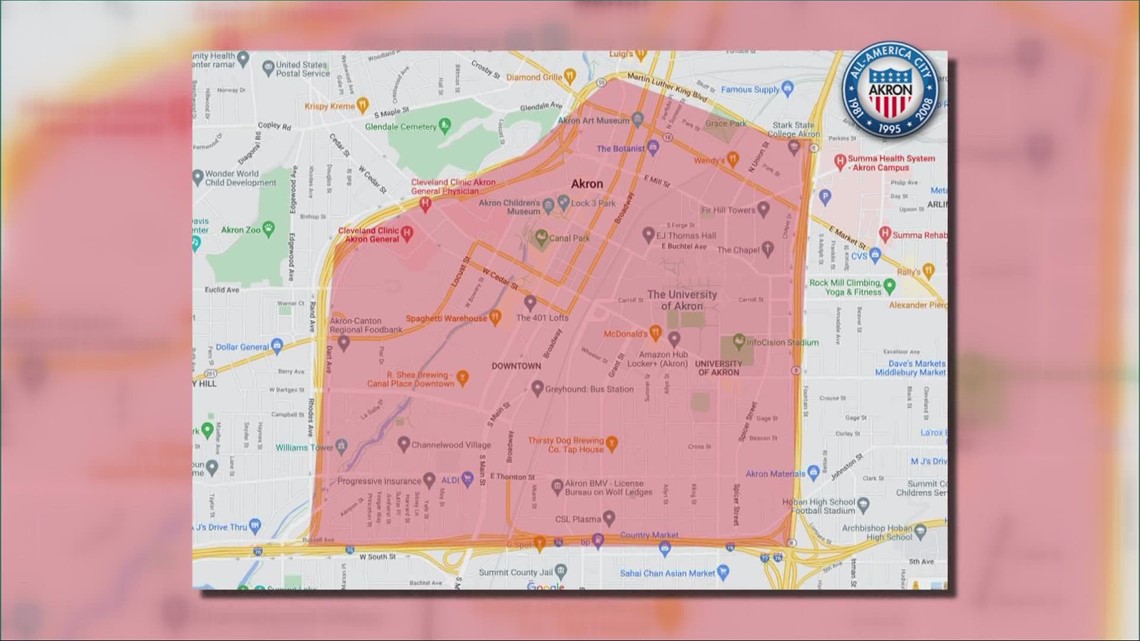 The release of the bodycam video showing eight officers, seven of whom were white, shooting Walker, who was Black, dozens of times following a car chase sparked outrage through the community, and as the sun set on Sunday, several downtown businesses had their windows smashed and fires were set in the area. The various forms of property damage and alleged arson led to roughly 50 arrests.