An Akron icon is about to disappear, as demolition crews began dismantling the Rubber Bowl on Wednesday afternoon.
City officials held a press event at 2 p.m. in which members of the media were given one last glimpse inside before the Rubber Bowl is gone forever. WKYC was there.
The Rubber Bowl was built in 1940 and housed the University of Akron football team until 2008. The university transferred the property to private ownership in 2013. It was also a popular place for concerts.
PHOTOS | Inside Akron's abandoned Rubber Bowl
PHOTOS | Inside Akron's abandoned Rubber Bowl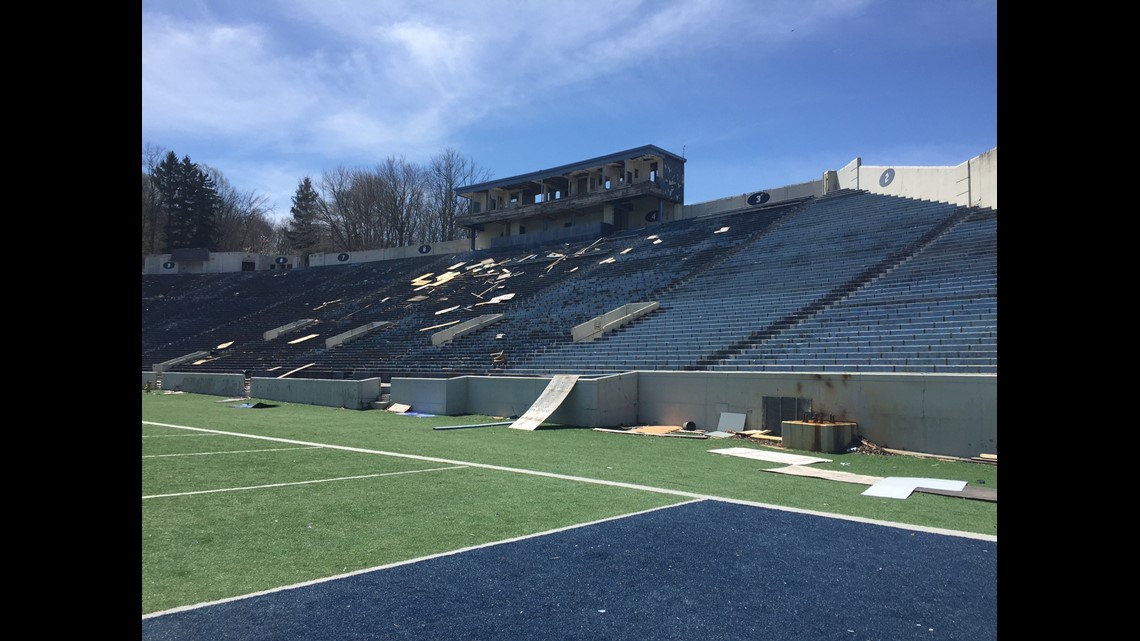 The site was condemned in 2017, and the city says the site is a safety risk due to its sate of disrepair.
Demolition will focus on the most dangerous spots first -- including the scoreboard and area near Derby Downs.
Funding will limit the initial demolition to just the most dangerous areas, including the scoreboard and the portion near the Derby Downs. The portion of the Rubber Bowl along George Washington Boulevard will remain standing until additional funding is obtained.
Half of the $200,000 cost of the first phase of demolition comes from the capital improvement fund from the state, while $50,000 comes from the city of Akron's capital fund and the final $50,000 comes from grants via the Land Bank.
"The demolition of the Rubber Bowl represents the end of an era," Akron Mayor Dan Horrigan said. "Like many Akron residents, I have fond memories of attending football games and other events there throughout my life. However, the structure is well beyond repair and now poses a danger to the public. It's time for us to honor the rich history of the Rubber Bowl while making way for a safer and improved use for the site. We thank our state delegation and partners at the County for their partnership to support this necessary project."
City officials stress that anybody entering the Rubber Bowl structure without permission faces criminal action.
"In order to protect public safety, any trespassers to the site can and will be prosecuted."