CLEVELAND — Editor's Note: The above video features the history of the Cleveland Browns' mascot, Brownie the Elf.
One of the things that I've always believed makes Cleveland a great sports town is how much we love the athletes that compete on the field of play. And vice versa.
There's a special relationship between the town, the teams, and the players.
I always felt fortunate that I came of age at a time when the Cleveland Browns made five straight playoff appearances, the Cavaliers were a "hard workin' team from a hard workin' town," and the Indians were among the best teams in baseball playing in front of a sold-out crowd at a brand-new ballpark.
I have favorites from those eras to be sure. Bernie Kosar, Price-Nance-Daugherty, Jim Thome, the Dawg defense, Ron Harper, and many more.
Recently, I was watching Bally Sports Great Lakes' Al Pawlowski and Jensen Lewis catch up with former Tribe outfielder Rajai Davis. I commented to my colleague Tyler Carey that Davis should never have to buy a meal in Cleveland for the rest of his life (more on Rajai later).
Along similar lines, when I had a radio show with Bruce Hooley, we always said that the two best words to have on your resume in Columbus were "Former Buckeye."
It's all made me wonder how many other athletes I could think of that would never have to pay for a meal at the Dino Diner or the Dino Sports Bar.
Here is the criteria I used:
No active players are on this list. That eliminates the likes of LeBron James, José Ramírez, Kevin Love, Nick Chubb, Shane Bieber, Darius Garland, Evan Mobley, etc. Only retired athletes allowed to eat for free.
The list features athletes from my sports-watching lifespan (starting in the early 1980s)
If you are a Hall-of-Famer in your sport or have your jersey retired, I didn't include you. Joe Thomas is off the list because he's going into the Hall next year and my man also can eat Mission BBQ when he wants.
I tried to pivot away from superstars. Of course, Bernie Kosar should have his jersey retired. And yes, he should eat for free. Same goes for the lineup of the 1995 Cleveland Indians. I wanted to focus on some unsung players who shined at the right moments.
Let's go through my list of former Cleveland athletes who should eat for free:
Rajai Davis
If you asked me to name one other significant moment of Rajai Davis' career as a member of the Cleveland Indians, I can't do it. But I know where I was and what I was doing on November 2, 2016, when Davis provided one of the signature moments in Cleveland sports history with his game-tying home run off of Aroldis Chapman in Game 7 of the World Series.
Davis' home run was iconic for so many reasons, not the least of which was the reaction coming from the man who had helped deliver the city its first world title in any sport since 1964.
That was such a Cleveland moment. We all came together and shared a collective hug. It was a moment of hope and pure joy. Of course, we know how the story ultimately ended. But nothing can replace that joy we felt when for a moment, Rajai Davis made us believe that anything was possible.
Your table is ready, Rajai.
Daniel "Booby" Gibson
In Game 5 of the 2007 Eastern Conference Finals, LeBron James put on one of the greatest individual performances in NBA playoff history. The King scored 48 points, including the Cavs' final 25 and 29 of its final 30, to propel the Wine and Gold to a double-OT victory over Detroit and a 3-2 series lead.
You could tell that LBJ was a little gassed coming back to Cleveland for Game 6. He needed help. Enter rookie guard Daniel "Booby" Gibson.
The Cavs held a one-point lead heading into the final quarter. Booby scored 19 of his game-high 31 points in the last 12 minutes to help propel the Cavaliers to their first-ever Eastern Conference crown.
With every stroke in that final quarter, you could see Gibson just will the Cavs to close out the bullies from Detroit. I didn't even need Marv Albert to say "YESSSSS," I knew his shots were going in. It was such a joy to watch a Cleveland team close out an opponent and advance to a championship.
Of course, we'll remember Daniel Gibson because he had a notable nickname. But just don't forget his magical night in 2007.
Eric Metcalf
I have just a few jerseys with athletes names on the back. Bo Jackson (both football and baseball), Nick Chubb, and Eric Metcalf.
Metcalf was one of the most electrifying players I've ever seen wear a Cleveland Browns uniform. Much like when Albert Belle came to the plate for the Tribe, when Metcalf got his hands on a football, you held your breath in anticipation.
On October 24, 1993, Metcalf provided fans at old Cleveland Municipal Stadium with a virtuoso performance.
With 2:05 to play in the fourth quarter and the Browns down 23-21, Pittsburgh's Mark Royals punted to Metcalf, who had already returned one punt back 90 yards for a touchdown that afternoon. Metcalf made a series of dazzling moves and danced down the sidelines for an electric 75-yard touchdown to give the Browns the victory.
For me, this was the last great moment of the Cleveland Browns before they were moved by Art Modell to Baltimore. Eight days after the win over the Steelers, beloved QB Bernie Kosar was cut by Bill Belichick in a disastrous public relations blunder. Legendary Browns radio announcer Nev Chandler passed away after his battle with cancer the following spring. Nothing felt the same anymore. Yes, the Browns went to the playoffs in 1994, but it wasn't "Pandemonium Palace" anymore.
Metcalf had many memorable moments in Cleveland: His gazelle-like move to score against the Bengals on Monday Night Football in his rookie year in 1989, a kickoff return for a touchdown against the Bills in the AFC Divisional Playoff, beating the Raiders with a last-second score in Los Angeles.
But for me, his signature moment was that day in 1993. Come on in, No. 21.
Cardale Jones
I have to admit that when Ohio State lost to Virginia Tech in their 2014 home opener, I didn't have a whole lot of faith that the Buckeyes would be able to pull together what turned out to be a national championship-winning season.
OSU needed double overtime to beat Penn State at Happy Valley, struggled to put away Minnesota, then lost starting quarterback J.T. Barrett in the fourth quarter of their win against Michigan. Yes, the Bucks were headed to the Big Ten Championship Game, but it felt like they wouldn't have enough to get past Wisconsin.
Riding to the rescue was former Glenville Tarblooder Cardale Jones.
In his first career start, Jones was 12-for-17 for 257 yards and three touchdowns as the Buckeyes dominated the Badgers, 59-0, for the Big Ten title.
Next, OSU had to deal with the Alabama Crimson Tide in the College Football Playoff semifinal in New Orleans. Jones had another terrific performance, throwing for 243 yards and a touchdown. He also used his 6'6", 250-pound frame to batter the Tide for 43 yards on the ground.
Finally, Ohio State captured the National Championship with a 42-20 win over Oregon in Arlington, Texas. Jones threw for 242 yards, ran for 38 more, and had a pair of touchdowns.
3-0. Wisconsin. Alabama. Oregon.
Look, Cardale didn't do it himself. Ezekiel Elliott was unbelievable in the College Football Playoff, running for a Sugar Bowl-record 230 yards against Alabama, then following it up with 246 more rushing yards and four scores against Oregon.
There was a great corps of receivers for Jones with Michael Thomas, Devin Smith, and Jalin Marshall, while Joey Bosa anchored a terrific defense.
But Jones deserves a ton of credit for coming off the bench and leading the Ohio State offense to three straight spectacular performances. Forget about what might have been if he had come out for the NFL Draft and just remember those magical moments in December and January of 2014-15.
Andrew Miller
There were so many heroes during the Cleveland Indians' march to the 2016 postseason. But when I think about that team in particular, I think about how dominant that bullpen was down the stretch and in the playoffs. The catalyst? Andrew Miller.
A former starter, Miller had turned himself into one of the best relief pitchers in the game by the time the Indians traded for him before the 2016 deadline. The Tribe gave up four prospects for the 31-year-old lefty, including outfielder Clint Frazier.
During Cleveland's run to the postseason, Miller made 26 appearances, covering 29 innings. He allowed just two walks while striking out 46, posting a microscopic 1.55 ERA.
He was even better in the playoffs.
Miller appeared in two of the three ALDS games against Boston, striking out seven with no runs allowed in four innings of work. Against Toronto in the American League Championship Series, Miller Time was at his finest. On his way to winning the series' Most Valuable Player award, Miller worked 7 2⁄3 scoreless innings, allowing three hits, no walks, while striking out 14, which was an ALCS record for relievers. In the Tribe's four ALCS wins, Miller had three holds and one save.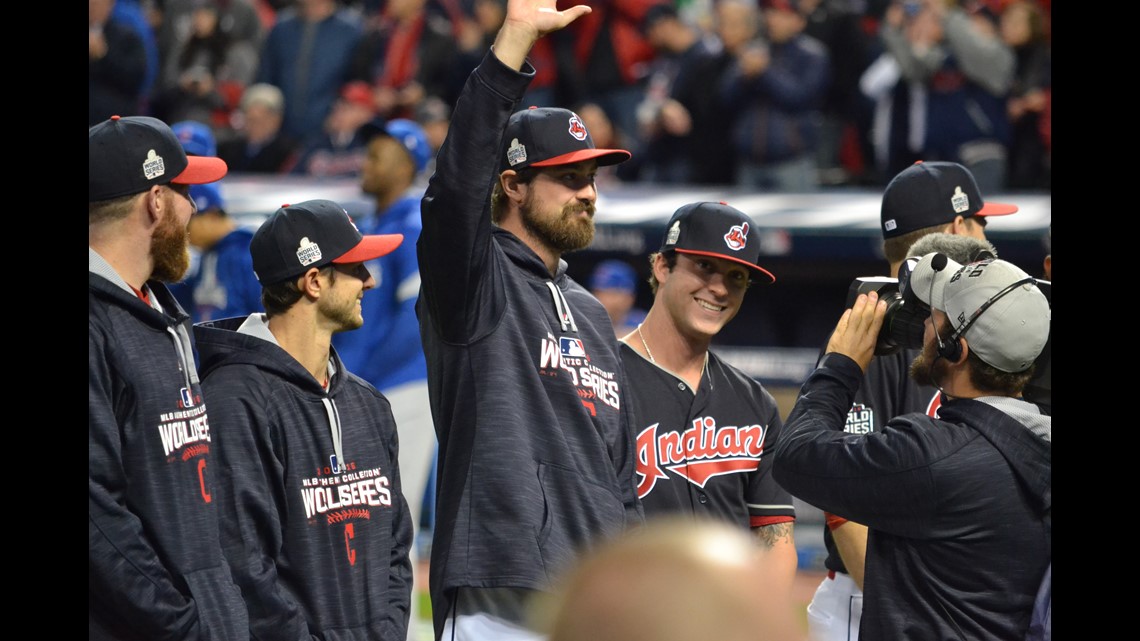 Miller made a huge impression on Hall of Fame pitcher and TBS announcer Pedro Martinez along the way.
That's high praise, indeed.
Miller would work another seven-plus innings in the World Series, being credited with the win in Game 3. His postseason streak of 17 consecutive scoreless innings finally ended in Game 5 and he allowed a pair of runs in Game 7 as the workload seemed to finally catch up with him.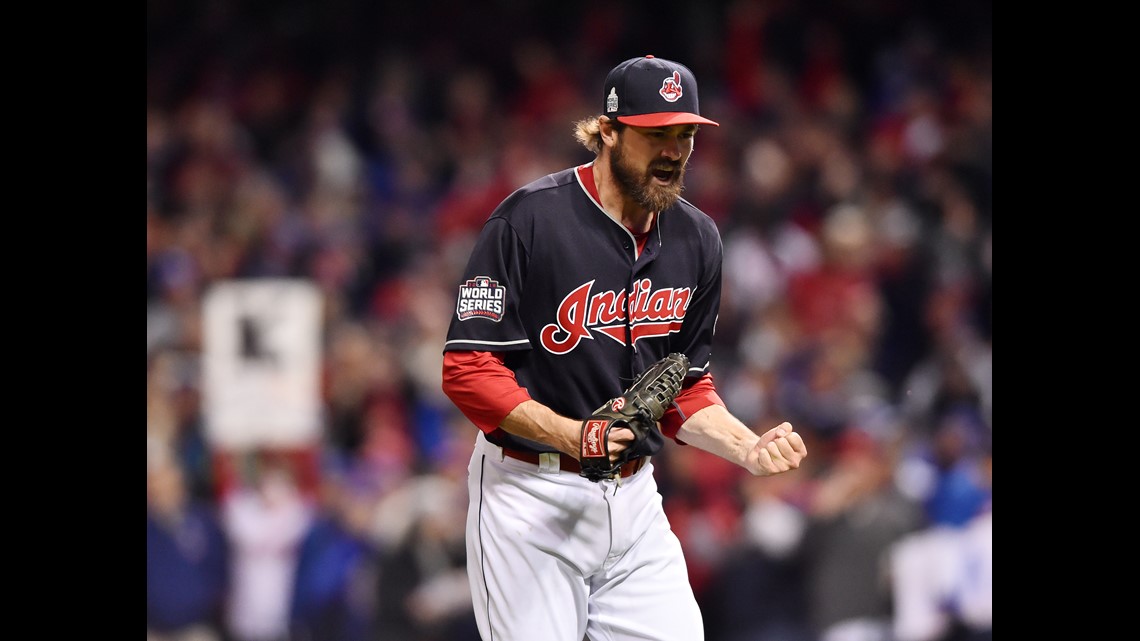 But Miller would rewrite several postseason records for relievers during that magical October of 2016 with 30 strikeouts, 19 1⁄3 innings worked and 10 multi-inning appearances. He finished 2-0 with a 1.40 ERA and one save overall and was honored by Major League Baseball with the Esurance MLB Award for Best Major Leaguer, Postseason.
World B. Free
Let's take a trip back to the early 1980s in Richfield. The Cleveland Cavaliers were a horrendous franchise, having been owned by Ted Stepien.
How bad did it get for the Cavs under Stepien? The league had to come up with a rule to stop Stepien from trading away first-round draft picks every year. Stepien fired popular radio play-by-play announcer Joe Tait, had five different head coaches (including future hall of famer Chuck Daly), threatened to move the Cavs to Toronto, and amassed a record as owner of 66-180.
Stepien finally sold the team to Gordon and George Gund in 1983. But there was a lot of work to be done to get people excited about watching NBA basketball in Cleveland again.
In those dark days at the Coliseum, World B. Free made it fun to root for the Cavs.
The man formally known as Lloyd Free arrived in Richfield in 1982. The 29-year-old had already played for three other teams in his eight-year career. He had been nicknamed "World" growing up in New York City partly because of his vertical leap. But in Cleveland, World B. Free would make his mark for the Cavs with his incredible shooting.
He averaged at least 22 points a game during his four seasons with the Cavaliers, saving his best performance in the 1984-85 campaign. The Cavs, under new coach George Karl, started that year just 2-19. Yet with Free leading the way, somehow the Cavs finished 36-46, which was good enough to get into the playoffs.
It wasn't the "Miracle of Richfield," but it was close.
The Cavs went toe-to-toe with the defending world champion Celtics, finally losing the best-of-five series in four games. Free scored 32 points in Cleveland's Game 3 win in front of a sold-out Coliseum crowd.
Free moved on after the '85-86 season, as the Cavs entered a new era with draft picks Brad Daugherty, Mark Price, and Ron Harper. But we should always remember how important World was to keeping the Cavaliers in Northeast Ohio during a terrible time for the franchise.
"The attendance rose from 3,916 to 9,533 per game in his four seasons.
"It's hard to explain World B. Free. You had to experience it. And Cavalier fans had the best version of Free from 1982 to 1986. In 275 games, he averaged 23 points, shooting .454 from the field.
"'It drives me crazy when I hear people take shots at World,' said Joe Tait. 'Only those who followed the franchise back then understand what World meant to the team. His No. 21 should be hanging from the rafters. He was that good and that important to the Cavaliers.'
Free was honored by the Cavs this past season on its "Wall of Honor." Here's hoping someday No. 21 will finally be retired to the rafters of Rocket Mortgage FieldHouse.
Phil Dawson
For 14 seasons, Phil Dawson was one of the few bright spots for the expansion Cleveland Browns in their quest for football respectability. (There's another guy coming up.)
A kicker. That's how tough it was to be a Browns fan from 1999-2012.
Dawson was both reliable and prolific. He broke Lou Groza's team record for most field goals made for a career, while also setting a Browns record for most consecutive field goals made (29).
During three of his 14 seasons in Cleveland, he would hit on at least 90% of his field goal attempts (missing just two).
There were several memorable moments for Dawson as a Brown. His game-winning FG in Pittsburgh gave the Browns their second victory in their return to the league in 1999.
Dawson kicked five field goals in Buffalo in 2008, including the 56-yard game-winner in a Browns' 29-27 victory over the Bills.
But nothing can top 2007 and "The Dawson Rule."
In Baltimore, the Browns called on Dawson to make a 51-yard field goal to send the game with the Ravens into overtime.
Dawson's kick hit the left upright and the rear, curved support that holds up the crossbar, also known as the stanchion. The ball then bounced back over the crossbar and into the end zone. The officials said no good. Game over.
While Baltimore celebrated in their locker room, the officials discussed the sequence and determined that since the ball had indeed crossed the crossbar within the goal, the kick was indeed good after all.
Here's the kicker (pardon the pun): That kick was technically not reviewable, but referee Pete Morelli declared that the play was reversed "after discussion" as opposed to "after further review."
We play on. In overtime, Dawson nailed a 33-yard field goal to give the Browns the win over the Ravens.
One month later, the Browns and Bills battled in the snow at FirstEnergy Stadium. Despite a blizzard, Dawson connected on a 49-yard field goal to help the Browns win 8-0. The kick again hit the stanchion.
The league determined after the season that going forward, field goal and extra point attempts that hit the uprights or crossbar are reviewable. Thus the "Phil Dawson Rule."
My favorite Phil Dawson moment? When he decided to sign a one-day contract with the Browns and retire in 2019. That gets you a reserved table at my place.
Victor Martínez
I was fortunate enough to be able to watch Martínez come of age as a member of the Tribe's AA farm team, the Akron Aeros. You knew that one day, he would have the chance to be special, and he was.
Martínez was a professional hitter in every sense of the term and played brilliantly for the Indians from 2002 to 2009. He was selected to three American League All-Star teams, and led the Tribe to the 2007 American League Central Division title.
He would hit .297 with the Tribe, with 103 homers and 518 RBI.
In 2004, Martínez won the American League's Silver Slugger Award for the catcher position, hitting .283 with 23 homers and 108 RBI, which set a record for Indians catchers. That year, Victor also had the best offensive night by an Indians catcher in team history against Seattle. He hit three home runs, singled twice, drew a walk, and drove in a career-high seven runs in a perfect 5-for-5 performance.
During the run to within one game of the 2007 World Series, Martínez was superb. He hit .301 with 25 HR, while leading all major league catchers with 114 RBI. He finished seventh in the American League MVP balloting that season.
He was everything you wanted in a team leader. But sadly, business got in the way.
In 2009, the Indians were transitioning into rebuild mode. They had dealt away CC Sabathia the previous year and after trading fellow Cy Young Winner Cliff Lee earlier in 2009, the Tribe dealt Victor to the Boston Red Sox.
He didn't want to leave Cleveland. In fact, Martínez was in tears when he found out he had been traded. But like the professional that he was, Victor would go on to success in both Boston and Detroit before retiring after the 2018 season.
Martínez would receive a heartfelt farewell from Indians fans during his last appearance at Progressive Field. That kind of love is what we're talking about.
Richard Jefferson & Channing Frye
Pay no attention to statistics when it comes to RJ and Channing. They're irrelevant.
The creators/hosts of the "Road Trippin'" podcast are on this list because they were such an important part of the chemistry of the 2016 NBA Champion Cavaliers.
On the court, they were key role players. Jefferson provided a defensive spark, Frye gave the Wine and Gold length and shooting.
Off the court, they brought a sense of fun. They lightened moods. They helped bring the Cavs together.
"Frye and Jefferson also played a large role in the deepened camaraderie and unity of the team during the Championship season. Their leadership, effort, experience, humor and always-entertaining antics during their tenure in Cleveland won the hearts of Cavs fans then and are still remembered today."
Did you see Kevin Love's wedding photos? Look who is there: LeBron James, Richard Jefferson, Channing Frye, J.R. Smith, and James Jones (another important part of the chemistry). It's not an accident. Love benefitted greatly by having both players in Cleveland as he figured out how to play alongside LeBron and Kyrie Irving.
The duo embraced Cleveland. And fans loved them for it.
As my friend Danny Cunningham put it, Jefferson and Frye have an uncanny connection that dates back to their younger days as both attended the University of Arizona in the early 2000s, just missing being teammates by a season.
They were a perfect fit in Cleveland together.
Josh Cribbs
Last, but certainly not least, the Browns' special teams ace from Kent State University will find himself eating on the house.
The undrafted free agent, who played quarterback for the Golden Flashes, carved out a role for himself as return specialist who was also able to shine on offense.
As Jim Donovan calls him, "The Great Cribbs" had three touchdowns on punt returns and an NFL-record eight touchdowns on kick returns in his career. He totaled four special teams touchdowns in 2009, leading him to a first-team All-Pro selection that season.
Upon his retirement in 2017, Cribbs' 13,488 total return yards ranked third in NFL history, trailing only Brian Mitchell and Allen Rossum. He was also named to the NFL's All-Decade team for the 2000s alongside Dante Hall as the league's two best kick returners.
Why do Browns fans love Cribbs so much?
Like Dawson, he was one of the only reasons to watch Browns football for a long time.
He also was a terror against the Pittsburgh Steelers at a time when the Browns were light years behind their AFC North rivals.
Cribbs scored three of his 10 touchdowns against the Steelers from 2005 to 2011. On a miserably cold Thursday night in 2009, Cribbs almost single-handedly beat Pittsburgh in front of a nationally televised audience. Operating out of the Wildcat, Cribbs rushed for 87 yards on 8 attempts and a touchdown. He also had a 55-yard punt return that set up a field goal.
The Browns ended a 12-game losing skid against Pittsburgh that night.
Ten days later, Cribbs put on a display for the ages at Arrowhead Stadium in Kansas City, returning a pair of kickoffs back for touchdowns to help lead the Browns to victory. Those two wins probably saved Eric Mangini from being fired as the team's head coach amid Mike Holmgren's hiring as the team's new president.
Making memories, while saving the coach's job? Yep, that gets you a meal for free.
Editor's Note: Let me know what you think about this list. Did I miss anyone? Hit me on Twitter @dinocleveland or post a comment to our Facebook page.
More from Dave "Dino" DeNatale: