CLEVELAND — The twin sister of fallen Cleveland police officer Shane Bartek is opening up to 3News about his life and his legacy.
Officer Bartek was killed in a shooting on New Year's Eve at the age of 25. Bartek was shot in the parking lot of an apartment complex in the 4300 block of Rocky River Drive around 6 p.m. on Dec. 31. He was a two-year veteran with the department.
His sister and twin, Summer Bartek, said Shane made her proud when he was living and continues to make her proud today.
"I would probably tell everyone who would listen that he was my twin, I was just proud of it," said Summer. "It's hard to explain the twin bond."
Shane and Summer were born on Aug. 31, 1996. Summer says she is 13 minutes older, but Shane always treated her like a younger sister. Summer smiles when she thinks about her brother's smile.
"He had this dorky smile, but it would make you smile," said Bartek. "He would sing a song in his head and then I would sing the part that he was at out loud. He was always my partner in crime growing up."
From being Summer's partner in crime to eventually fighting crime as an officer with the Cleveland Division of Police.
"I knew Shane wanted to be a police officer with his joy he had with our first set of walkie-talkies growing up," said Summer. "He wanted to do a job that would help other people, so when he said he wanted to go to the academy, I was like 'OK, twinnie!'"
Shane did it for himself, as well as for their father, Ron, who passed away three years ago in his sleep after a heart attack.
"I know he made my father proud," Summer told 3News' Laura Caso.
Summer says Shane also made her proud through his bravery in his last moments of life when he was killed in the carjacking incident.
That night – New Year's Eve – Summer said she felt off.
"It was like this whole feeling of dread and just sick," Summer said.
She couldn't explain why until Shane's fellow Cleveland police officers delivered the news – her brother was murdered.
"I just felt like half of me was missing," said Summer.
She never imagined herself giving the eulogy at her twin's funeral.
"I don't want people to remember the last five minutes of his life because he was so much more than that. I want them to remember the goofy, kind, wonderful person that he was."
Now, Summer writes letters to her brother as if he is right there next to her, listening.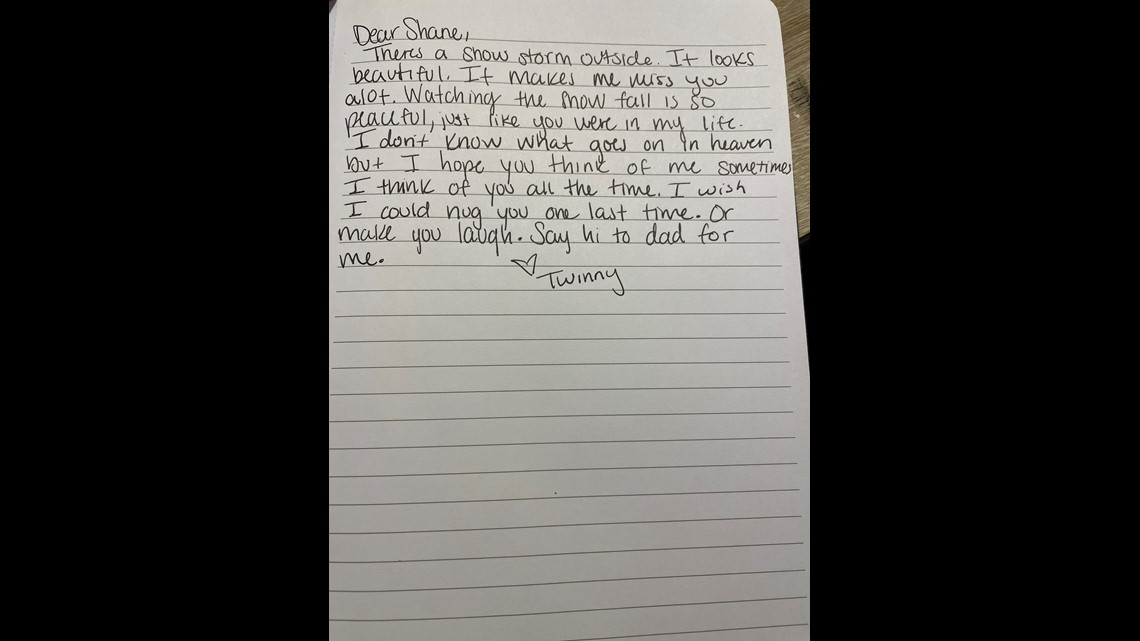 Today, she wears a cross necklace – the one her brother wore on the night he was murdered.
"Out of all of his stuff, this is what I wanted because…one…I feel like he's with the lord and two…I have my twin around my neck next to my heart."
Shane and Summer arrived into this world together, and for Summer, they will stay together. He walks with her, beside her, within her. She's still his older little sister – and he's still protecting her – just this time it's from above with their father.
"Now my whole family has two guardian angels, and we are lucky that we have that."
Cleveland Division of Police Chief Wayne Drummond was at the funeral to pay tribute to Officer Bartek.
"I've learned that courage came naturally to Shane," Drummond said. "I've heard stories that tell me Shane truly embodied the virtues needed to be an outstanding law enforcement officer: Kindness, truth, mercy, generosity and honesty. Shane was an officer who fully embraced service and community. He knew what it took to gain both trust and respect from his supervisors down to the youngest residents."
Officer Bartek's final resting place is located at Holy Cross Cemetery on Brookpark Road.
PREVIOUS COVERAGE OF THIS STORY: