CLEVELAND — Leadership changes have been announced at Cleveland State University says Harlan Sands is leaving his role as president.
CSU announced the news Tuesday morning, saying its board of trustees and Sands "mutually agreed that it was best that Sands and the university part ways over differences regarding how the university should be led in the future."
"The Board recognizes that CSU has made significant advances during Sands' tenure and is on solid footing," said David Reynolds, Board chairman. "Over time, however, it has become clear that this simply is not a good match for either party going forward. We thank President Sands for his contributions to CSU during his tenure and wish him well."
Sands was CSU's seventh president and has served in that role since 2018. He will remain available to help facilitate a seamless transition through June 24. He released the following statement about his departure:
The opportunity to serve our faculty, staff, and students during the last four years – given all that we have faced together in these unprecedented times – has been the highlight and defining experience of my 20+ year academic career. What we accomplished together to keep our campus safe during a pandemic, grow enrollments, develop and implement ground-breaking student success initiatives, build partnerships, expand our faculty, and bring new investors onboard is a credit to the great work that you have done to make CSU what it is today.
It has been a true privilege to serve as president of CSU, and it has been the honor of a lifetime to be a part of our very special community.
What's next?
The board has named Dr. Laura Bloomberg, CSU's Provost and Senior Vice President for Academic Affairs, to succeed Sands as president.
Dr. Bloomberg, who CSU describes as a nationally recognized leader in public and global policy education, became Provost and Senior Vice President for Academic Affairs on Sept. 1, 2021, following an extensive national search. She previously served eight years as Dean and as Associate Dean of the Hubert H. Humphrey School of Public Affairs at the University of Minnesota.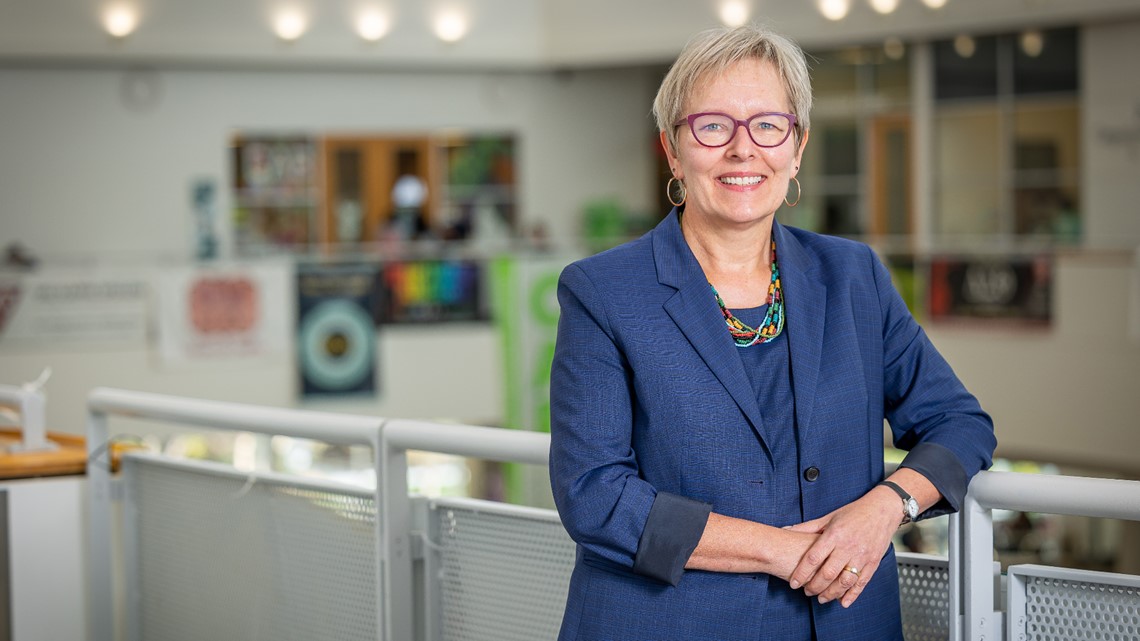 "Since moving to Cleveland last summer my husband, Jon, and I have been warmly welcomed and we have come to feel very much at home in this community as we transplant our Midwestern roots," Dr. Bloomberg said. "I have been inspired by the fundamental strengths and resiliency of both the community and this university, and I look forward to a very exciting future together."
Here's more on Dr. Bloomberg's career as provided by CSU:
Over Dr. Bloomberg's 24-year academic career at the University of Minnesota, her research focused on community-based leadership, program evaluation, public value creation, cross-cultural dialogue and educational policy.
Under her leadership, the Humphrey School achieved and sustained a Top 10 U.S. News & World Report ranking for public affairs schools, launched three new successful intercollegiate degrees, tripled its community-engaged research portfolio, and substantially diversified the student body, faculty and administration.
In addition, Dr. Bloomberg led the global expansion of the school, established a national pathway program for college students underrepresented in public policymaking, launched an Internationally focused Human Rights degree, and developed the Mandela Washington Fellowship program to support young leaders from countries across Africa. She also successfully led the Humphrey School's $20 million Leading Together fundraising campaign.
Dr. Bloomberg holds a doctoral degree in educational policy and administration from the University of Minnesota, master's degrees in psychometrics and educational psychology from Cornell University, and a bachelor's degree in special education from St. Cloud State University.
She and her husband Jon, an environmental attorney, are the parents of two adult children, Elisabeth and Andrew.
Editor's note: Video in the player above was originally published in an unrelated story on April 21, 2022.