CLEVELAND — Dennis Kucinich's battle against the Cleveland Electric Illuminating Company (CEI) has shaped his politics – and by extension -- his life.
Most recently, the battle filled the 74-year-old's days during the COVID pandemic as he put the finishing touches on his new memoir, "The Division of Light and Power."
"This story has been living within me for a half century," Kucinich told 3News. "From the time that I was a councilman and I wanted to know how come the lights are going out and what's happening here. And that led me to discover the corporate interference, sabotage and espionage that was involved at that time."
The book focuses on the influence of CEI -- which tried to pull the plug on the city's public power company, known as Muny Light -- and on Kucinich's efforts to stop the corporate utility.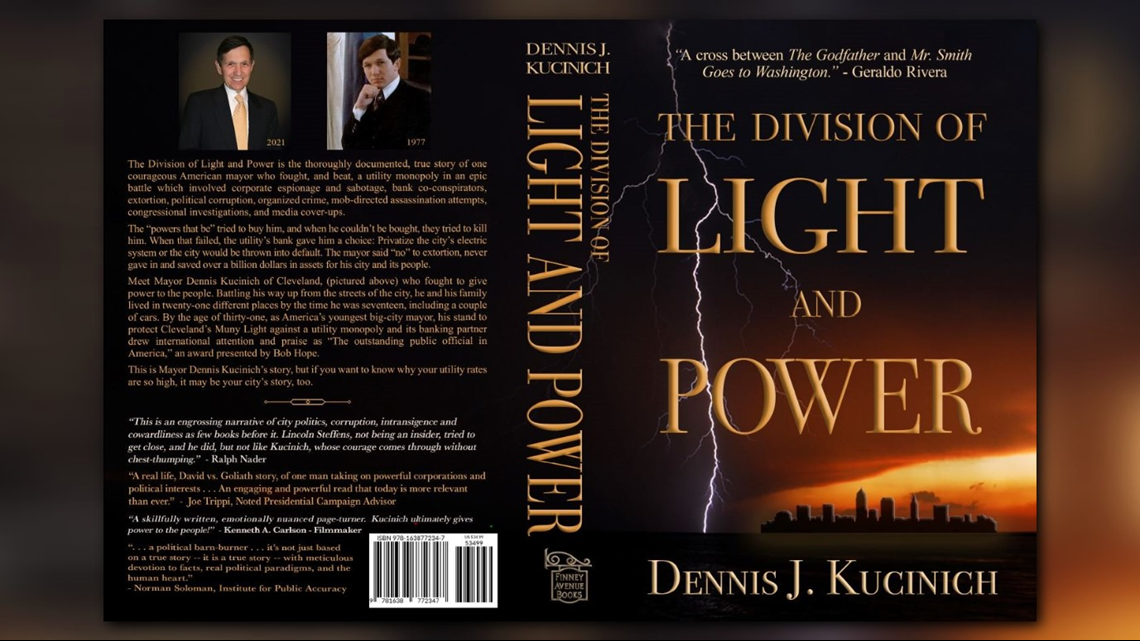 The book, which is as thick as a brick (678 pages) and available today, covers 10 years of Kucinich's political life, from his time as councilman (elected in 1969 at the age of 23), to the end of his tumultuous two-year tenure as mayor in 1979.
Anyone who's followed Kucinich's career is familiar with the major plot points of this time:
Kucinich fought his more powerful and establishment colleagues who supported selling Muny Light to CEI to clear city debts.
He launched a referendum campaign to block the sale fueled by 30,000 signatures but a dispute over the legality of the petitions derailed it.
He used the momentum to successfully run for mayor at age 31 on the pledge to protect Muny Light.
As mayor, he refused to sell Muny Light to secure a line of credit and the city fell into default.
He barely survived a recall election and soon lost re-election to George Voinovich.
The book is the most detailed account to date of CEI's legal strategies, political influence and efforts to block Muny Light from connecting to the power grid.
Kucinich exhaustively footnotes his narrative with press clippings from the Cleveland Press and The Plain Dealer and with documents from legal proceedings and from hearings on the matter from the Atomic Safety and Licensing Board and the Nuclear Regulatory Commission.
"That was backed up by federal investigators," he told 3News. "It wasn't just me saying it. I felt writing this book the need to document everything because I knew there would be people would say, 'Well, that didn't happen.' Oh yes, it did. Everything in this book happened. Everything is documented. And when people actually see the kind of pressures that were put on a mayor -- in this case, me -- and I was able to stand up against those pressures."
The findings are not new or revelatory – but they are detailed. And together, they provide a stronger indictment of the corporate interests than the piece-meal versions that have appeared in other books, articles and Kucinich's speeches on the campaign trail.
Asked if the battle is still relevant today, Kucinich argued it is.
"It's relevant to every city in America and abroad where these issues about public ownership are being fought over," he said. "The attempt to privatize public services is happening everywhere and the people of Cleveland, with my leadership fought back and we were successful in saving the electric system against extraordinary odds."
The book's tone is serious, if not a bit over dramatic at times.
"I had a premonition at age of 16 that I would be mayor of Cleveland by the time I was thirty," writes Kucinich, who was mistaken for the paper boy while campaigning door-to-door for city council. "I had turned down a 'draft' effort in 1971 … Now, after a decade of involvement in city issues, I moved forward with a purpose higher than the attainment of an office. I would run for mayor to save Muny Light and to protect the people's right to have an electric utility, and a city government they could call their own."
In the book, Kucinich also recounts the mob assassination plot believed to be rooted in his opposition to selling Muny Light. The attempt was supposed to take place during a local parade but Kucinich was hospitalized that day with a bleeding ulcer. Upon hearing the news in the hospital from the police chief, Kucinich writes, "I drew the covers closer. The bleeding ulcer, which had almost taken my life, had in fact, saved it."
Kucinich, of course, is the hero in this book.
"I had surrendered two marriages, my health, and my career to stand for the people of Cleveland," he writes.
While the book ignores the failings of his tenure, there is ample evidence that his tempest tendencies indeed saved Muny Light and saved Cleveland residents millions of dollars in lower power rates.
The book, written over decades in fits and starts, is Kucinich's master's thesis, one focused on the defining period of his life. He finished it in the same Cleveland home on Milan Avenue where he wrote his blueprint for attacking CEI some 40 years ago.
And it's in the same Cleveland home where today he contemplates another bid for Cleveland mayor.
In recent months, Kucinich has foreshadowed that if he runs, his campaign will be based in part on a pledge to again to save Muny Light, now known as Cleveland Public Power.
The city utility rates are no longer cheaper than its competitor -- still CEI. Cleveland Public Power struggles with reliability -- issues that have been the subject of a public campaign with possible ties to CEI's parent company, FirstEnergy.
But Cleveland Public Power is also struggling under the weight of its own management failings, something the next mayor will have to save it from.