CLEVELAND — "The image is disturbing."
Those are the words of Cleveland mayoral candidate Dennis Kucinich regarding the picture used in his latest campaign effort that depicts one of the iconic Cleveland script signs dripping with blood and riddled with bullet holes.
His team is calling it "a disquieting piece of direct mail" and "an honest illustration of Cleveland today" while urging voters to cast their ballot for Kucinich on Sept. 14.
"It is time for dynamic, courageous leadership to make our neighborhoods safe," the mailer declares. "We can trust Dennis Kucinich to guide Cleveland to a safer day."
Kucinich added: "City officials and candidates who are not paying attention and ignoring this crisis don't understand what's going on or what to do about it. Every other positive thing we want to do in this city depends, first and foremost, on making Cleveland a safer city."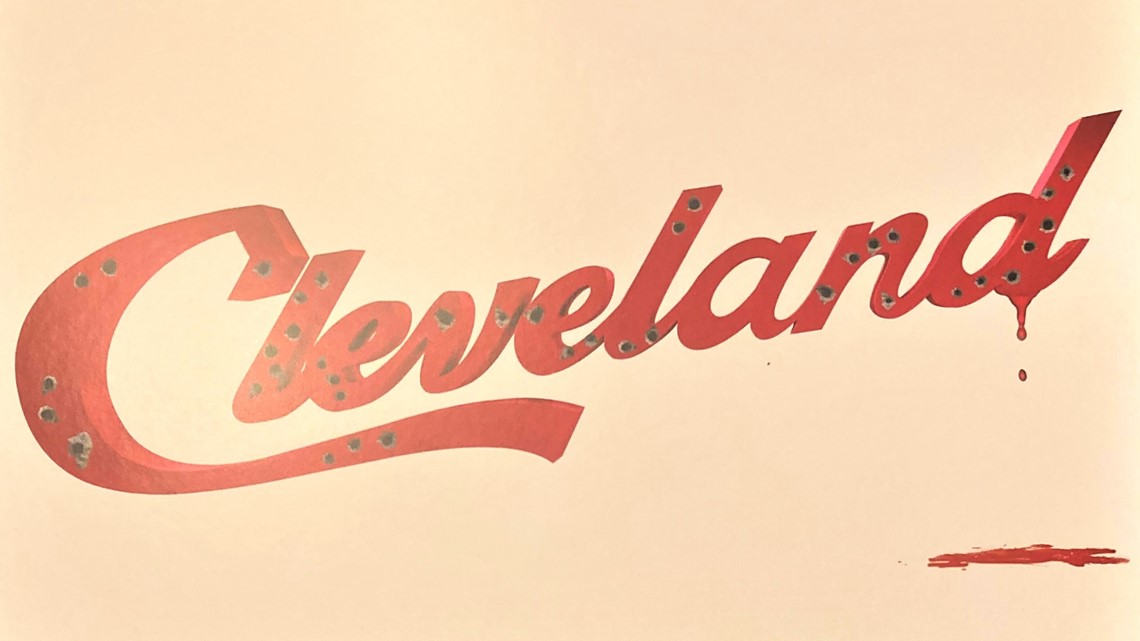 After news of the mailer surfaced, 3News' Brandon Simmons received the following statement from David Gilbert, the president and CEO of Destination Cleveland:
Since its introduction in 2014, the Cleveland Script logo has become a symbol of immense pride for the Cleveland community. Residents and visitors alike have shared hundreds of thousands of photos of the Cleveland Script signs through social media – extending its reach to a global audience and building its value as a cherished symbol of our city and its people.
As a registered trademark of our organization, use of the script by others requires licensing permission. The Reelect Mayor Kucinch Committee did not request that licensing approval before manipulating the mark for their campaign mailer. While we respect the political process and candidates' rights to express their views, we have asked the Committee to immediately halt further usage of the graphic.
In response to Gilbert's statement, Kucinich told Simmons the following:
"That's protected by the First Amendment. Anyone who knows the law in this understands that if you make the slightest alteration it has a whole different appearance before the law," Kucinich said. "They need to consult with their First Amendment attorneys who will tell them that the message that we sent out was protected by the First Amendment."
"I appreciate the work that these organizations do," Kucinich continued. "But at the same time, the commentary that my campaign is making – which I made by the way at my announcement – is that we have to do something about violent crime in our community. And this is a Cleveland thing that we must resolve. And we cannot pretend that it doesn't exist. It's the environment that we have in the city that needs to be addressed. No amount of image, advertising can address that."
The reverse side of the campaign mailer contains the following bullet points regarding violent crime in Cleveland:
39 shootings in a recent weekend
One of 'America's Most Violent Cities'
Soaring rates of homicides, felonious assaults, carjackings; shootings every day
People are afraid to walk the streets, go shopping, get gas, send children to play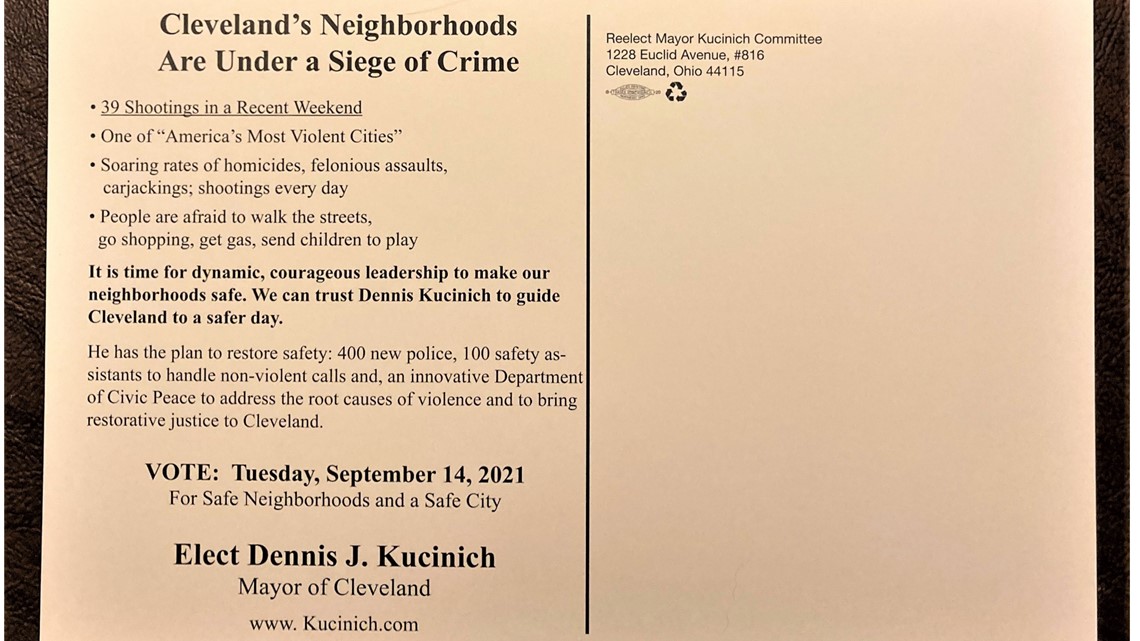 "The mailer also highlights Kucinich's plan to address the crisis: 400 new police officers, 100 safety assistants to handle non-violent calls and a Department of Civic Peace to focus on the root causes of violence and to bring restorative justice to Cleveland," his campaign explained in a press release Friday morning.
Cleveland Mayor Frank Jackson, meanwhile, revealed in May that he would not be seeking re-election. He offered the following advice to his successor when talking with 3News' Russ Mitchell: "Stay on your game. If you come into this game wanting to be mayor, or if you come into this game using the position of mayor as a stepping stone then you're going to fail. If you come to the game with the intent to do right by the people and do right by the city, you're not going to get all the credit and you're going to get criticized a lot for that and many times by the very people you're trying to help. Don't come here looking for praise, come here to do the work. If you're not willing to do the work and put the work in, then you've got the wrong job."