The Gordon Square Arts District on Cleveland's west side will soon become a showcase of exciting murals.
By the end of May, you will see eight murals along Detroit Avenue between W. 52nd Street and W. 74th Street as the neighborhood becomes infused with art that is free and accessible to everyone.
The Gordon Square Arts District partnered with LAND Studio and Detroit Shoreway Community Development Organization to coordinate the mural installation. Additional funding has come from The Cleveland Foundation, the City of Cleveland Casino Revenue Fund, Cleveland Councilman Matt Zone, Hilton, The David and Inez Myers Foundation, American Greetings and Sherwin-Williams.
Six area artists are working on murals this month:
Darius Steward's mural is being painted on the eastern wall of Buehner's Office Supply Co. (5818 Detroit Ave.)
Ryan Jaenke is painting on the western wall of the Butcher Building (6814 Detroit Ave.)
Dante Rodriguez is painting on the western wall of Astoria Café & Market (6417 Detroit Ave.)
The building at 6805 Detroit Ave. will have two murals; Lisa Quine is painting the east wall and Justin Michael Will is painting the west wall.
Matthew Sweeney's mural will be installed on the western wall of Banter (7320 Detroit Ave.)
PHOTOS | First look at mural designs at Gordon Square Arts District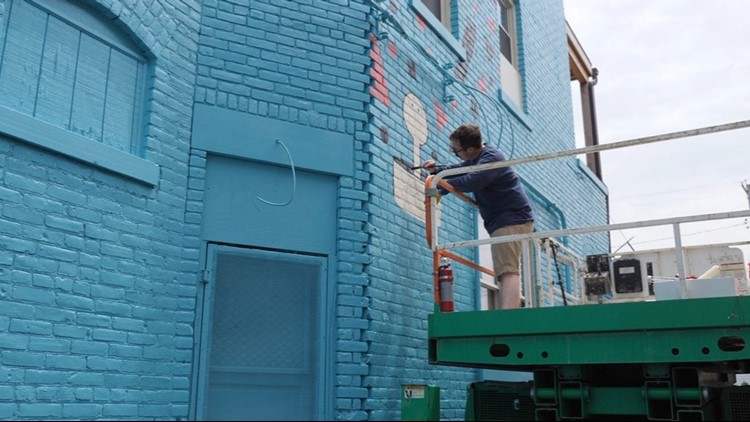 The first mural of the series was painted in September 2017 on the western side of Stockyard Meats by Cleveland artist Eileen Dorsey in collaboration with Chicago-based graffiti artist Ish Muhammad through a partnership with Graffiti Heart and Neighborhood Connections.
The largest mural of the series will be painted by Baltimore artist duo Jessie and Katey on the eastern wall of the Centers for Families and Children's Reinberger Auditorium, serving as a gateway mural to welcome people to the Gordon Square Arts District as they approach from downtown and the east.
"Our mural project is a collaboration between local artists and businesses in the neighborhood. Business owners volunteered their exterior walls as locations for the murals, and they're excited to be part of the artistic vibrancy in Gordon Square," said Carrie Carpenter, President & Executive Director of the Gordon Square Arts District said in a statement.