Columbus — Gina DeJesus made the announcement today she's launching her own effort to help missing kids and families.
It's called The Cleveland Center for Missing, Abducted, Exploited Children and Adults. The grassroots non-profit, soon to be a brick and mortar place, has been a goal for Gina and her family since she found freedom five years ago.
Friday, she and her cousin and co-founder Sylvia Colon made the announcement during a panel at the Ohio Attorney General's Law Enforcement Conference in Columbus.
"We're really excited because Gina and I are now the co-founders of The Cleveland Center for Missing, Abducted and Exploited Children and Adults," Sylvia said.
"Even talking about it now, sometimes it feels overwhelming," Colon said, thinking back to the days after her cousin Georgina went missing. Back then, she told WKYC her family would "never give up" until Gina came home.
The DeJesus family was relentless, and aimless, as those days of searching turned to months, and eventually years.
"We begged for everything, and I mean everything," Colon said. "We didn't have any resources, and nobody was offering them, so we had to figure out a way to win."
And for nine years, one month, and six days, they tried to figure it out. They gathered, they prayed, they searched. They printed flyers, and more flyers, hundreds of flyers, hung up and handed out. One even made it into Gina's hands.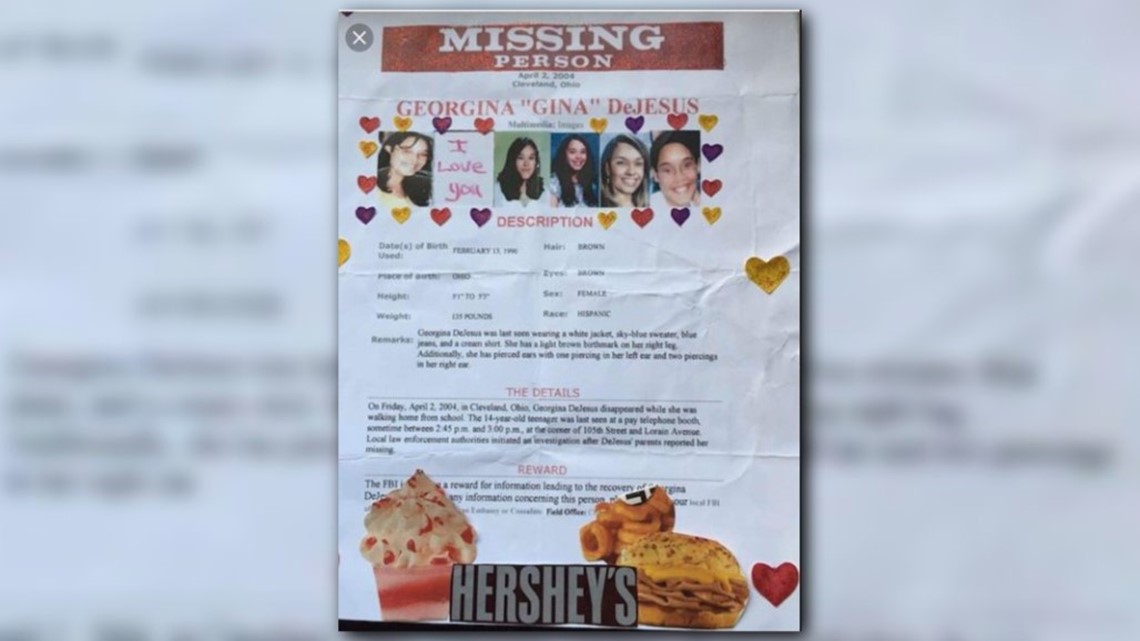 "My mom gave [captor Ariel Castro] a flyer, and he brought it back to me. And he gave it to me…I don't know. It didn't hurt me, or make me depressed or anything, it just gave me a different kind of hope, like my mom is still out there looking for me," Gina said. "I put it away in my folder, and I'm like, I'm going to give this to my mom one day."
Gina thinks she had that flyer for two years or more before she handed it to her mom, Nancy Ruiz, at the hospital after her escape.
It's been five and half years now since that thumbs up that let us all know Gina DeJesus was okay, that she was home. Today marks another new chapter, as Gina and Sylvia launch ClevelandMissing.com.
"We hope through our foundation that no other family member has to endure what we did," Colon said.
"I wanted to start it because there was nothing like this," Gina said. "My mom was...my parents were lost. They didn't know what to do. They didn't know where to go, where to call, who to call."\
"We want to be that place, a soft place for people to land, because, as we said, we didn't have that when Gina had gone missing," Sylvia added.
They hope for a 24-hour hotline and a home base for those lost families not far from where Gina was found.
"It has to be in Clark Fulton," Sylvia said. "Gina grew up virtually in that area, and that's where she was for 9 years…so that's where we should be. We want to work with families, and folks that need to be recovered, or who have been recovered."
While they search for a building, they're also building a board and applying for grants and other state funding. In the five-year-plan, they'll hire a full staff, and begin outreach education programs about prevention. And they'll partner with law enforcement—like the Northeast Ohio Amber Alert Committee Gina already works with.
"Some people may have given up hope. She didn't. Her family didn't. This is what we want to convey," Newburgh Heights Police Chief John Majoy, who serves as chairman of the committee, stated. "She's got a gift that she can offer to others in hopes that they never have to go through what she's gone through."
"I don't like talking about it at all," Gina says of her near decade in captivity. But she's willing to, "because it may help somebody else."