EAST CLEVELAND, Ohio — One week after a mother was killed while crossing the street in an area where a traffic light was removed in East Cleveland, Ohio Gov. Mike DeWine toured the area and met with city officials on Tuesday.
36-year-old Terra Market Nolden was struck by a vehicle on Dec. 30 at the intersection of Euclid Avenue and Stanwood/Strathmore. ODOT removed a traffic light in that area in November.
A new light was seen at the intersection Tuesday. DeWine said another traffic light should be installed nearby at Marlowe and Euclid avenues in the next few days, adding that East Cleveland's financial situation remains an obstacle in improving safety.
"It has to take a holistic approach," he said.
DeWine also said he met with Nolden's brother ahead of his meeting with the media and community Tuesday.
"When you talk to family members, you really get some idea of the great tragedy," DeWine said.
RELATED: Woman dies after struck by vehicle in East Cleveland where traffic light was removed
DeWine added his reason for visiting was also to meet with East Cleveland leaders to discuss economic development. Mayor Brandon King spent the afternoon showing DeWine areas in the city in need to economic stimulation.
"I'm fully aware that East Cleveland has had economic troubles," DeWine said. "The city has had economic difficulties."
PHOTOS | Gov. Mike DeWine tours East Cleveland area where woman was fatally struck after traffic light was removed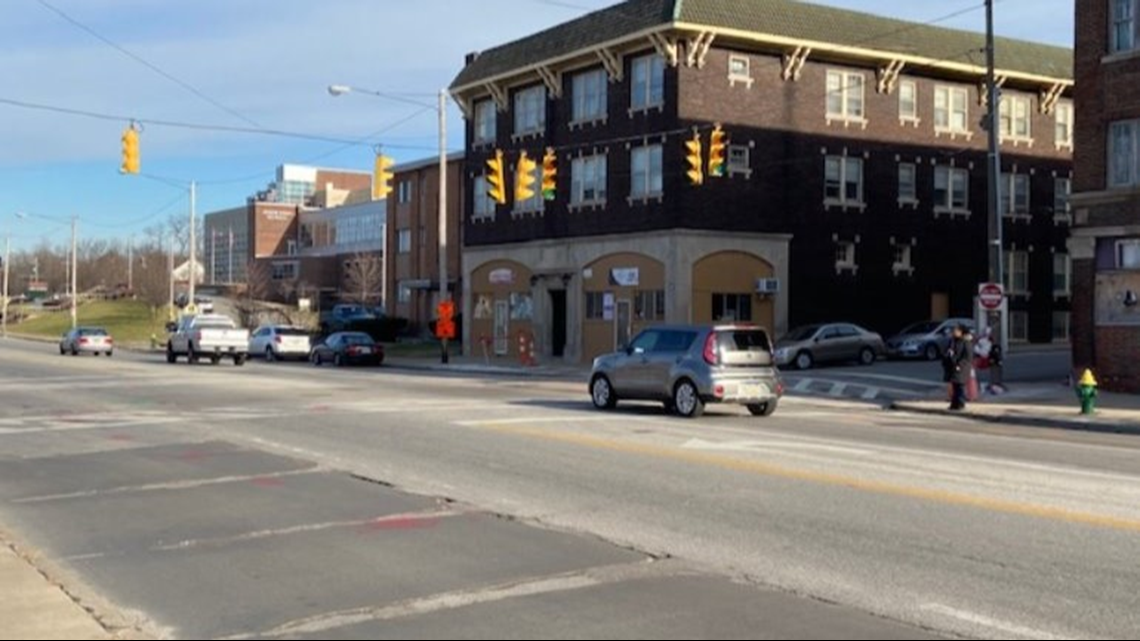 Black on Black Crime Inc. organized a vigil last Thursday to help spread awareness that the removal of the traffic light has created dangerous conditions for residents of East Cleveland.
The vigil was held in front of the Family Dollar at Strathmore and Euclid.
Prior to the vigil, the Ohio Department of Transportation (ODOT) gave the following statement to 3News regarding the traffic light:
"The Ohio Department of Transportation offers our sincere condolences to the family and friends of the young woman killed on Monday evening in East Cleveland when crossing Euclid Ave. As part of a comprehensive safety and traffic signal upgrade project in the city of East Cleveland, the signal at the intersection of Euclid Ave. and Stanwood/Strathmore is scheduled to be upgraded in the spring of 2020. With the city's approval, the old signal was removed on November 22, 2019 because of a malfunction in the permanent flash mode. Stop signs replaced the red flashing signal for traffic on Stanwood Rd. and Strathmore Ave."
Following the vigil, ODOT added the following:
"ODOT will work with the City of East Cleveland and the contractor to determine if they can expedite the replacement of their traffic signals that were removed because they were not working. These upgraded signals include additional safety signals for pedestrians."gm
ODOT's traffic signal project began with a study of East Cleveland's traffic signals in 2012. It found that 31 of the city's 49 existing signals were not warranted and were recommended for removal. The 18 remaining traffic signals were recommended for upgrades and new signals due to traffic volume, pedestrian volume, and/or proximity to a school building. ODOT says the $2.8 million project should be completed by July of 2020.
There is currently legislation before city council to reduce the speed limit on Euclid Avenue due to the lack of traffic lights.
RELATED: Ohio Gov. Mike DeWine talks 1-on-1 with 3News' Jay Crawford
RELATED: Ohio Turnpike joins partnership to push safe driving habits
RELATED: Gov. Mike DeWine signs Tyler's Law, strengthening safety standards for Ohio amusement park rides