You asked and two local entrepreneurs answered: "Wild Thing" is coming to Cleveland!
After fans have been clamoring for actor Charlie Sheen to make an appearance during the World Series, Tony Madalone and Bobby George worked together to get the 'Major League' star to make an appearance at Game 7 Wednesday night.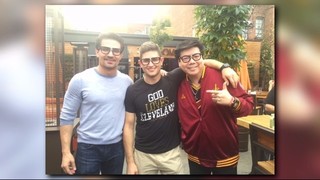 Madalone runs clothing company Fresh Brewed Tees.
George, of Corporate Management Group, owns the popular Ohio City spot Town Hall as well as Barley House in the Warehouse District.
"What an awesome opportunity for Cleveland," Madalone told WKYC. "We're die hard Clevelanders and wanted to do this for the fans. There's no better way to rally everyone than to bring Wild Thing to Cleveland!"
"Every time I watch Vaughn come out in Major League, I get chills," George said. "Tony and I couldn't let this opportunity slip by us. We decided to 'bring out Vaughn' must have been the entrepreneurial spirit in us, because we were both working on this simultaneously."
They were connected to Sheen by music producer GT, who works to bring live talent to professional and collegiate sports events.
The producer said he has known the actor for 15 years.
Sheen arrived late Wednesday afternoon and greeted the media, including WKYC Channel 3's Denise Polverine at Burke Lakefront Airport. You can watch our Facebook Live video below: