Miracle in Cleveland: 10 years since Amanda Berry, Gina DeJesus and Michelle Knight escaped
Remembering the miracle that changed Cleveland forever.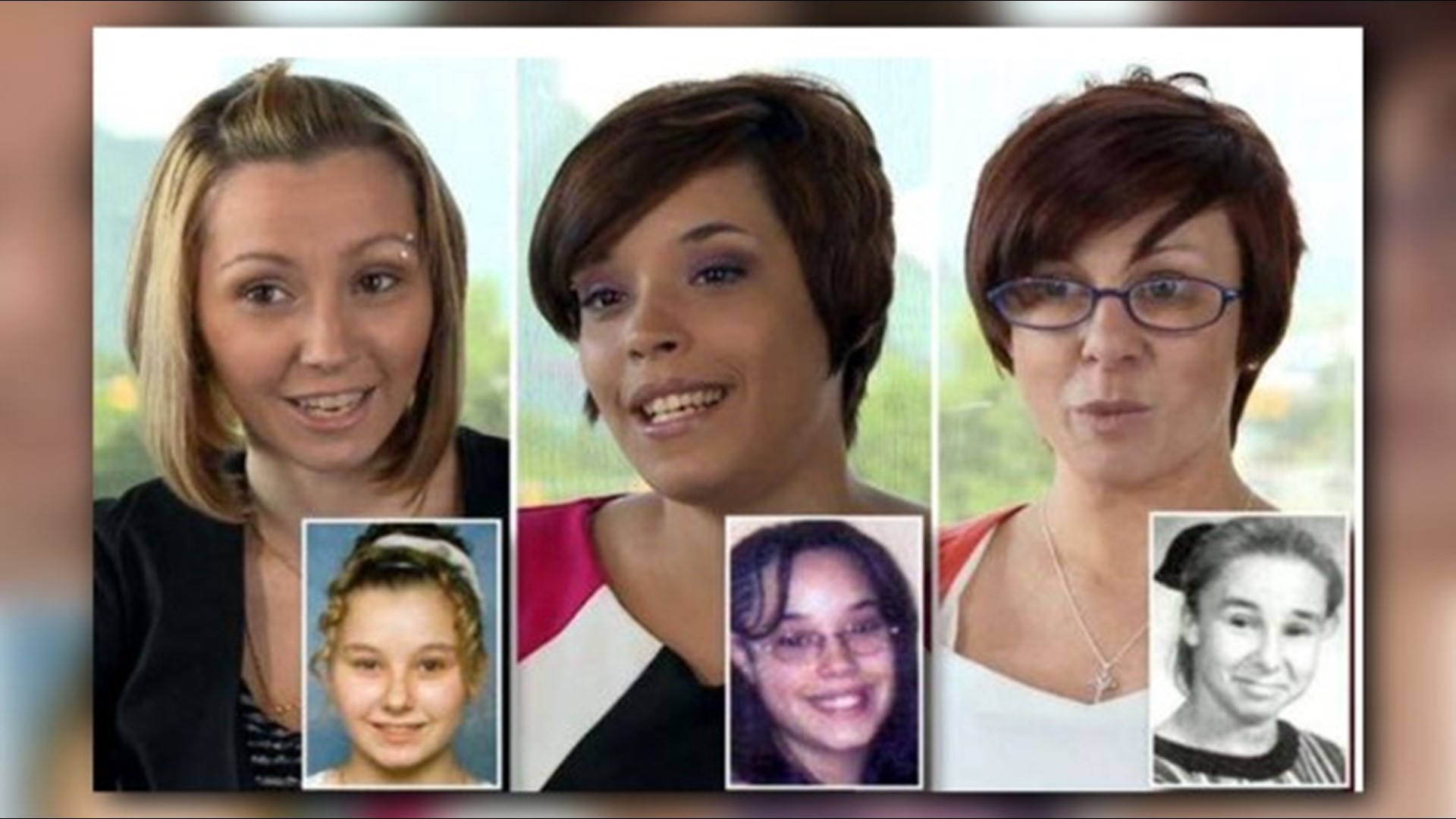 Editor's note: Video in the player above showcases how 3News covered the "Miracle in Cleveland" as it happened 10 years ago in 2013.
It was an ordinary Monday when the extraordinary happened.
The unthinkable happened.
As the sun soaked Seymour Avenue on that warm afternoon in Cleveland, Amanda Berry, Gina DeJesus and Michelle Knight had their freedom.
After a decade of torture, they escaped the clutches of Ariel Castro.
May 6, 2013
:
'I'm free now'
The escape
"Help me, I'm Amanda Berry."
It was a voice many never thought would be heard from again.
"I've been kidnapped and I've been missing for 10 years and I'm here. I'm free now."
She called 911 from a neighbor's house, pleading for police to come before "he" -- Castro -- returned.
Once police arrived, all three women were quickly taken to the hospital and out of their living hell, out of the chains they had been shackled with for years.
Seymour Avenue gushed with crowds of people who filled the neighborhood to celebrate the miracle. As cameras watched the event unfold, one man rose to fame after he claimed to be the person who helped in their escape. Charles Ramsey said he was eating McDonald's when he heard a woman -- Berry -- screaming for help.
"This girl, her scream was so loud that children stopped playing," he told WKYC's Russ Mitchell the day after. "That's what made me look outside. That's how loud her scream was."
Ramsey said she was "going nuts" kicking on the door trying to get out.
"I brought the door open so she could climb through there," Ramsey explained. "He had the door so you couldn't open the door completely. It had it locked some kind of way."
Berry was holding a girl, who we later learned was her child with Castro -- the result of multiple rapes inside the house of horrors.
3News' Russ Mitchell sat down with Ramsey just days before the five-year anniversary to see how his life had changed.
"If I could do it all over again, the only thing I'd do is not have Amanda notify the police," Ramsey said. "I'd of notified a few of my friends. We would've taken Amanda, Gina and Michelle to the hospital to call the police from there because me and my homies would've been in Ariel's house waiting on him to get back from McDonald's. I'm gonna chain you up in your basement and I'm gonna rape and beat the hell out of you."
Ramsey said he is not in contact with the women, but he does think about them.
Amanda Berry
:
'I'm getting stronger each day'
'A Memoir of Survival in Cleveland'
Berry's mother died before ever getting to reunite with her daughter. Shortly before her death in 2006, she was told by psychic Sylvia Browne on the Montell Williams show that Berry was dead.
Browne declared they would never see each other again, and when she returned home, Berry's mother told the Cleveland Plain Dealer that she was devastated by the psychic's prediction with 98 percent confidence in its truth.
"I still don't want to believe it. I want to have hope but, after a year and a half, what else is there?"
As the women began living their new lives following the escape, it was several weeks before any of them spoke publicly. They broke their silence July 9 in a YouTube video as all three women thanked the community.
"First and foremost, I want everyone to know how happy I am to be home with my family and my friends," Berry said. "It has been unbelievable. I want to thank everyone who has helped me and my family through this entire ordeal. Everyone who has been there to support us has been a blessing to have such an outpouring of love and kindness. I'm getting stronger each day and having my privacy has helped immensely. I ask that everyone continues to respect our privacy and give us time to have a normal life."
Other than Berry's surprise appearance at RoverFest that summer, the women returned to their private lives.
Berry and DeJesus remained out of the public eye until joining forces to release their own book in April 2015 -- Hope: A Memoir of Survival in Cleveland. It became a New York Times best seller, and for the first time, both Berry and DeJesus offered interviews to discuss what happened.
Knight, meanwhile, spoke out on Dr. Phil to detail the horrors that happened inside the house and published her first book within a year of the escape.
Gina DeJesus
:
'Knowing that I help makes me happy'
Moving forward
"I used to be really shy. Now I'm just not that shy anymore. Not that shy, but still shy. "
Those comments came in early May 2018 -- the first time WKYC had the opportunity to sit down and speak with DeJesus. During the interview, she discussed what life has been like in the five years since the escape.
"I've been hanging out with family and friends. I bought a house, and I've been fixing it up the way that I want it."
She also mentioned what it's like to be recognized.
"Sometimes you got the people that just stare at you and you're like, why are they staring at me, and they'll come up to me, and they want like hugs or pictures, they just stare at me…I'm like, what's wrong…they're normally kind of weird."
"Sylvia and Gina believe a family should never have to beg for help," the organization's site says. "They should have resources readily available to them to assist them in bringing their loved ones home. We promise to always be the soft place for families to land."
In February of 2019, DeJesus also sat down for an extended "Let's Be Clear" interview with 3News' Will Ujek, which you can watch in full below.
Marking eight years since her escape, DeJesus gave another interview to 3News with another update on her life. Watch our extended 10-minute interview with her in the player below:
Michelle Knight
:
'Life After Darkness'
Michelle Knight was the first of the three women to be kidnapped by Castro. She was taken Aug. 22, 2002.
Knight endured more than 10 years of torture.
Her mother, Barbara, previously told WKYC she prayed her daughter was still alive. Police also admitted little had been done to find Knight, who was an adult when she disappeared.
It was believed she ran away.
After she escaped Castro's house of horrors, Knight spent a year in and out of the hospital recovering from complications from her captivity. She even spent time in hospice care with a serious bacterial infection, which she told 3News' Russ Mitchell she wasn't sure she'd survive.
"They told me I only had two days to live. They said I was dying of a bacterial infection. I just wanted to let go," she said.
One year after her escape, Knight said during an interview with NBC's Today that she's forgiven Castro.
"If I did something wrong, even if it was a small thing, I would want somebody to forgive me," Knight said. "So I can forgive him for what he's done wrong."
Knight, who changed her name to Lily Rose, has made multiple appearances on Dr. Phil in the years following her escape.
Knight told Dr. Phil that buying her home and feeling safe were the most important parts of healing and finding peace. She painted the home's interior herself, as well as some of the pictures on the walls.
Knight has also written books about her experiences. Finding Me, published in 2015, is her New York Times best-selling personal memoir. Life After Darkness, details her journey to happiness and love.
In the years that followed, she also sat down with 3News' Russ Mitchell to give an update on her life's situation.
"It was very hard because I wanted my space," she said. "I wanted to be able to sit in a restaurant and have my dinner without someone snapping a picture or coming up to me. … I'm used to it now. I'm able to tell people when to back and say it firmly so they understand."
At that time, Knight told Mitchell she doesn't spend much time thinking about Castro.
"Not anymore, and I'm proud to say that," she said. "I'm more free than I have been in years.
The monster
:
Ariel Castro ends his life
His name became synonymous with evil as the world learned more details about his disturbing behavior.
Less than three months after the women escaped, Castro pleaded guilty to 937 charges against him on July 26. Then, on Aug. 1, Castro was sentenced to life in prison plus 1,000 years. Knight was the only one representing the missing women inside the courtroom that day.
"I worried about what would happen to me and the other girls every day," she said that day. "Days never got shorter. Days turned into nights and nights turned into days. The years turned into eternity. I knew nobody cared about me. He told me that my family didn't care. ... Christmas was the most traumatic day because I never got to spend it with my son. Nobody should ever have to go through what I went through, or anybody else -- not even your worsest enemy."
She then addressed Castro moments before his punishment was handed down.
"You took 11 years of my life away, and I have got it back. I spent 11 years in hell. Now your hell is just beginning. I will overcome all this that happened, but you will face hell for eternity. From this moment on, I will not let you define me or affect who I am. I will live on. You will die a little every day as you think about the 11 years in atrocities you inflicted on us. What does God think of you hypocritically going to church every Sunday coming home to torture us? Death penalty would be so much easier. You don't deserve that. You deserve to spend life in prison. I can forgive you, but I never forget. With the guidance of God, I will prevail and help others that suffered at the hands of others."
But his life sentence didn't last long. After forcing the women into years of imprisonment, Castro only lived a few weeks behind bars because he took his own life -- found hanging in his cell.
Castro's reign of terror was forever dead.
Timeline of events
:
Key dates


August 22, 2002: Castro kidnaps Knight.
April 21, 2003: Castro kidnaps Berry.
April 2, 2004: Castro kidnaps DeJesus.
May 6, 2013: Michelle, Amanda and Gina are rescued from inside Castro's Seymour Avenue home; Castro is arrested.
June 7, 2013: Grand jury returns 329-count indictment against Castro.
July 3, 2013: Castro is denied access to his 6-year-old daughter.
July 9, 2013: Amanda, Gina and Michelle release YouTube video, offering first official glimpse of the three women since their escape.
July 12, 2013: Cuyahoga County Prosecutor Tim McGinty announces 977-count indictment against Castro.
July 17, 2013: Castro arraigned again on 977 counts.
July 26, 2013: Castro pleads guilty to 937 charges against him including kidnapping, rape and aggravated murder.
July 27, 2013: Amanda makes a surprise appearance at Roverfest, marking her first public appearance since escaping.
August 1, 2013: Castro is sentenced to life in prison plus 1,000 years.
August 5, 2013: Castro is transferred from the Lorain Correctional Institution to the Correctional Reception Center in Orient, Ohio.
August 7, 2013: Castro's Seymour Avenue home, which became referred to as the "House of Horrors," is demolished.
September 3, 2013: Castro is found hanging in his cell in Orient, Ohio, and is later pronounced dead.
November 5-6, 2013: Michelle tells her story to Dr. Phil in a two-day, two-part interview.
February 24, 2014: Gov. John Kasich presents his annual courage awards to Amanda, Gina and Michelle during his State of the State speech.
May 2, 2014: Michelle appears on the "Today" show to reveal she's changed her name to Lillian Rose Lee.
May 5, 2014: Michelle appears live on the "Today" show, saying she forgives Castro for his actions. Amanda and Gina release statements on the eve of the one-year anniversary of their escape.
May 6, 2014: Michelle releases a book -- Finding Me -- on the one-year anniversary of their escape. Amanda and Gina travel to Washington, D.C., to receive an honor by the National Center for Missing and Exploited Children.