CLEVELAND — Downtown Cleveland has been the home of the Sherwin-Williams Company for more than a century.
However, the future of Sherwin-Williams in Northeast Ohio has been a question mark since the company announced in September that they are exploring options for a new research and development facility and new global headquarters – possibly outside of Northeast Ohio.
Last week, local real estate writer Ken Prendergast wrote on NEOTrans blog that not only had Sherwin-Williams already committed to staying in downtown Cleveland, but had already selected the Gilbane Building Co. as its construction management firm.
Is it a done deal? One national site-selection consultant says not so fast.
John Boyd of The Boyd Co., whose New Jersey firm works on economic development projects and corporate relocations across the country, told the Charlotte Business Journal that believes four cities are being seriously considered: Atlanta, Houston, Dallas and Charlotte.
Boyd believes that one potential driver behind the company's decision to consider other states for its headquarters could be to have premier access to international air service, which Cleveland lacks.
3News reached out to Sherwin-Williams last week after Prendergast's post and were told the following about the status of the company's search for a new headquarters: "This comprehensive exploration is a transparent process looking out into the future for the next 100 years. It includes evaluating buildings and land in Cleveland, NE Ohio, across the state of Ohio, and other states to make sure we find the long-term opportunity to best serve our customers, employees, shareholders, and communities where we do business."
Prendergast wrote that the search for a new headquarters had been narrowed down to four downtown Cleveland locations:
Jacobs/Weston, west of Public Square
Bedrock/SHW riverfront
Unspecified lakefront property
Flats South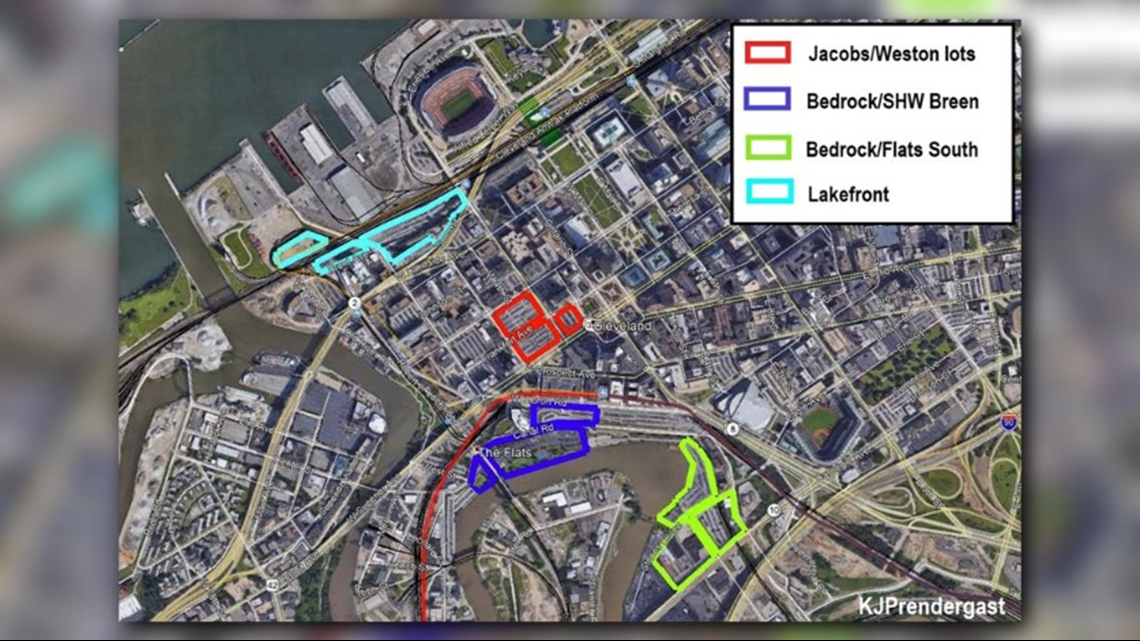 Last week, Bisnow reported that Sherwin-Williams officials were in the Metro Atlanta area earlier this year scouting sites, according to a source. Sherwin-Williams houses its Southeast division office in Atlanta.
Boyd was asked by the Charlotte Business Journal if publicizing a potential relocation is just a way for Sherwin-Williams to prompt its current home city and state to entice it to stay put?
"It's possible," Boyd said, adding that public speculation about company relocations has become "the new normal" since several cities publicized their bids to win Amazon's second headquarters. Cleveland and the state of Ohio are making a "full-court press" to retain Sherwin-Williams, according to Boyd.
"At the end of the day, Sherwin-Williams has a responsibility to shareholders to be in a market that can attract and retain the best talent, to be in a market that has access to the global marketplace," he said.