City, county and state officials said Thursday they spent months pulling together incentives worth millions that include tax breaks and construction grants. Local lawmakers will reveal the details in the coming weeks as they vote on the deal.
"We have to keep Sherwin Williams here. It would otherwise be very horrible for the county if they picked up and left. So it was incumbent on us to come up with an agreement," said Cuyahoga County Executive Armond Budish."We needed everyone to come together around this project and they did."
According to Cleveland Mayor Frank Jackson, the incentive package offered to Sherwin Williams is possibly the biggest in Cleveland history.
"In terms of dollar amount and duration, it will be higher than others we have done while I've been mayor," Jackson said during a Thursday press conference.
You can watch Jackson's remarks in the player below:
"The plans follow an extensive competitive site selection process and are contingent upon completion of standard due diligence, approvals of incentives and other matters at the state, county and city levels, and resolution of business and legal matters that accompany such major real estate investment projects," the company said in a press release.
Preliminary plans show a $600 million investment to build both locations. The transition to the new facilities is not expected until 2023 at the earliest.
The headquarters will be just west of Public Square between St. Clair Avenue and Superior Avenue inside a building that's approximately 1 million square feet.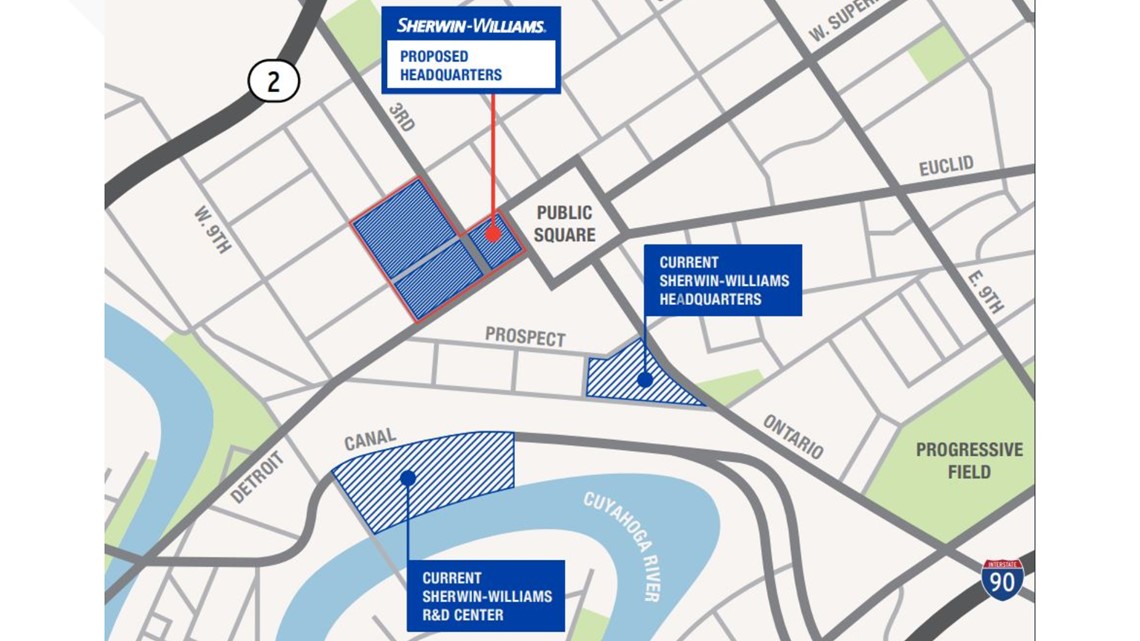 The R&D center, located off I-77 at Miller and Brecksville roads, "would serve as the corporate anchor for a new mixed-use development project." It's expected to be approximately 500,000 square feet.
"Combined, the two facilities would house more than 3,500 employees with room to accommodate significant future growth," the company said. "Sherwin-Williams estimates it would add a minimum of 400 jobs at these facilities over time, an increase of 11 percent to the company's current local workforce."
Many of these jobs will include professional staff, engineers and chemists.
While Sherwin-Williams staying is a big win for the city and the region, Cleveland will actually lose hundreds of jobs because the current research facility is located downtown.
"We had a difficult time accumulating that the kind of acreage they would need for a joint headquarters and research facility that allowed for expansion they know they need for future," Jackson said.
Sherwin-Williams Chairman and Chief Executive Officer John G. Morikis offered the following statement Thursday morning:
Our plans to continue investing in Cleveland and Northeast Ohio build on our 154-year legacy as one of the region's top employers and drivers of economic activity," says Sherwin-Williams Chairman and Chief Executive Officer John G. Morikis. "Driven by our continued need to serve our customers at the highest level and retain and attract top talent, we intend to create a next-generation workplace environment that ignites creativity, collaboration and industry-leading innovation. We currently operate out of a 90-year-old headquarters building that has served us well but is no longer conducive to meeting our future needs. The major planned investment in Cleveland and Northeast Ohio we are announcing today reflects our confidence in the continued strength of the region and its people and our public partners' ability to deliver on their commitments.