CLEVELAND — Sherwin-Williams will stay in downtown Cleveland, according to a local real estate writer.
Ken Prendergast, the main writer for NEOTrans blog, says his sources confirm the finalists include these four downtown locations:
Jacobs/Weston, west of Public Square
Bedrock/SHW riverfront
Unspecified lakefront property
Flats South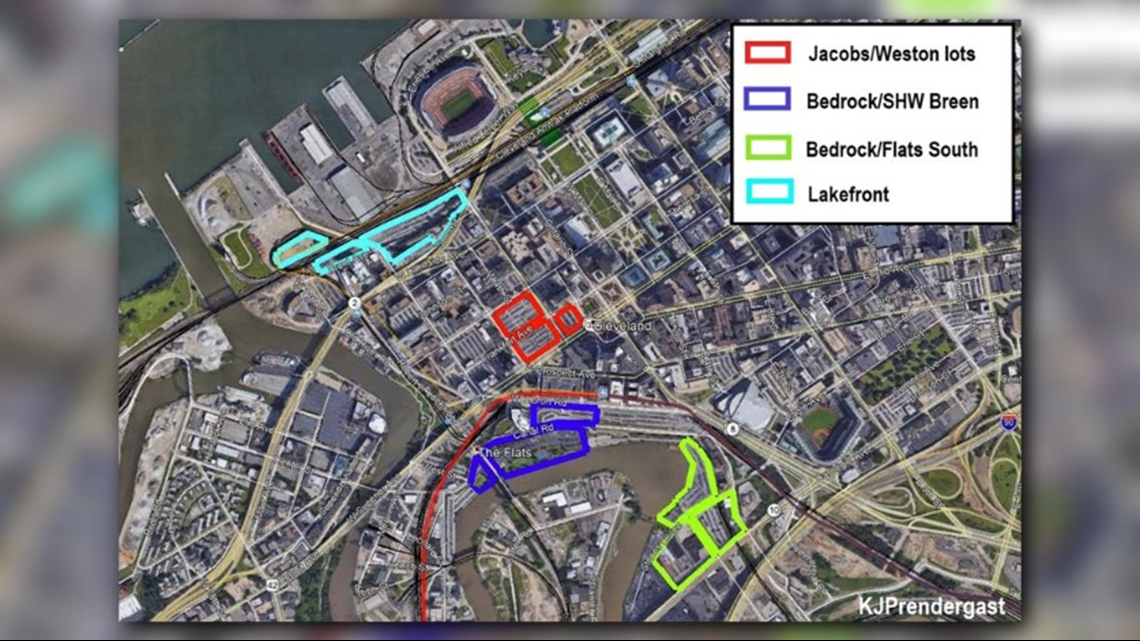 Looking at the map, the site in red is west of Public Square and would take over the Jacobs/Weston lots. The site in blue is nearly three acres between Huron and Canal roads. The site in turquoise is spread out because it's an unspecified lakefront property. The site in green, which is the largest, is located by the Flats.
Predergast claims the city of Cleveland, Cuyahoga County and state of Ohio are giving strong incentives.
"The number that I've heard is about $200 million dollars," Prendergast says. "That would be for a $1 billion dollar complex and 1.8 million square feet."
Michelle Comerford, Professional Site Selection Consultant, says the most important factor in the future location is the pool of employees and potential future employees.
"I would imagine they're conducting a pretty thorough analysis of not only their current workforce base here, but what that pipeline looks like for the future," Comerford says.
Another major factor whether the location is in downtown Cleveland or not, is cost.
"They're gonna be weighing different sites in terms of what each property owner is going to be able to offer them and so whomever offers them the best deal will get the corporate headquarters," Prendergast says.
Sherwin-Williams released this statement to 3News:
"The company is not in a position to comment on specifics at this time. When we have updates we'll come back to you.
This comprehensive exploration is a transparent process looking out into the future for the next 100 years. It includes evaluating buildings and land in Cleveland, NE Ohio, across the state of Ohio, and other states to make sure we find the long-term opportunity to best serve our customers, employees, shareholders, and communities where we do business."
"Depending on the economics of the other locations as well as the qualitative aspects of talent and where they expect that to be in the future," Comerford says. "They'll weight all of that into the decision."