CLEVELAND — The fix was supposed to be temporary.
Three years later, it's still in place.
Off-the-shelf cabinet lighting powered by extension cords that run through the refrigerated display cases and out a sliding glass door.
The lighting is critical to show off snapper, salmon and other fresh seafood at Kate's Fish, a vendor that's been at the West Side Market since 2001.
But that "temporary fix" went bad Monday when one of the extension cords frayed and touched the steel frame of the display case, which sent an electrical shock into one of the fish stand's employees.
RELATED: West Side Market vendor receives shock, disputes city of Cleveland's incident report
"He was in a heap of pain and we sent him to the hospital," said Tom McIntyre, whose mother started the stand.
The employee had his heart check and is okay, McIntyre said.
The city of Cleveland owns and runs the market and has resisted calls to turn it over to non-profit or management agency. The city issued a statement Monday denying that it was responsible for what happened at Kate's Fish.
The statement upset McIntyre, who then complained on social media, noting that the original display lighting has been broken for three years.
He said he can't be responsible because the city – not the tenant – rigged up the temporary light systems.
"City contractors installed those lights," McIntyre insisted. "They have done their best to they can to keep the cases lit while not actually solving or fixing the problem."
On Tuesday, electricians sent by the city cut out portion of the cord and spliced a new cord in its place. They also added a foam bumper to the sliding door. McIntyre said electricians were also working underneath the display case. But the original cabinet lighting remains broken.
PHOTOS | West Side Market vendor employee receives shock, disputes city's incident report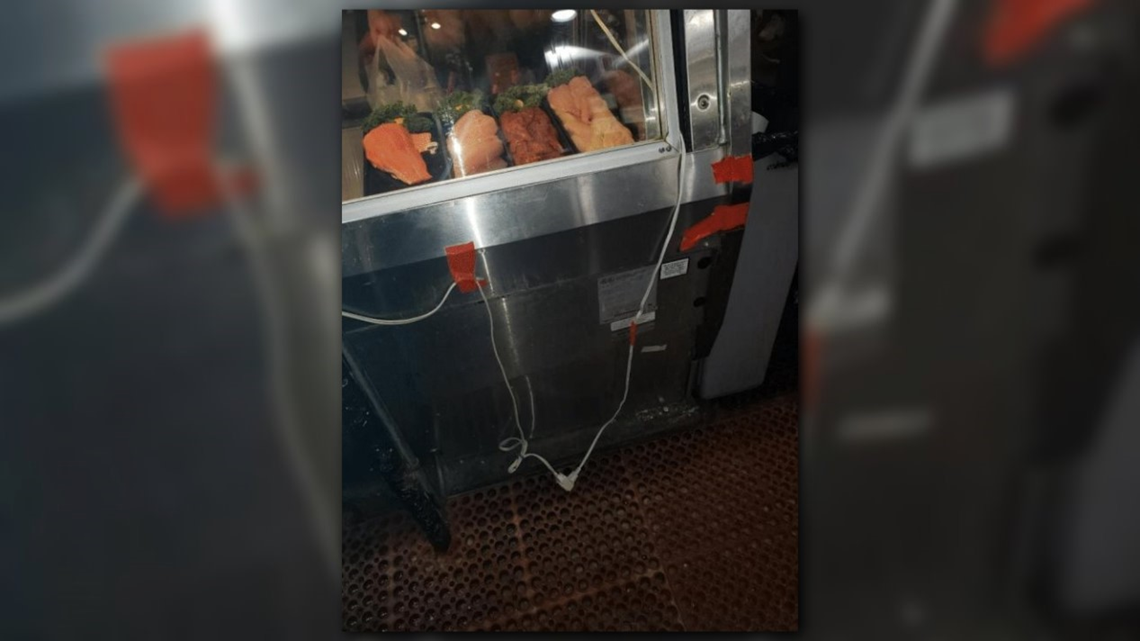 3 News spotted temporary lighting fixes at two other nearby stands.
"Everybody has extension cords running out their cases," McIntyre said. "It's a pretty big safety issue."
McIntyre said he submitted several written repair requests for his cabinet lighting over the years but the city has ignored them. (3News is checking with the city to verify what requests have been made.)
The city says it has continued to invest millions of dollars in the market since the 2013 electrical fire closed the the building for several weeks.
City Hall appears to be floundering to explain why it has no responsibility for the three-year-old problem. 3News asked the city to respond to McIntyre's comments and explain who made the temporary lighting fix. The city didn't offer any comment.
RELATED: Let's Be Clear: An open conversation with West Side Market Tenant Association President Don Whitaker
RELATED: Transformation proposed for West Side Market produce arcade
RELATED: Vendors cite new problems at West Side Market
RELATED: As popular vendor closes, troubles continue to plague West Side Market