Cleveland is known for its food and beer scene, sports and culture, but it's also becoming a budding hub for virtual and augmented reality. People in this field say virtual and augmented reality will change our daily lives similar to when the first iPhone was released. Right now, we're on the eve of really implementing this technology into our everyday culture, but it will happen, and when it does Northeast Ohio could be on the forefront.
From a warehouse on the eastside, a group of Clevelanders were transported to a dank and dark haunted asylum. Creeping through hallways, opening doors, it felt like they were really there thanks to virtual reality.
"To us it's almost like an interactive movie for gamers," said Don Hileman, CEO and Founder of Enyx Studios.
A Haunting: Witching Hour is the brainchild of Hileman and his team. Enyx Studios is based – not in California, but Austintown, Ohio.
"Everything's done here. We didn't want to go out to the west coast," said Hileman.
Each step, from programming, audio and motion capture animation to composing the game's music was crafted in Northeast Ohio.
The game is set for release later this summer, but Enyx gave a special preview to CLEVR, a bi-monthly meet-up group for people interested in virtual and augmented reality.
"The dream would be to see northeast Ohio as a portal for game development," said Hileman.
Reynaldo Zabala and Tom Madrilejos have that dream, too. They founded CLEVR less than two years ago.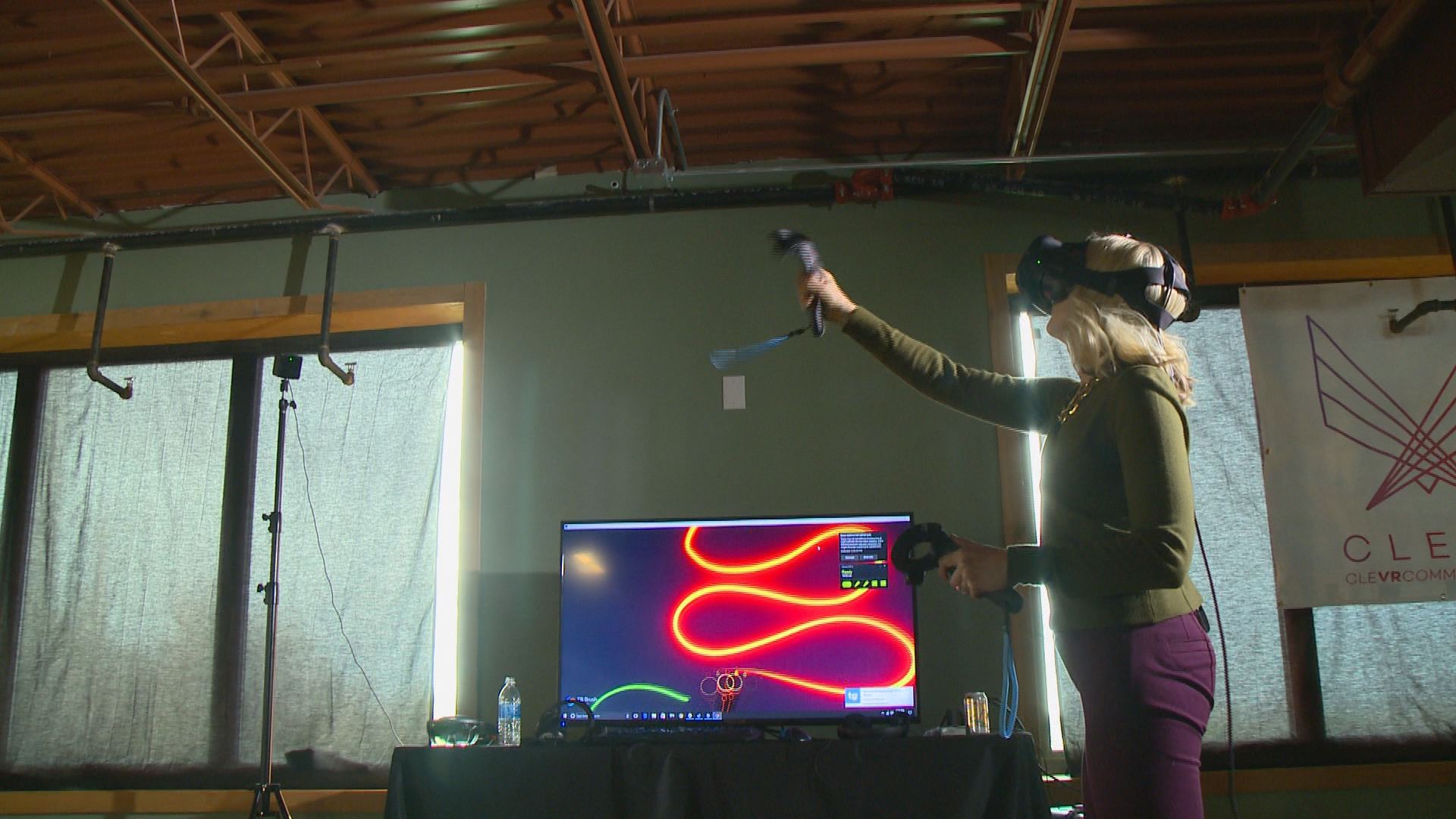 "It feels a lot like the early days of Apple when Wozniak and Jobs were out there in a garage and it was just hippies playing around with computers," said Zabala.
The two say virtual and augmented reality will soon be as big as the internet and smart phones. But figuring out exactly how to get there will be the key and Cleveland is poised to unlock the door.
"We have all of the components to create a successful industry here. We have the talent. We have the institutions. We have the history. We have it all, really," Madrilejos said.
Madrilejos sites programs in video game design, character development and illustration at local schools like Cleveland Institute of Art and Kent State, also institutions like local museums and the Cleveland Clinic, not to mention the budding film scene and significant tax breaks.
It's not just about entertainment. In the not-so-distant future, augmented and virtual reality will provide solutions in healthcare, business and engineering.
If Northeast Ohio can cultivate and keep the people developing and implementing this technology, it could earn our city a real place in the tech scene, creating jobs and spurring the economy.
With studios like Enyx and groups like CLEVR, we're well on our way.
"We're here to make a difference, move the needle in Cleveland and actually improve the lives of people who want to stay here and be here," said Madrilejos .
A Haunting: Witching Hour is the debut game for Enyx Studios. It's set to launch in late June or early July and will be available on all the main gaming systems by digital download.
In the future, Enyx hopes to release new seasons of the game, totally produced in Northeast Ohio.