Investigators still don't know how or why it happened. The victims have been identified as 64-year-old Donald Malinowski, 57-year-old Gerald Bateman, and 37-year-old Cassandra Bateman.
Gerald Bateman's three daughters still don't understand how they got to this point, being surrounded by rubble that was once a home filled with family memories.
"The only things we have left of our dad are that shirt, this hoodie and this hoodie. Everything else was in the fire with him so we have nothing left other than memories," daughter Christina Hukill said.
Wreaths and flowers have been laid down just beyond the exploded shell of what was once "Dad's" house.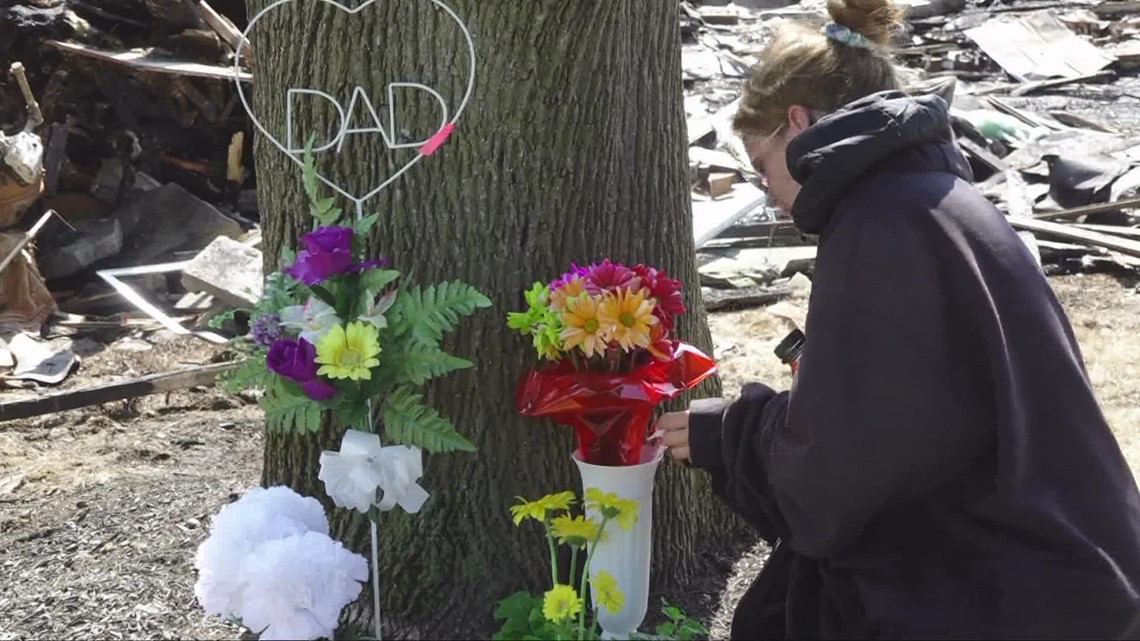 The loss hurts, further pained by the lack of answers.
The explosion killing their dad, uncle and cousin who were inside.
"Dad hopped on his motorcycle, came over to my sister's, kicked it for a minute and decided he wanted to go home," daughter Cierra Bateman added.
Cierra sits wearing her Dad's flannel, one of his only belongings left and one that matches a flannel she owned, but lost in the explosion.
She lived with her dad and uncle, but was down the road at her sister's house on Saturday night when she heard two loud pops. Then moments later, an ambulance.
"Me and my boyfriend were trying to just see what happened because we were curious like that and come to find out it was here," Bateman said.
The realization and her reaction were immediate and as if she knew, her sister called.
"I couldn't breathe, didn't have no words, just kept telling her to get Mom," Bateman said.
So for now, the family sits near the rubble together, hoping for answers amid the destruction.
A fundraiser has been set up for the Bateman family. Click here to donate.
More Northeast Ohio headlines: