INDIANAPOLIS — Indianapolis Metropolitan Police Department said they responded to an active shooter incident after 11 p.m. Thursday, April 15 at the FedEx Ground facility at 8951 Mirabel Rd. That is just south of I-70 near Ameriplex Parkway and across the interstate from the Indianapolis International Airport.
Police said eight people were killed in the mass shooting and five victims with gunshot wounds were taken to several area hospitals for treatment. Two other victims were treated by medics and released.
The victims were identified as:
32-year-old Matthew R Alexander
19-year-old Samaria Blackwell
66-year-old Amarjeet Johal
50-year-old Jasvinder Kaur
68-year-old Jaswinder Singh
48-year-old Amarjit Sekhon
19-year-old Karli Smith
74-year-old John Weisert
The suspect has been identified as 19-year-old Brandon Scott Hole. Hole was a former employee at the FedEx facility. FedEx spokesperson Bonny Harrison released the information Friday. She said company officials can't speculate on a motive but are working closely with investigators. IMPD said Hole was last employed at the FedEx facility in 2020.
His family released a statement Saturday:
"We are devastated at the loss of life caused as a result of Brandon's actions; through the love of his family, we tried to get him the help he needed. Our sincerest and most heartfelt apologies go out to the victims of this senseless tragedy. We are so sorry for the pain and hurt being felt by their families and the entire Indianapolis community."
Hole brought two rifles into the FedEx facility, according to IMPD. During the shooting, he was seen using the rifles at the facility.
The Bureau of Alcohol, Tobacco, Firearms and Explosives traced the two rifles and discovered Hole had purchased the rifles legally in July and September of 2020.
IMPD released this information on Saturday and said the police department is continuing to gather information on what happened during the shooting.
Anyone with information about this incident should call the IMPD Homicide Office at 317-327-3475 or Crime Stoppers of Central Indiana at 317-262-8477 or (TIPS).
Calls of an active shooter
Moments later, police learn the shooter has gone inside the building and multiple people were shot.
A witness told 13News he was working inside the FedEx building when he heard gunshots.
"I'm at a bench and so I stand up and take a look at the entrance door and by the time I see the door, I see a man come out with a rifle in his hand and he starts firing and he starts yellin' stuff that I could not understand," Levi Miller told 13News. "What I ended up doing was ducking down to make sure he did not see me because I thought he would see me and he would shoot me."
Miller said he went into survival mode.
"When you're in that situation, your instincts kick in," he said. "When you're in that moment in life, a lot of things start moving inside you from your mind and it all happens in a second. All for you to keep living," he said.
When officers arrived, they started securing the area and looking for the suspect and victims.
They found the shooter, 19-year-old Brandon Scott Hole, dead inside the building. He had taken his own life. FedEx later confirmed Hole had been previously employed at the facility. IMPD reported he had not worked there since 2020.
Officers searched everyone leaving the building, about 100 employees, before they were taken to a nearby hotel to be reunited with family.
At the hotel, 13News talked to the family of one FedEx worker who said she was shot while in her car in the parking lot.
Families also consoled each other as they waited for news about their loved ones.
Police search for motive
Friday morning, federal agents searched Hole's Indianapolis home.
The home is located in a neighborhood on the far east side of Indianapolis near 10th Street and I-465.
13News could see federal agents and police removing evidence from the home. Law enforcement sources confirm to 13 Investigates that they had served a search warrant at the house in connection with the shooting that took place Thursday night at the FedEx facility.
13News video shows investigators carrying out a large box and computer equipment to an ATF vehicle.
It was one of multiple locations police served search warrants on Friday.
13 Investigates has learned Hole had a previous encounter with police during a mental health call in 2020. A behavioral unit was called to his home in March 2020 on reports of a man voicing suicidal ideas. The unit encountered Hole, who had purchased a shotgun within 24 hours of the call.
The behavioral unit immediately detained him and took Hole to the hospital.
Paul Keenan, the special agent in charge of the FBI's Indianapolis field office, said Friday that agents questioned 19-year-old Brandon Scott Hole last April after his mother called police to say that her son might commit "suicide by cop."
He says agents questioned Hole based on items found in his bedroom. He did not elaborate on what those items were. No crime was identified and the FBI said it did not identify Hole as espousing a racially motivated ideology. Hole's gun was seized and not returned.
During a news conference Friday afternoon, police said they were still working to determine Hole's motive for the mass shooting.
The victims
It wasn't until around 8:20 p.m. Friday, that police released the identities of the eight people killed in the shooting.
The victims include 74-year-old John "Steve" Weisert.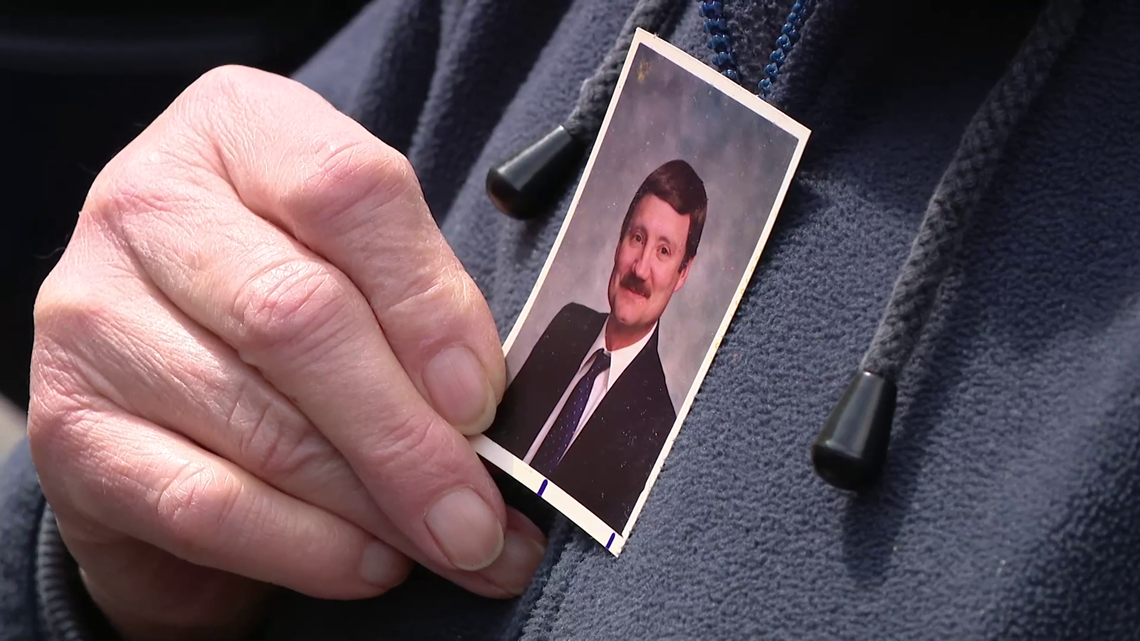 Earlier in the day, his wife Mary Carol Weisert spoke to 13News while waiting on news of her husband.
"They get paid on Thursday night. Usually the other days of the week, like Monday to Wednesday and Friday, he's home maybe 11:30, but sometimes he's later when they get the paychecks. So, not seeing him at 12:30, 1 o'clock, 1:30...I just panicked," Mary Weisert said. "I thought maybe he had an accident or run off the road or anything, cause he's older. And they said 'no, it's worse than that. There was a mass shooting.'"
She and Steve were set to celebrate 50 years of marriage this fall. He had only been working at the FedEx facility for about four-and-a-half years.
"He's just a package handler, a retired professional engineer, but after retirement he wanted to keep working. We had some things we needed to pay off, so he took this job," Mary Weisert said.
Four of the victims (three women and one man) are members of the Sikh community, according to Maninder Walia, activist for the Indianapolis Sikh community. At this point, law enforcement said it does not appear they were specifically targeted.
The granddaughter of Amarjeet Johal tweeted that her grandmother "deserved so much better than this."
Indianapolis Public Schools released a statement about the loss of student Karli Smith, who graduated from George Washington High School in 2020. They said:
"Indianapolis Public Schools is devastated to learn about the loss of Karli Smith by this latest round of gun violence. Karli was a longtime IPS student and graduate. She attended Daniel Webster School 46 through most of elementary and middle school, and Crispus Attucks and George Washington high schools. She graduated in 2020 from George Washington, where she was known as a hardworking and dedicated student. While at Crispus Attucks, she played on the softball team and was loved by her teammates and coaches. She also played basketball and volleyball during middle school at Daniel Webster. Administrators, teachers and classmates remember Karli for her sense of humor that often generated smiles and laughter. Karli was a bright light wherever she went. She will be dearly missed by all throughout IPS who knew and loved her."
Vigils for the victims
The community is coming together this weekend to pray for the victims and families affected by the mass shooting at a FedEx Ground facility late Thursday night.
On Saturday a candlelight vigil will be held at 7 p.m. at Krannert Park on the west side of Indianapolis. During the vigil, community members will pray in support of the families whose loved ones died during the shooting.
On Sunday another vigil will be held. The City of Beech Grove and the Mayor's Faith-Based Roundtable will host a prayer vigil at 7 p.m. on the steps of City Hall, located at 802 Main Street. Prayers will be offered for the victims and families of those affected by the FedEx mass shooting.
FedEx statement on shooting
"It is with a heavy heart that I write to you regarding the tragedy that occurred at our FedEx Ground facility in Indianapolis last night. While it will take some time to fully understand what happened, we know we lost eight team members in this senseless act of violence.
"First and foremost, I want to express my deepest sympathies to the families, friends, and co-workers of those team members. Our priority right now is in responding to the situation on the ground and helping our team members and law enforcement. We have a team onsite in Indianapolis to provide support, and we are making counselors available.
"This is a devastating day, and words are hard to describe the emotions we all feel. Please keep the Indianapolis team and surrounding community in your thoughts and prayers as we continue to support and care for each other in the difficult days ahead."
– Frederick W. Smith
Chairman and CEO
FedEx Corporation
FedEx donates $500,000 to GoFundMe for victims, survivors
FedEx donated $500,000 to a GoFundMe on Sunday that will provide direct financial assistance to the families of the eight people who were killed, those who were injured and others who were affected by the mass shooting at FedEx in Indianapolis on April 15.
On Sunday, the National Compassion Fund established the Indianapolis 4/15 Survivors Fund and almost immediately after it was established, FedEx pledged $500,000 toward the page's $1 million goal.
The GoFundMe page says the fund will "provide direct financial assistance to the families of those who were killed, and individuals injured or suffering psychological trauma from the shooting."
100 percent of the contributions donated to this fund will go directly to survivors and victims of the mass shooting, according to the GoFundMe page.
Response to the shooting
The White House Chief of Staff reached out to Indianapolis Friday morning about the shooting.
Later in the day, President Joe Biden tweeted that he and Vice President Kamala Harris had been briefed on the mass shooting in Indianapolis.
He also released the following statement:
Vice President Harris and I have been briefed by our homeland security team on the mass shooting at a FedEx facility in Indianapolis, Indiana, where a lone gunman murdered eight people and wounded several more in the dark of night.

Today's briefing is just the latest in a string of tragedies, following closely after gunmen firing bullets in broad day light at spas in and around Atlanta, Georgia, a grocery store in Boulder, Colorado, a home in Rock Hill, South Carolina, and so many other shootings.
While we await critical details about the shooting, its motivation, and other key information, once again, I have the solemn duty of ordering the flag lowered at half-staff at the White House, public buildings and grounds, and military posts and embassies, just two weeks after I gave the last such order.
It's a mass shooting just a week after we met, in the Rose Garden, with families who lost children and dear friends as bullets pierced their bodies and souls in schools, a night club, in a car at a gas station, and a town meeting at a grocery store. And it came just the night before 14th anniversary of the shooting at Virginia Tech, in which a gunman murdered 32 people.
Last night and into the morning in Indianapolis, yet again families had to wait to hear word about the fate of their loved ones. What a cruel wait and fate that has become too normal and happens every day somewhere in our nation.
Gun violence is an epidemic in America. But we should not accept it. We must act.
Last week, I called on the Justice Department to better protect Americans from gun violence. I also urged Congress to hear the call of the American people – including the vast majority of gun owners – to enact commonsense gun violence prevention legislation, like universal background checks and a ban of weapons of war and high-capacity magazines.
Too many Americans are dying every single day from gun violence. It stains our character and pierces the very soul of our nation.
We can, and must, do more to act and to save lives.
God bless the eight fellow Americans we lost in Indianapolis and their loved ones, and we pray for the wounded for their recovery.
Indiana reaction
Leaders from around Indiana began issuing statements on the mass shooting at the FedEx facility.
Here are some of those statements:
Mayor Joe Hogsett
Indianapolis Mayor Joe Hogsett released the following statement Friday morning regarding the mass shooting:
"This morning, Indianapolis residents are confronted with the horrific news of yet another mass shooting, an act of violence that senselessly claimed the lives of eight of our neighbors. As law enforcement works to learn more about this tragedy, our prayers are with the families of those whose lives were cut short.
Thank you to all of our city's first responders for their tireless work overnight. Their quick response provided critical aid to those injured in the shooting and brought a measure of calm to an otherwise chaotic scene."
Gov. Eric Holcomb
Governor Eric Holcomb offered the following statement regarding last night's mass shooting and directed flags to be placed at half-staff:
"This is another heartbreaking day and I'm shaken by the mass shooting at the FedEx Ground facility in Indianapolis. Indiana State Police are working with local responders and we will continue to offer any and all resources needed to assist during this tragedy. In times like this, words like justice and sorrow fall short in response for those senselessly taken. Our thoughts are with the families, friends, coworkers and all those affected by this terrible situation.
"Today, I will order that flags be lower to half-staff from now until sunset on Tuesday, April 20 in remembrance of those we've lost."
Sen. Mike Braun
Sen. Mike Braun posted on Twitter Friday morning:
"Maureen and I just learned of the tragedy in Indianapolis when we woke up. Our hearts are mourning for the individuals who've senselessly lost their lives, all of their loved ones, and their co-workers at FedEx who will be dealing with this tragedy for a long time to come.
"Thank you to the members of law enforcement who put their lives on the line and responded heroically to this situation."
Sen. Todd Young
Sen. Todd Young made the following statement on Twitter:
"The shooting at FedEx was a senseless tragedy. Indiana and the nation mourn for the lives lost and forever changed last night."