If you ever need directions to a tree bearing fruit, Ethan Welty and Jess Wanner will show you the way.
The pair stopped at a plum tree, pulled out their plastic containers and got to work collecting handfuls of plums.
"You certainly get the passerby that stops and ask what you're doing and what you're picking," said Jeff, as he grabbed a handful of plums.
The two urban foragers are used to the strange looks and comments. "You look like a homeless guy," Ethan said with a laugh.
In 2013, Ethan, Jeff and their friend Caleb Phillips started the non-profit Falling Fruit. Using data sets from cities and universities, they created a map of the urban harvest. The comprehensive interactive map of all things edible allows users to pinpoint exactly where to find various plants, fruits, vegetables and more.
"I think it was a desire to build something for ourselves, like a tool for foragers. But in the end, I think it's going to be much more than that I think. It was more about redefining what a city can be. And helping people see cities in a different way," Ethan explained.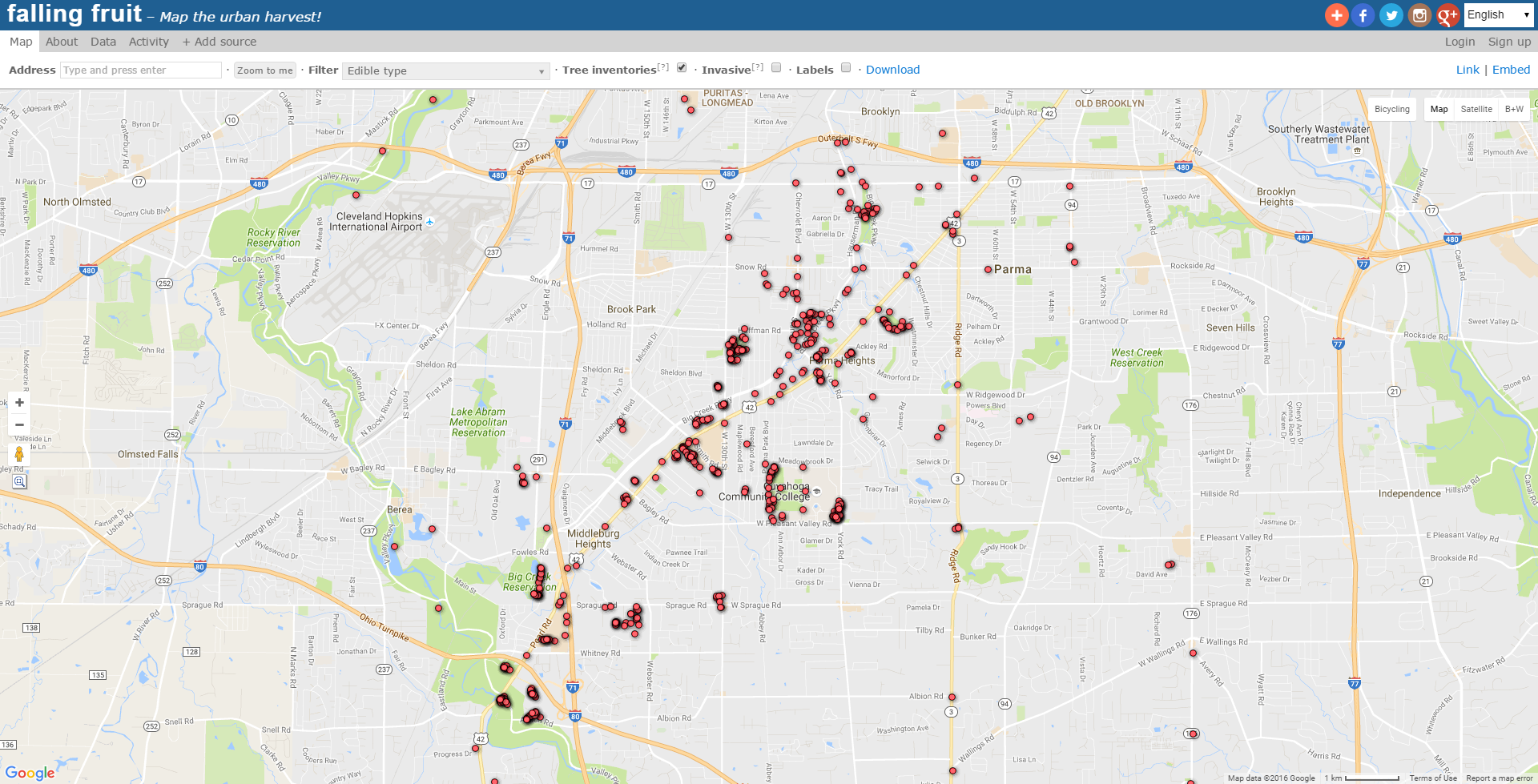 Foraging locations are pinned with dots. Zoom in and click on one, and up pops a box with a description of what tree or bush you can find there. The info comes from municipal databases, local foraging organizations and urban gardening groups.
"We're not only focusing on charismatic, mega-edibles, but really just any kinds of plants that yield food in some way or another," Ethan added.
For Ethan and Jeff, who have been foraging for years, guiding others to the harvest so they too can collect, is the real fruit of their labor.
Foragers from all over the globe have added sites to the map. It's impossible for Falling Fruit's creators to verify each location, so they must rely on the honesty of the contributors. Most of the locations are on public land and parks. But in cases of private properties or parks with limited access you should always make sure you have permission first, before you harvest.
You can visit Falling Fruit here. There is an mobile app available that costs $4.
Edible Cleveland put out a guide to responsible foraging. Check it out here. The most important guideline is to always properly identify a food before you eat it.