On the night of Nov. 28, 2016, fire surrounded Baskins Creek Road where Linda Morrow lived.
Morrow woke up to the sound of fire cracking and burning her belongings inside her home.
"Waking up that night is something I'll never forget. The cabin was already on fire," Morrow said.
She did not have time to grab anything except her rubber house shoes to help her run from the flames.
Morrow, known by many for her paintings she sold at the Artist's Attic in Gatlinburg, ran into an inferno.
"Everything was on fire, the woods, the cabins, everything," she said.
Trees were cracking around her, embers were flying in every direction but she had to keep going.
Morrow tried to use her car to get down the mountain but didn't have her keys. She also tried to jump into a van full of other evacuees but a fallen tree blocked their path.
"I ran about three-quarters of a mile through the fire and every step I took I just kept saying 'Jesus help me, Jesus help me,'" Morrow said.
Praying and hoping for a miracle, Morrow then saw headlights in the distance.
"They looked like gladiators, you know," she said.
Several Tennessee State Troopers were there to help. One saw Morrow's burns and immediately picked her up and carried her down the mountain.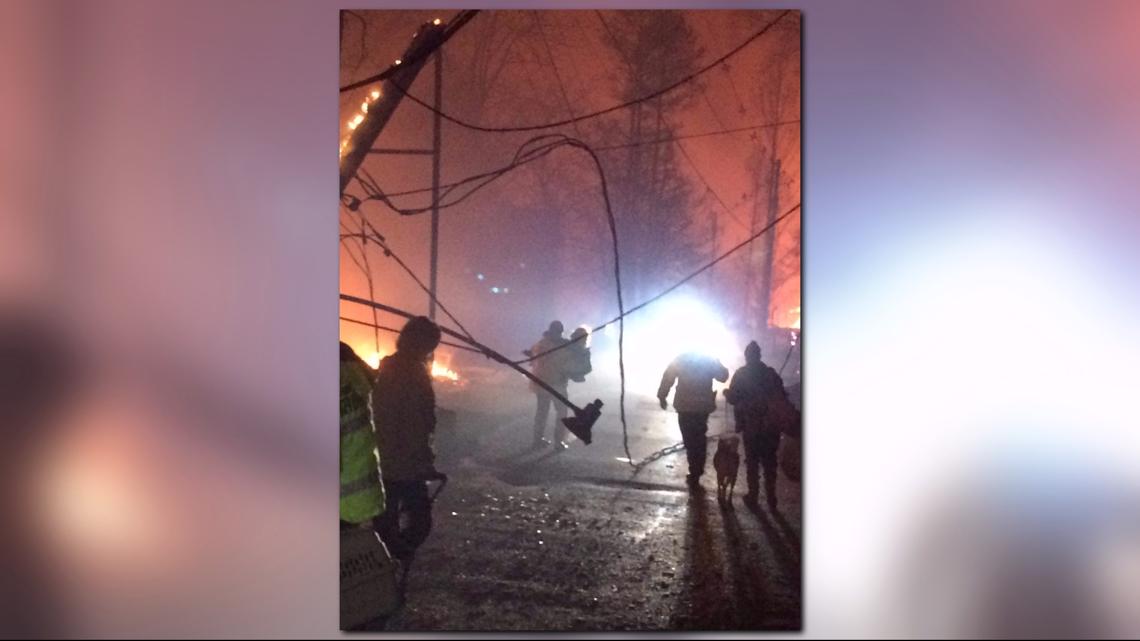 "He asked me how old I was and I told him, and then he says, 'well how much do you weigh?' and I told him and I didn't lie, I told the truth," she laughed.
At one point during their journey, the trooper told Morrow, "Ma'am, I think you lied."
Morrow never got the chance to thank the trooper who saved her life, until Tuesday when they reunited on the very same road they met, more than six months ago.
Morrow recognized Trooper Stephen Barclay immediately and ran to give him a hug.
"I told one of my neighbors I'm going to try not to cry and I'm going to hug the stuffing out of him," Morrow said.
"You got the stuffing. You got me," Barclay joked.
Morrow gave Barclay a hug like no other, for her humble hero.
"These people don't do it for the salary, they do it from the heart," Morrow said.
Several State Troopers received the Lifesaver Award during the Tennessee Highway Patrol Trooper and Dispatcher of the year ceremony for their live-saving efforts the night of Nov. 28, 2016.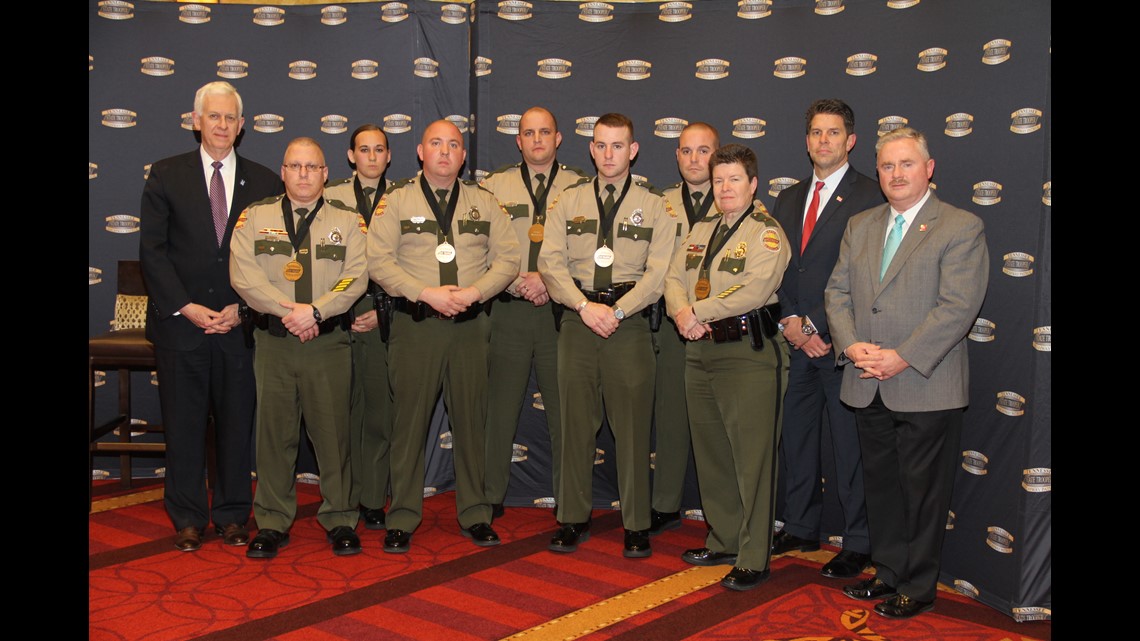 From left to right, Retired Commissioner Bill Gibbons, Trp. John Pedigo, Trp. Heather Cook, Trp. Dustin Hatfield, Trp. Michael Hall, Trp. John Capps, Trp. Stephen Barclay, Lt. Kim Ogle, FBI Associate Deputy Director David Bowdich, Commissioner David Purkey.