Sales of giraffe parts are booming across the U.S. -- and it's totally legal.
An undercover investigation by the Human Society of the United States and Humane Society International found giraffe parts and products being sold online and in stores in at least 52 locations nationwide. The organization said an investigator went undercover at 21 sites in California, Florida, Maryland, North Carolina, New York, Oklahoma, Tennessee and Texas.
Three of the sellers referenced by the Humane Society are located in Florida.
One Florida business mentioned in the report, Atlantic Coral Enterprises of St. Augustine, imports and sells giraffe bones, skulls and other parts wholesale.
Company owner Paul Dachton told 10News his business abides by all government regulations.
A Miami shop, Art By God, is owned by Gene Harris and resells taxidermy. The report mentioned how, in 2014, Harris was sentenced to three years probation and fined $10,000 for selling illegal black rhino horns for $60,000.
The report did not claim the business was currently doing anything illegal.
Art By God's website advertises a giraffe skull, a pillow made of giraffe hide and a full giraffe hide for sale. A Humane Society investigator reported also finding giraffe hide pillows, carved giraffe bones and a giraffe hide rug for sale.
A call to the company was not immediately returned.
The Humane Society claims another business, Whitten Cases in Oldsmar, made false statements about giraffes while trying to sell parts to one of its investigators. A report released by the organization said both Whitten Cases and a seller in Texas claimed "aggressive herds of giraffes cause destruction and must be killed to save African villages."
But, Joe Whitten, who has run Whitten Cases for more than 30 years, denies making false claims about giraffes or trying to sell giraffe parts -- at all.
He said he makes custom cases for pool cues and has only used giraffe hide once in the entire history of his business. And, that was because someone specifically requested it. The vast majority of cases he makes are from cowhide.
"There are not people calling me all the time to ask for cases made out of giraffe," Whitten told 10News.
Whitten operated the business with his parents until they passed away. He said he had not spoken to anyone about giraffes in years -- until 10News called to ask him about the Humane Society's claims.
Photos: Humane Society's investigation into giraffe parts sales across Florida, U.S.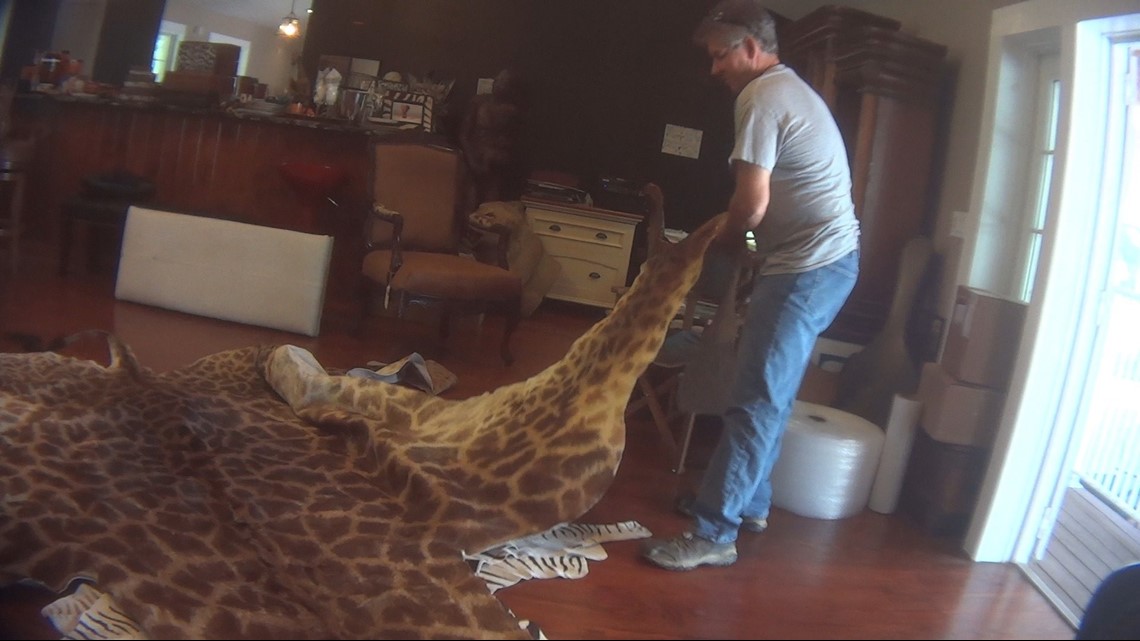 Among the findings in the Humane Society's report:
-- The most commonly found giraffe products were western boots made from giraffe leather and specialty knives made from giraffe bones.
-- Other products included giraffe taxidermy trophies, giraffe hide pillows and rugs, giraffe skin bible covers and furniture and giraffe bone carvings.
-- Investigators said some sellers falsely reported giraffes as dangerous and told investigators that giraffes must be killed in defense of villages in Africa. The sellers told investigators that the parts they sell are a byproduct of defensive killing.
-- Some sellers of giraffe products and parts have criminal records for animal-related crimes, including trafficking of rhino horns.
-- American trophy hunters supply the U.S. market with giraffe trophies and parts.
In a release, Kitty Block, acting president and CEO of the Humane Society of the U.S. and president of Humane Society International, said:
"Purchasing giraffe parts puts the entire species at risk. The giraffe is going quietly extinct. With the wild population at just under 100,000, there is now fewer than one third the number of giraffes in Africa than elephants."
The Humane Society's investigation found giraffe products being sold for up to $8,000, including full taxidermy pieces, skulls, giraffe hair bracelets and feet.
The organization reported that more than one giraffe per day is being imported into the U.S. by American trophy hunters. It also said threats like these add to the decline of the species by 40 percent in the past 30 years.
It is not illegal in the U.S. to trade in giraffe parts. But in 2017, the Humane Society and conservation partners petitioned the U.S. Fish and Wildlife Service to list giraffes as "endangered" under the Endangered Species Act.
An "endangered" listing would restrict the importation, exportation and sales of giraffe parts in the country.
The petition report from 2017 said about 40,000 giraffe parts and products were imported in the U.S. from 2006 to 2015.
►Make it easy to keep up-to-date with more stories like this. Download the 10News app now.
Have a news tip? Email desk@wtsp.com, or visit our Facebook page or Twitter feed.