MENTOR, Ohio — A portion of SR-2 between SR-306 and SR-615 in Lake County will now be known as Patrolman Mathew Mazany Memorial Highway following a dedication ceremony in front of the Mentor Police Department on Friday.
Mazany was assisting another officer during a traffic stop on Route 2 on June 24, 2018, when 25-year-old Brian Anthony fatally struck him and drove off. Prosecutors said that blood and urine samples showed Anthony had heroin and ethanol in his system, along with morphine, codeine and fentanyl.
"Since his death, we have honored his sacrifice and his life. After today, everyone driving on SR-2 between SR-615 and SR-306 will also remember and reflect on his life and his sacrifice," said Mentor Police Chief Ken Gunsch.
Mentor City Manager Kenneth J. Filipiak reflected on the troubles of our times and on the type of individual that would sign up to put themselves in harm's way to protect the public.
"Mat Mazany would have, he is an example of the dedication and courage shared by all police officers who put their personal safety aside," said Filipiak, "That example is his legacy and what I hope we will remember when we drive that stretch of highway from this point forward."
"It is important to remember the sacrifices of our first responders," said Rogers, "those who form the protective backbone of Ohio's cities and towns. Today, we do just that.
"We are forever indebted, not only to Officer Mazany and who have perished in our behalf but to their colleagues who every day make up the thin blue line in the service to others," Rogers added.
The City of Mentor says it is grateful for the community's continued support, but reminds the public that placing flowers or other ornamentation on or near highway signs is highly discouraged due to the inherent danger it would cause.
A memorial stone and oak tree are located in north lawn of the Mentor Police Station for those wishing to show their respects.
PHOTOS | City of Mentor dedicates portion of Route 2 in honor of fallen police officer Mathew Mazany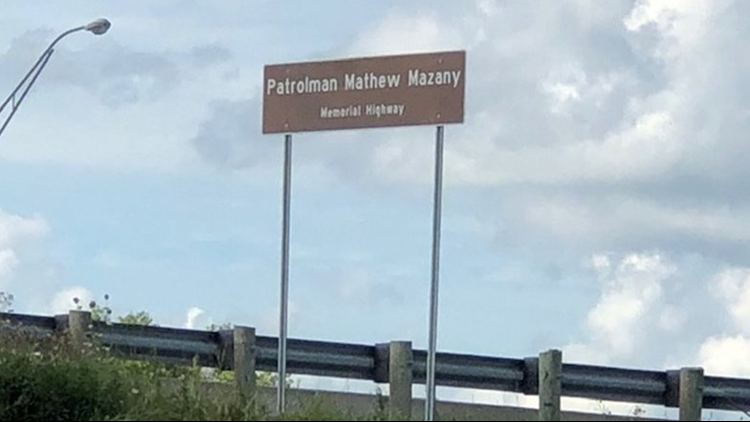 You can watch the dedication ceremony here, or in the player below: