WASHINGTON TOWNSHIP, Ohio - Richland County law enforcement officers are searching for an AMBER Alert suspect who remains at large Wednesday afternoon.
A reward of up to $5,000 has been offered by the U.S. Marshals Service for information leading to the man's capture.
"We're just trying to make sure that we find him, and the ultimate goal is to get that baby back safe," said Shelby Police Chief Lance Combs, the spokesman for the investigation, during a Wednesday afternoon press conference at the Lucas Community Center.
Combs said Beane was arrested by the U.S. Marshals Service on June 28 in Elyria in an armed robbery/kidnapping case from that city. He was released on medical furlough from the Lorain County Jail and fled from the hospital around 10 p.m. July 5.
At about 4 a.m. Wednesday, Beane is accused of stealing a 2018 Camaro in Elyria. He then went to his girlfriend's home in Lorain at about 5:30 a.m.
"While there, he pistol-whipped her, then fled with their 10-month-old son," Combs said.
The victim was "not overly cooperative at the scene," but later provided a vehicle description and explained what had happened.
The AMBER Alert was issued by the Lorain Police Department on Wednesday morning.
"We can't confirm this, but it's quite possible that he was alerted to the AMBER Alert and fled the area," Combs said.
According to the alert, Beane, 27, allegedly abducted his 10-month-old son, Robert Beane Jr., at 5:30 a.m. Wednesday after "pistol-whipping" the boy's mother in the 900 block of Central Drive in Lorain.
Combs said during the press conference Wednesday afternoon he spotted the Camaro in Shelby early Wednesday morning.
Combs said law enforcement received word Beane might have been in the Shelby area, and Combs went in an unmarked car to check that location.
Beane wasn't there, and Combs called a deputy U.S. marshal to give an update. While on the phone, Combs spotted the vehicle.
"We started calling for additional resources," Combs said. "We had kind of finite resources at that time, and our concern was for the safety of the child, so we didn't want to spook him or initiate a chase at that time."
Combs said a high-speed pursuit started, with law enforcement agencies, including the Mansfield Police Department, Richland County Sheriff's Office and Ohio Highway Patrol, losing the vehicle and picking it back up several times.
Combs said he wasn't sure of the route traveled, "but he made it through the City of Mansfield in pretty good time." He added the vehicle was seen on U.S. 42 headed toward Ashland.
The chase ended in a crash at 2112 Mansfield Lucas Road. A resident reporting seeing Beane exit the vehicle with the child and fleeing west on foot.
Combs said he doesn't know the condition of the child after the crash but said the vehicle, while inoperable, "was not totaled."
Beane "is hidden somewhere at this point, we believe, in the wooded area around Mansfield Lucas Road, and that's why we have him contained in that perimeter, and that's what we're searching for now," Combs said.
Combs did not have details on the size or location of the secured perimeter but called it a "very tight perimeter with a lot of resources."
PHOTOS | Police search in Richland County for Amber Alert suspect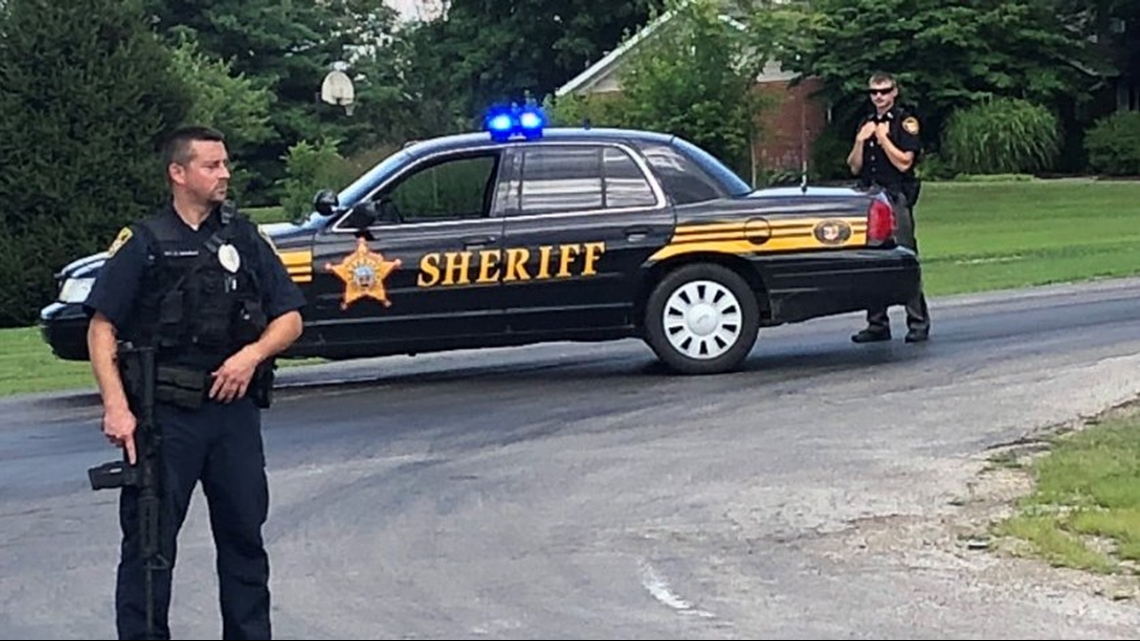 "I know it's a pretty large swath of land that we believe he's contained in at this point in time, and all officers on that perimeter are within line of sight of each other," he said.
Law enforcement officials from multiple agencies converged on the neighborhood near where the crash was reported after 1:15 p.m. Wednesday.
The suspect is considered armed and dangerous, according to a press release. Residents in the area are advised to secure themselves in place.
"The sheriff's office has assumed command of a large manhunt that currently includes resources from the Ohio State Highway Patrol, Mansfield Police Department, Ontario Police Department, United States Marshal Services, Federal Bureau of Investigation, the Shelby Police Department, as well as support from several local fire department rescue units," Combs said.
Early Wednesday afternoon, Mansfield Lucas Road, Sauder Drive and Keefer Road were all blocked. Two planes were circling over the neighborhood, including one from the Ohio Highway Patrol.
Mansfield and Ontario police set up command units at Will Avenue and Sauder Drive. A negotiator from the Ohio Highway Patrol was at the scene. SWAT officers were seen converging at Rummel and Mansfield Lucas roads.
Units from the Richland County Sheriff's Office, Ohio Highway Patrol and the Mansfield, Shelby and Ontario police were among those at the scene. Most of the officers at the scene were wearing bullet-proof vests and were armed with rifles.
Combs said he was unsure if any officers saw a weapon with the suspect.
"We do believe that this morning, he is likely in possession of a weapon because he did pistol-whip the mother of the child, so we believe him to be in possession of a weapon," he said.
According to the AMBER Alert, Beane was driving a gray 2018 Chevrolet Camaro with an Ohio license plate, HAQ8308.
Combs said Beane has a "propensity to flee" and a "lengthy criminal record."
Combs said he did not know if Beane has ties to the area, adding law enforcement will be looking into his background.
The 10-month-old is 2 feet tall and 20 pounds with brown hair and brown eyes. Beane Sr. is 5 feet 11 inches and 175 pounds with brown hair and brown eyes. The alert reports he is the child's non-custodial father.
According to the press release, Beane is wearing a white T-shirt and has tattoos on his neck.
Anyone with information or who sees Beane, the child or the vehicle should call 1-877-AMBER-OH (1-877-262-3764) or 911.
Combs said residents in the area should shelter in place, and those who see or hear anything suspicious should call 911 immediately.
Those outside the affected area should call the U.S. Marshals at 1-866-4-WANTED.
"Our concern is for the safety of the infant. That's our primary concern," Combs said. "Rght now, we're kind of slowing down, making sure we have enough people on scene. We need to start thinking about rotating people out and then continuing surveillance operations in hopes that we can catch him and the child is OK."
According to Lorain County court records, Beane was arrested June 29 on charges of kidnapping, aggravated robbery, felonious assault, having weapons while under disability and theft. Several of the charges had firearm specifications.
The Investigator | Repeat violent offender accused of abducting son got furlough and escaped
Beane entered a not guilty plea at an arraignment July 5.
Beane was being held on a robbery charge in which he allegedly pistol-whipped his victim and forced the victim into a trunk of a vehicle. The victim managed to escape and flag down a citizen to call police as Beane fled the scene.