AVON – With the dust of construction equipment blowing through the air, you can clearly see the future of Maria's Field of Hope is being threatened.
Maria's Field of Hope has sprouted up at the corners of Chester and Jaycox Roads for the last 5 years, managed by the Prayers From Maria Foundation. The foundation was started by Ed and Megan McNamara after their 6-year-old daughter Maria died from a cancerous brain tumor back in 2007.
The organization not only raises awareness about an important issue, it also raises funds to support important research.
"When Maria was diagnosed, I tell people it was like crickets out there when we went to find help. 'Somebody help us,'" Megan McNamara said back in 2006. "There was nobody."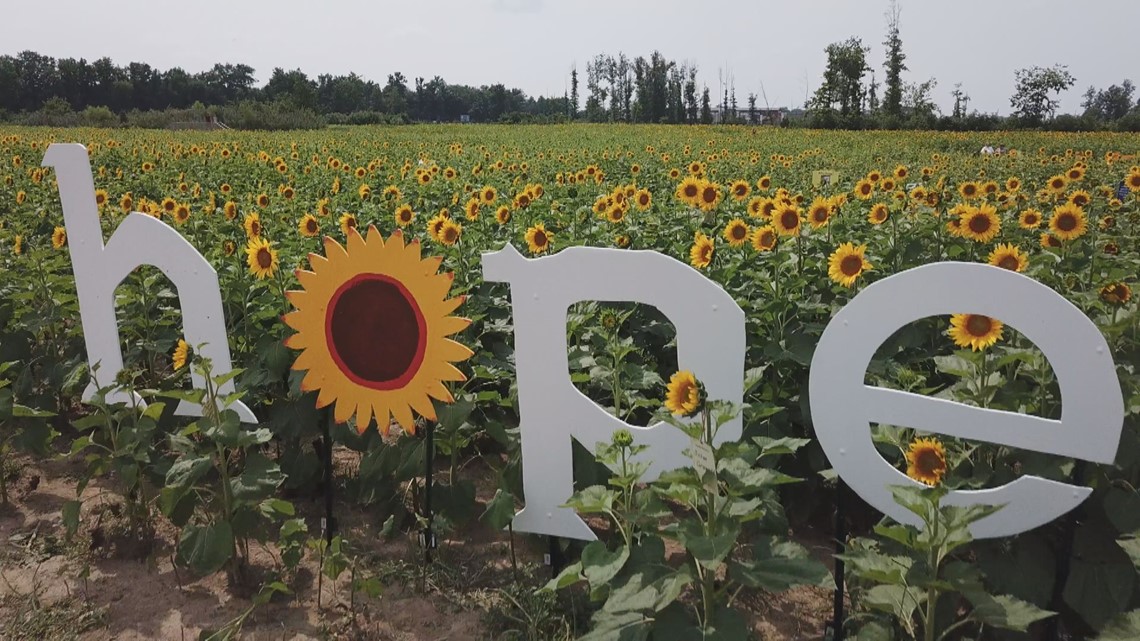 Since then, people have started to pay attention with help from organizations like Prayers From Maria. Since its inception, they've raised over a million dollars for childhood cancer research through fundraisers and donations, many of which have come from visitors to Maria's Field of Hope.
The site where the sunflowers are planted was never owned by the foundation, but was donated to them to use for their cause which has grown over the years.
"People come here for many different reasons: reasons of joy, reasons, of sorrow, reasons of celebration," said McNamara.
"It speaks to so many people where they are. And through that love and support of all the people that come down here for one reason or another, we are able to take from that money to fund grants. And I think that is what is so cool about this place."
But the future of Maria's Field of Hope in its current form is threatened by construction and development. Many people visited to take it all in before it goes away.
For Madeline Mitchell of Fairview Park, today's visit is a first.
"I've seen so many pictures from everyone coming on Instagram. So many pictures of people in the field. So I just wanted to come see it," said Mithcell.
"I think it would be great if we could keep something like this in the community. I think it's a super positive thing. It's getting awareness out about childhood cancer."
Whether you're a first-time visitor or a person or comes every year like Jen Dobbins, who brings along her two sons, the construction site nearby is disturbs the tranquility of the sunflower field.
"It's really nice to go down [interstate 90] and see the beautiful flowers every year," said Dobbins who added, "it made me sad to see this beautiful building coming up. But I hope they still continue it. If it's not here, I hope it's somewhere visible. Not placed behind some other construction."
Spread throughout the field area prayer cards that have been left by visitors, memorials for children who've lost their lives, and messages of hope being sent from one to another. A sight that you may not see next year – at least not where it stands today. But no matter what, Maria's Field of Hope will be back somewhere.
"We're gonna be somewhere," said McNamara. "I keep saying we will plant and bloom again. We will plant and bloom again."
McNamara says the organization is open to all future options and is looking for help from the community as it moves forward.
"It's a beautiful expression of what we believe as a foundation and what we love and care about," McNamara says of the field.
"It's a community effort. It's going to need community support. So we hope we can get that from all the people who have come to know and love the field."