On Friday, the U.S. Department of Justice (DOJ) announced that 41-year-old Michael Mackrell has been charged with the following:
Assaulting, resisting, or impeding officers
Entering and remaining in a restricted building or grounds with a dangerous weapon
Disorderly and disruptive conduct in a restricted building or grounds with a dangerous weapon
Mackrell will make his initial court appearance in the District of Columbia on March 16.
The DOJ says Mackrell was wearing an earthtone camouflage jacket, an earthtone camouflage baseball cap style hat, green gloves, and black pants on Jan. 6, 2021. He was carrying a green backpack, while walking with a dark-colored cane, and using an American flag gaitor to cover his mouth and nose.
Just before 2:30 p.m. on Jan. 6, investigators say closed circuit video footage from the U.S Capitol shows Mackrell wrapping his arm around an officer's neck and throwing the officer to the ground. In the next five minutes, Mackrell is then seen either pushing or tackling four other police officers.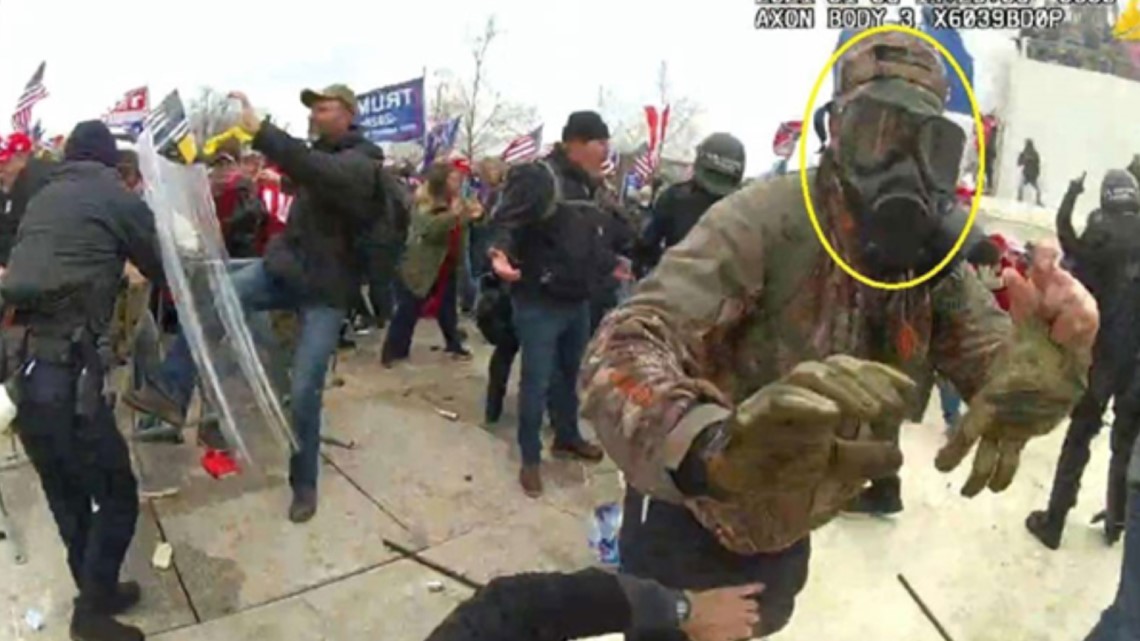 Michael Mackrell's son Clifford was indicted on March 17, 2021 for his role in the Capitol riot. His charges include Forcible Assault, and Obstruction of Law Enforcement during Civil Disorder. That case is still pending.
On the day of the attack on the U.S. Capitol, the FBI found that Cliff Mackrell had posted to his Facebook account the following message:
"Hey libtards and conservatives let's stop fighting for a minute so I was thinking you libtards think the government was corrupt in 2016 right well I've thought they were corrupted for a very long time now how about we get rid of all of them because well it is out literal job as american's to kill the tyrannical government. Also (expletive) all news stations."