SOUTHINGTON, Ohio — There's a renovation taking place in Trumbull County.
The former home of boxing legend Mike Tyson is being turned into a different house: a house of worship.
The renovation is a 4-year project and all the work has been completed by the church's members.
"People were so willing to work. And all labor has been done by 93—94 percent of the people from the church," said Pastor Nick DeJacimo, who leads about 140 members at Living Word Sanctuary.
"What you see here is what everybody has come together and done on their own."
Tyson's former mansion was donated to the church by the previous owner. Living Word Sanctuary was only responsible to pay about $50,000 in back-taxes. And the work, they knew they could handle on their own.
"Just this building alone today would be $7.6 million to rebuild. And we remodeled this place for a fraction," said DeJacimo. "And to own it and have it paid for, to where we can come in here without any pressure of meeting bills and those types of things is a blessing."
PHOTOS: Church members transform Mike Tyson's Trumbull County mansion into house of worship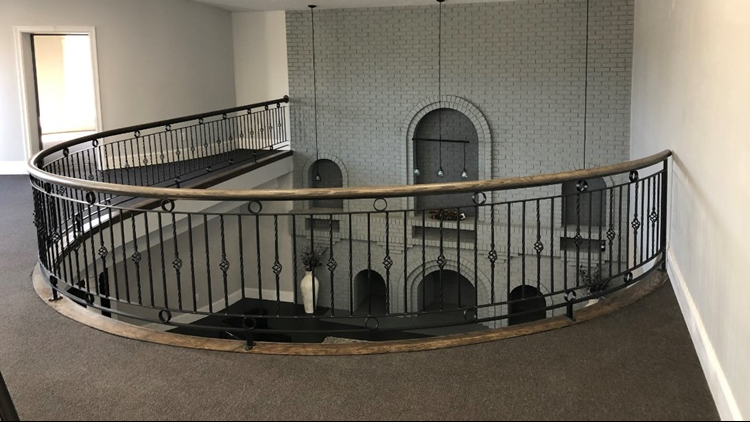 Structurally, the building was intact. The most difficult part of the transformation was turning the Tyson's pool and whirlpool room into a sanctuary. It took them about a year to fill the space with sand and cover it with cement.
"Within 4 years working just on the weekend. We were able to totally remodel this entire place," DeJacimo said.
That's a huge feat for such a small congregation. The dilapidated pool, now a wonderous sanctuary for about 140 members and guests. The former living room, now a gathering place.
Remnants of Tyson's time here remain. The basketball court, amongst other things, still intact.
"This was built by Mike Tyson – these basketball courts. And he actually, from what I heard, allowed a lot of the children in the community and the high school basketball team would play here," said DeJacimo who hopes to continue that legacy – helping lead youth on a path to serve God.
Serving god, according to DeJacimo, is the reason this project was such a success despite hearing from neigh Sayers along the way.
DeJacimo added, "every time I walk in this place, it reminds me that he's still a miracle God. All you have to do is believe him and walk in his ways."