The Norwalk Mobile Park is basically a ghost town now according to residents. Because half the people are gone, including the children.
Nancy Romero describes an air of desperation in the Norwalk Mobile Park she's called home for fifteen years.
Tears running down her cheek as she told us, "Coming here yesterday, seeing the emptiness, you can feel it."
It's a far cry from what the atmosphere used to be.
"It's always filled with happiness and laughter every day," she explained.
But not today. We saw 9 year old Johan Alvarez kicking a soccer ball, wearing his father's work shirt from Corso's.
His dad took a photo of himself on the bus, as he was being taken away by Immigration and Customs officers.
Most of the kids who lived in the neighborhood are now staying with family and friends, because one or both of their parents were rounded up in the raid.
Roselva Diaz Rivera told us in Spanish that her heart breaks for the detained moms, who may never see their kids again. But she thanks God she's able to be with her two girls.
And it's just as hard on the children.
"They don't want to play anymore because they're afraid to," said Sartno Ortiz.
And his 9-year-old son Moses described how the children are getting lonely because they don't have goodnight hugs or people to read them bedtime stories.
There are 65 homes in this mobile park, but the owner, Dave Ockenga, says he has no idea how many are now vacant. He also says he doesn't know what he's going to do about all of the rent he was collecting now that so many people are gone.
Dave inherited the park just six months ago and wasn't forthcoming about whether or not he knew it was filled with undocumented workers.
He was in the neighborhood checking on the school being built for after-school programs.
But after Tuesday's raid, there may be only a few attending, because even the ones still living there are too scared to be out.
"It won't be long until the government takes them too," said resident Yukari Mendez.
One of the 114 people who were swept up in Tuesday's raid has been released according to U.S. Sen. Sherrod Brown. For the families of the rest, it's a jumbled mess.
On Wednesday evening, many in the community made their way to nearby Templo Genesaret. People who had family members or friends detained met to figure out what to do next.
PHOTOS | Meeting held at Sandusky-area church after ICE raid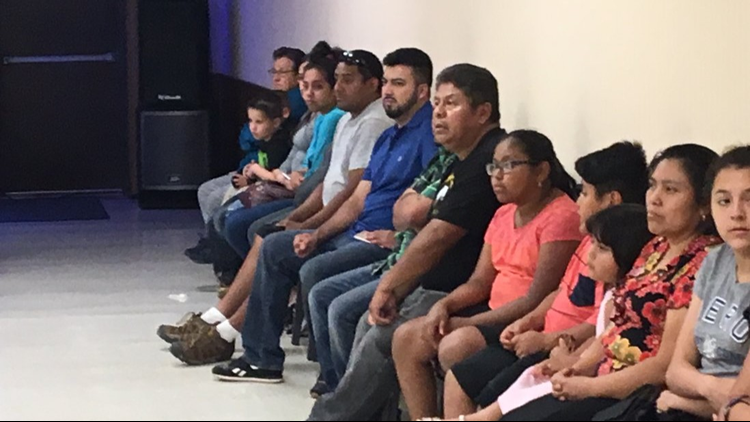 Others, like this veteran, brought donations.
Because in one neighborhood, where many of the undocumented workers lived, half the people are gone, including kids who lost one or both parents and were taken elsewhere to be cared for.
This latest event in Erie County again makes clear that our current immigration system contributes to the human suffering of migrants and the separation of families. The Bishops of the Catholic Church have a duty to point out the moral consequences of a broken system.
WATCH | Chris Tye has more on this story below