CLEVELAND — Having gone nearly three weeks without rain, most of Northern Ohio now finds itself in an official drought.
On Thursday, the U.S. Drought Monitor provided an update, which shows that most of Northern Ohio is now considered to be in a "moderate drought." Cleveland and other parts of Cuyahoga County are some of the few areas in the region to still be considered "abnormally dry," which 3News senior meteorologist Matt Wintz attributes to a few soaking thunderstorms that sat over the area in May that other locations did not receive.
You can see the latest Drought Monitor map for Northern Ohio below.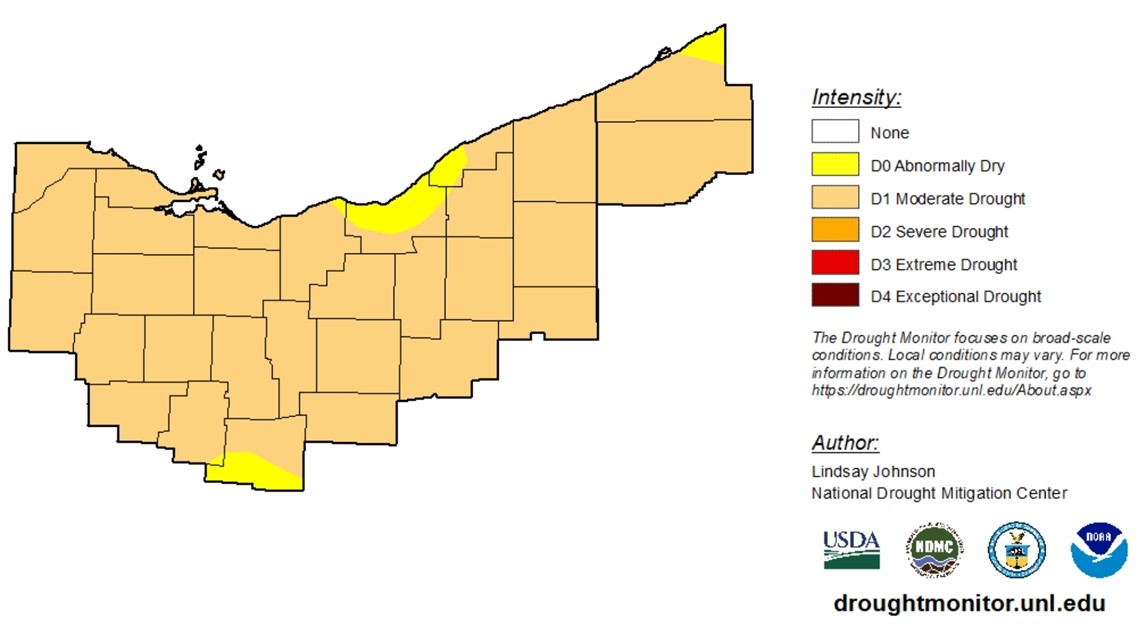 "What we're experiencing is a 'flash drought,'" he said, specifying what happens when no rain over a short period of time combines with abnormally high temperatures. "Rainfall-wise, we're actually up about normal for the year."
So when can Northeast Ohio expect the drought to end? According to Wintz, it could be soon.
In his 11 p.m. forecast on Wednesday night, Wintz noted that the area could see slight showers Thursday and perhaps a "really good soaking" this weekend. 3News meteorologist Hollie Strano's Thursday morning forecast also called for possible showers as early as Friday, with rain on Sunday and scattered showers early next week.
You can see Hollie's full Thursday morning forecast in the video player below.
If you are in the sensitive groups category of children, the elderly and those with breathing difficulties, please monitor your outdoor activity and check air quality readings at airnow.gov," the National Weather Service says.
Here are the list of counties currently under the Air Quality Alert:
Ashland
Ashtabula
Cuyahoga
Erie
Geauga
Holmes
Huron
Lake
Lorain
Mahoning
Medina
Ottawa
Portage
Richland
Sandusky
Seneca
Stark
Summit
Trumbull
Wayne