United Methodist Church of Macedonia has displayed 19 empty chairs, honoring the lives of the children who were lost in Tuesday's tragedy. The church's Christian Education Director, Cathy Miller told 3News' Amani Abraham that the tribute came as the result of a similar display set up by the United Methodist Church of Berea.
"Of course we were all very upset about the whole thing," Miller said. "I have grandchildren. I have a granddaughter almost about that age. The pastor has children. We were all just very deeply affected. She had shown me a picture from the United Methodist Church of Berea showing the chairs out front and she said, 'Do you think this is something we want to do?' and I said, 'Of course.'
"We were checking to see if we had enough small chairs because we haven't had to use the small chairs because we do everything upstairs right now for Sunday School and when I went down to check how many chairs we had, there were exactly 19 small chairs, which really just had everybody in tears. So we just wanted to do something to show our support and just how tragic this whole thing is."
In addition to the 19 chairs representing the children, two larger chairs were added to honor the two adults who were killed in the shooting.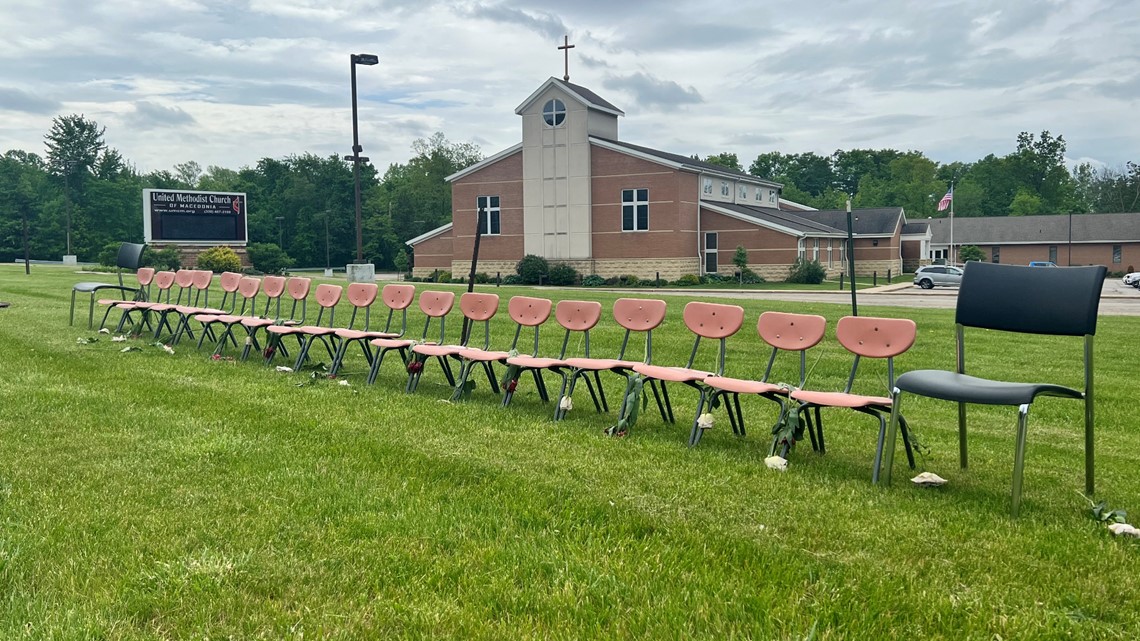 "The entire Macedonia community was devastated to learn of the tragic news out of Uvalde, Texas and Buffalo, New York over the past week," said Macedonia Mayor Nicholas Molnar in a statement to 3News. "While the City of Macedonia does work with our Nordonia schools to help ensure student safety on a local level, this is certainly a national - if not global - issue that requires continued attention. I am hopeful the increased awareness generated here will result in meaningful progress towards stopping such attacks. While there are multiple sides to the gun control debate, one thing that is not debatable is the compassion we all share for the victims of senseless violence and their families and loved ones. We continue to pray for them daily and keep them in our thoughts."