SHELBY — Families are picking up the pieces after a devastating tornado ripped through part of Richland County.

"You take your whole work and career, build this up, we built this house in 2008," says Shelby Resident, James Bly. "In 20 seconds it was gone."

Strong winds blew the roof and most of the walls from Bly's home on Plymouth-Springmill Road.

He and his wife barely made it to the basement in time. They were trapped until neighbors came by to remove debris from in front of the door.

"This is what we walked into, just total devastation," he says. "I wanted to cry, my heart sank to my toes, everything it was just, it was beyond belief."

Bly says it could be more than a year before things get somewhat back to the way they were.

The home is a total loss. He says three vehicles and two motorcycles were destroyed as well.
"They're saying, residentially this one here was the hardest hit." Bly says.

"If I look strong, I'm a pretty good faker right now because it's very hard. I never thought I'd have to go through anything like this."
PHOTOS | Residents of Shelby begin to clean up after tornado damage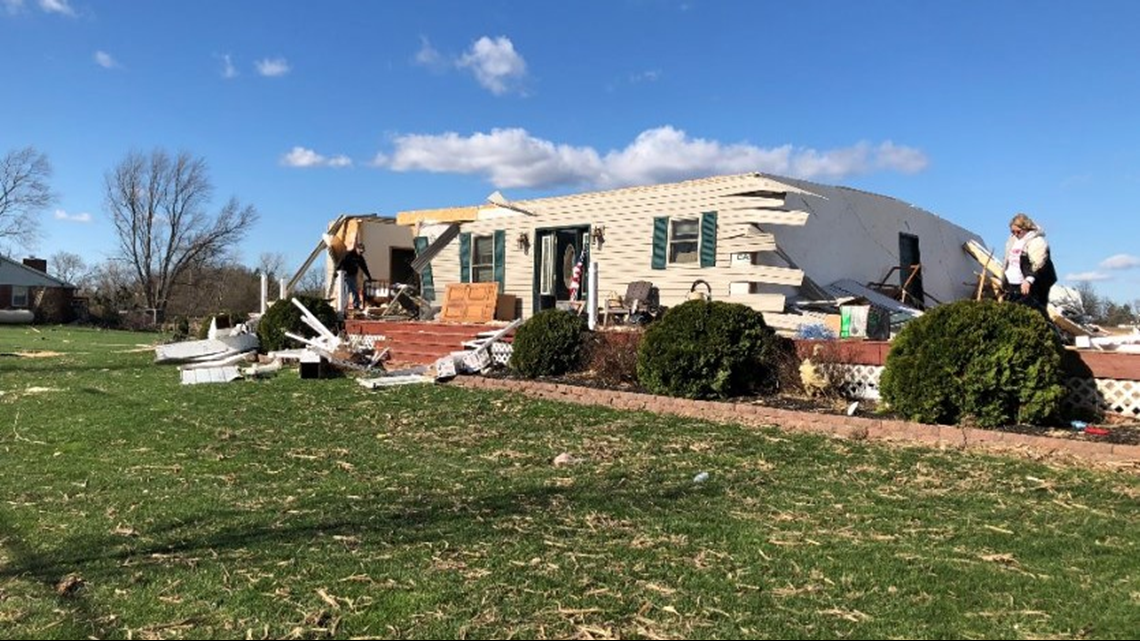 Just down the road, Alayna Fry and her husband are cleaning debris from their yard.

She was home alone with her dog when the storm came through and she got an alert on her cell phone.

"Within three to four minutes of that, it happened," Fry says.

"We were sitting in the basement and it was just like howling and I could hear cornstalks hitting the house."

The garage will need to be rebuilt and the roof repaired. There's lots of debris in their yard from neighboring homes.

"We're so grateful too that as a community no lives were lost and there were just minor injuries."

The Red Cross is using the Shelby YMCA as a shelter as long as its needed.

They're offering comfort kit with toiletries, personal care items and even coloring books for kids.

"We come out without a scratch, that's the best you could hope for," says Bly.

"All this wood and vinyl and drywall, insulation they'll put it back together. Them words are easily spoken but the feelings that go with it are pretty hard."