COLUMBUS, Ohio — In what he calls "the first step," Gov. Mike DeWine has asked the Ohio Rail Development Commission (ODRC) to apply for $1 million in federal funds to explore the expansion of Amtrak passenger rail service in Ohio.
The state has identified two corridors to advance for consideration: Cleveland-Columbus-Dayton-Cincinnati and Cleveland-Toledo-Detroit. If the ORDC's application is successful, the Federal Railroad Administration would provide $500,000 per corridor. The funds would enable the ORDC to bring in a consultant to help create a plan with information such as ridership, operating costs, track improvements and how much money the state would have to contribute to get the additional service started.
"This is the first step of many in this process. We have a lot of questions that need to be answered before we make any commitments," said DeWine. "The information we gather from this effort will help us make informed decisions about federal opportunities for passenger rail in Ohio."
The comprehensive infrastructure bill passed by Congress and signed into law by President Biden in 2021 allocated more than $66 billion for Amtrak, the largest federal investment in passenger rail service since Amtrak was founded over 50 years ago.
Amtrak's proposed 3C + D Corridor (Cleveland-Columbus-Cincinnati, and Dayton), would connect Ohio's major cities together via rail service. There would be three daily round trips from Cleveland to Cincinnati. Proposed stations along the way would be in the following cities:
Cleveland, OH
Cleveland Hopkins Airport (NEW)
Crestline, OH (NEW)
Delaware, OH (NEW)
Columbus, OH (NEW)
Springfield, OH (NEW)
Dayton, OH (NEW)
Sharonville, OH (NEW)
Cincinnati, OH
(The 3C + D corridor line is shown in yellow and green in the image below)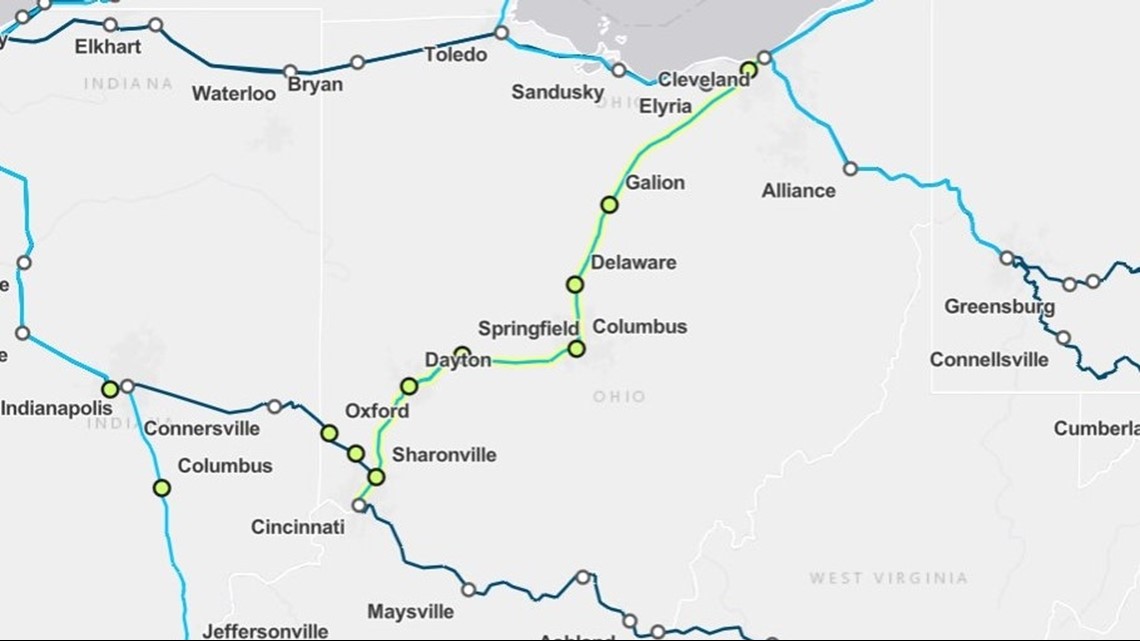 According to ORDC Executive Director Matthew Dietrich, the state has been in discussion with Amtrak "for quite some time to explore options and gather information."
"The Governor (DeWine) has been very clear that for this to work for Ohio, it is not just a matter of cost. It has to be done in a way that does not impede freight rail traffic in the state that is so important to our economy and our businesses," Dietrich added.
The decision by DeWine to apply for federal rail funds was met with approval from the other side of the political aisle.
"I applaud Governor DeWine and our regional leaders for starting the process to pursue Amtrak expansion. The Bipartisan Infrastructure Law made billions of dollars available so states like Ohio can expand passenger rail service," said U.S. Sen. Sherrod Brown (D-OH) in a statement. "Expanding Amtrak in Ohio, whether along current routes or by connecting Cleveland-Columbus-Dayton-Cincinnati, would transform our state's economy and improve mobility for all Ohioans."
Until recently, Ohio leaders have not shown much interest in expanding passenger rail service in the state. Most notably in 2011, then-Gov. John Kasich was among a few Republican governors who turned down federal funds that had been previously agreed to by their Democratic or independent predecessors for such expansion.
"This is a huge step forward. We've been advocating for this for over two years when Amtrak first announced its plans to expand service in Ohio and nationally," said Stu Nicholson, executive director of All Aboard Ohio, a passenger rail advocacy non-profit in an email to 3News.
Nicholson credits mayors along the 3C&D corridor, including Cleveland's Justin Bibb, along with metro planning agencies around the state for helping to move the process along by nominating corridors for new passenger rail service.
"The net impact of this was to send a message to the Governor for him to recognize this was and is a potentially transformational project for Ohio: one that not only would give Ohioans more options to travel, but would also boost our economy and create a much larger, mobile workforce for expanding or relocating businesses like INTEL and Amazon," Nicholson added.
Applications to the Federal Railroad Administration's Corridor Identification and Development program are due March 27.
"This is a big step for Ohio," said Nicholson. "We've still got a lot of work to do, but what the Governor did today gives us all reason for optimism."
The Associated Press contributed to this report.